Kings Head, Parsonage Street, Dursley, Gloucestershire
Dursley pub history index
Directory of Pubs in the UK, historical public houses, Taverns, Inns, Beer Houses and Hotels in Gloucestershire. The Gloucestershire listing uses information from census, Trade Directories and History to add licensees, bar staff, Lodgers and Visitors.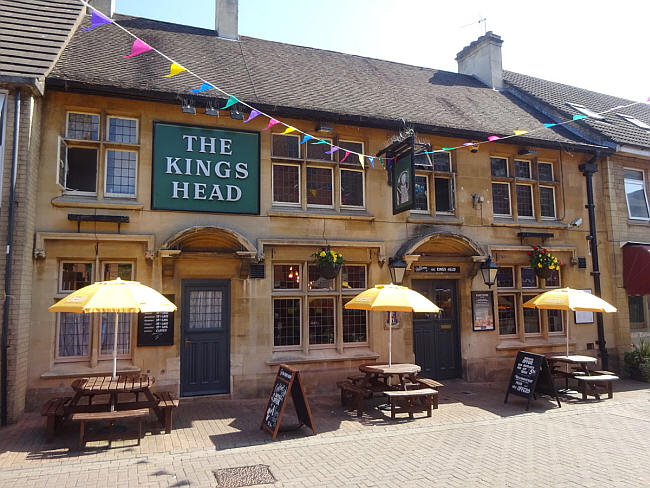 Kings Head, Parsonage Street, Dursley, Gloucestershire - in July 2019
Kindly provided by Mr Red
Residents at this address.
1842/Robert Knight, Kings Head, Parsonage street/../../Pigots Directory

1851/John Newth/Publican/40/Hill, Gloucestershire/Census
1851/Esther Newth/Wife/36/Thornbury, Gloucestershire/Census
1851/Ellen Lewis/House Servant/16/Berkeley, Gloucestershire/Census
1851/George Terrett/Visitor, Farm Labourer/26/Cam, Gloucestershire/Census

1863/Daniel Workman, Kings Head, Parsonage street/../../Post Office Directory

1870/John White, Kings Head, Parsonage street/../../Post Office Directory

1871/Robert Nicholls/Inn Keeper/59/Dursley, Gloucestershire/Census
1871/Sarah Nicholls/Wife/45/North Nibley, Gloucestershire/Census
1871/Annie E Nicholls/Daughter, Cloth Worker/14/North Nibley, Gloucestershire/Census
1871/Julia H Nicholls/Daughter/13/North Nibley, Gloucestershire/Census
1871/Frederick T Nicholls/Son/9/Dursley, Gloucestershire/Census
1871/Blanche Nicholls/Daughter/5/Dursley, Gloucestershire/Census
1871/Mary Cornock/Lodger, Housekeeper/66/Wotton under Edge, Gloucestershire/Census

1881/John Lovelock/Ag Labourer/43/Stinchcombe, Gloucestershire/Census
1881/Mary Lovelock/Wife/44/Berkeley, Gloucestershire/Census
1881/Henry Lovelock/Son, General Labourer/18/Cam, Gloucestershire/Census
1881/William Lovelock/Son/8/Stinchcombe, Gloucestershire/Census
1881/Esau Hill/Boarder, General Labourer, Widow/65/Cam, Gloucestershire/Census
1881/George Cox/Boarder, Plasterer/35/Coaley, Gloucestershire/Census

1891/Ezra Denley/Inn Keeper/52/Dursley, Gloucestershire/Census
1891/Lavinia Denley/Wife/51/Dursley, Gloucestershire/Census
1891/Lavinia Denley/Daughter/16/Cam, Gloucestershire/Census
1891/Mary Cornock/Boarder, Retired Housekeeper/88/Wotton under Edge, Gloucestershire/Census

1894/Ezra Denley/../../../Kellys Directory

1902/George Evans Price/../../../Kellys Directory

1906/George Evans Price/../../../Kellys Directory

1910/Charles Short/../../../Kellys Directory

1911/Charles Walter Short/Publican/41/Slimbridge, Gloucestershire/Census
1911/Ada Matilda Short/Wife/32/Cam, Gloucestershire/Census
1911/Ethel Violet Short/Daughter/9/Cam, Gloucestershire/Census

1923/William F Mee/../../../Kellys Directory

1927/William F Mee/../../../Kellys Directory

1939/W F Mee/../../../Kellys Directory