Search London wiki and Pub wiki history sites
All public house, restaurants, bars etc closed for the forseeable future from 20th March 2020, but this is a history site.
George Hotel, Market place, Fairford, Cirencester, Gloucestershire
Directory of Pubs in the UK, historical public houses, Taverns, Inns, Beer Houses and Hotels in Gloucestershire. The Gloucestershire listing uses information from census, Trade Directories and History to add licensees, bar staff, Lodgers and Visitors.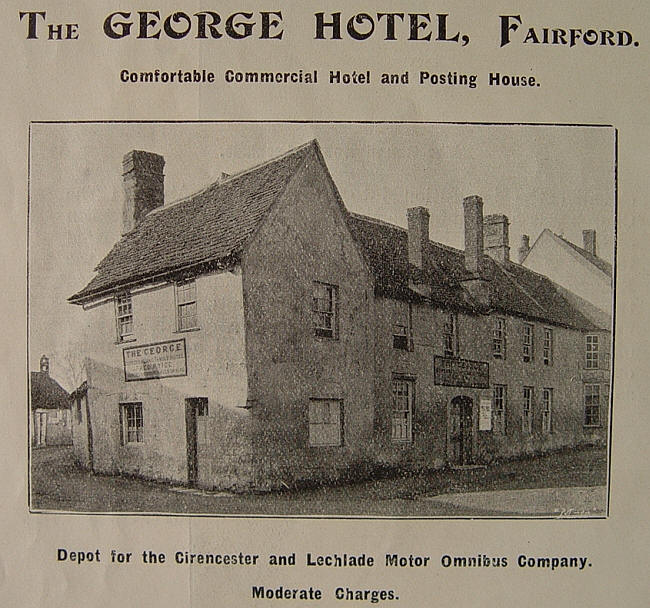 George Hotel, Fairford - 1907 advertisement
Kindly provided by Paul Best
The former George Hotel, Market Place, Fairford - in May 2013
Kindly provided by Paul Best
Residents at this address.
1830/Robert Wilson/and Coach Office/../../Pigot's Directory *

1839/R. Foreshew/George Inn & Commercial Hotel/../../Robson's Directory *

1842-44/James Tummey/../../Pigot's Directory *

1850/Richard Iles/George Inn/../../../Slater's Directory *

1856/Thomas Clarke Shurmer/George/../../Post Office Directory

1868/Thomas Smith/George, Fairford/../../Slaters Directory

1871/Thomas Smith/Inn Keeper/48/Fairford, Gloucestershire/Census
1871/Eliz Smith/Wife/42/Clanfield, Oxfordshire/Census
1871/Emily G Smith/Daughter/18/South Cerney, Gloucestershire/Census
1871/Wm Smith/Son/16/Handsworth, Gloucestershire/Census
1871/Susan Gardner/Domestic Servant/19/Fairford, Gloucestershire/Census
1871/John Evans/Lodger, Traveller, Widow/59/Cirencester, Gloucestershire/Census

1879/Jesse Hope/Baker & George Inn/../../../Kellys Directory *

1880/Joseph Curtis/../../../Kellys Directory *

1881/Jesse Hope/Hotel Keeper Baker/33/Fairford, Gloucester/Census
1881/Mary Ann Hope/Wife/25/Fairford, Gloucester/Census
1881/Minnie Hope/Daughter/9/Fairford, Gloucester/Census
1881/Albert Edward Hope/Son/8/Fairford, Gloucester/Census
1881/Florence Edith Hope/Daughter/6/Fairford, Gloucester/Census
1881/Francis Maud Hope/Daughter/3/Fairford, Gloucester/Census
1881/Ernest Frank Hope/Son/2/Fairford, Gloucester/Census
1881/William George/General Servant/19/Kempsford, Gloucester/Census
1881/Frank Clark/General Servant/22/Cricklade, Wiltshire/Census
1881/Thomas Reynolds/Lodger, Draper/54/West Indies/Census
1881/Selena Reynolds/Lodgers Wife/44/Shrewsbury/Census
1881/George Skuse/Servant/18/Chippenham, Wiltshire/Census

1885/Hope Mary Ann (Mrs)../../../Kellys Directory *

1891/James Scarrott/Inn Keeper & Job Master/25/Fairford, Gloucestershire/Census
1891/Elizabeth Scarrott/Wife, Assistant/25/Purton, Wiltshire/Census
1891/Lotta Scarrott/Daughter/4/Purton, Wiltshire/Census
1891/James Scarrott/Son/2/Fairford, Gloucestershire/Census
1891/Kate Scarrott/Daughter/1/Fairford, Gloucestershire/Census
1891/James Bruster/Lodger/30/Hessel, Suffolk/Census

1894/James Scarrett/George Hotel/../../../Kellys Directory *

1902/Cowley Edward/George Hotel Market Place/../../../Kellys Directory *

1906/Price Fred/George Hotel Market Place/../../../Kellys Directory *

1910/Price Fred/George Hotel Market Place/../../../Kellys Directory *

1927/Fred Price/../../../Kellys Directory

1939/Sydney Jas Hope/Proprietor/../../Kellys Directory



* Provided By Paul Best