Trout Inn, St Johns Bridge, Lechlade, Gloucestershire
Lechlade pub history index
Directory of Pubs in the UK, historical public houses, Taverns, Inns, Beer Houses and Hotels in Gloucestershire. The Gloucestershire listing uses information from census, Trade Directories and History to add licensees, bar staff, Lodgers and Visitors.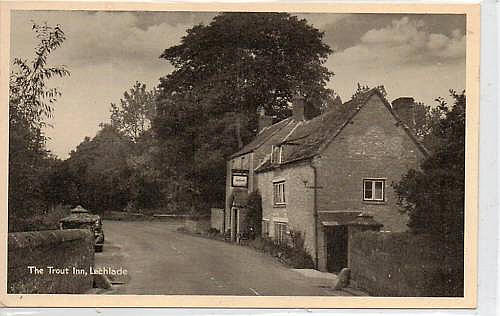 Trout Inn, Lechlade
Kindly provided by Colleen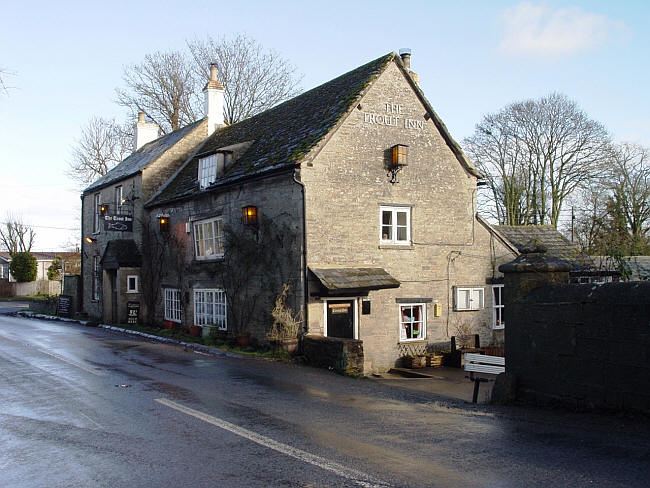 Trout Inn, St Johns Bridge, Lechlade - in January 2014
Kindly provided by Paul Best
The following entries are in this format:
Year/Publican or other Resident/Relationship to Head and or Occupation/Age/Where Born/Source.
1841/Benjamin Hodges/Inn Keeper/50/Gloucestershire/Census ****
1841/Jane Hodges/../20/Gloucestershire/Census
1841/Ann Hodges/../15/Gloucestershire/Census
1841/Mary Hodges/../9/Gloucestershire/Census

1842/Benjamin Hodges/Trout, Lechlade/../../Pigots Directory ****

1851/Benjamin Hodges/Licensed Victualler, Widow/65/Ashbrook, Gloucestershire/Census ****
1851/Jane Kent/Daughter, Housekeeper, Widow/36/Ashbrook, Gloucestershire/Census
1851/Benjamin Hodges/Son, Carpenter/25/Lechlade/Census
1851/Edwin Townsend/Lodger, Boatman, Widow/40/Brimscomb, Gloucestershire/Census
1851/James Tisam/Lodger, Boatman/19/Brimscomb, Gloucestershire/Census

1852-53/Benjamin Hodges/Trout, Lechlade/../../Slaters Directory ****

1861/James Willsdon/Inn Keeper/43/Langley, Oxfordshire/Census ****
1861/Esther Willsdon/Wife/27/Leafield, Oxfordshire/Census
1861/Charles J Willsdon/Son/6/Lechlade, Gloucestershire/Census
1861/George Willsdon/Son/4/Lechlade, Gloucestershire/Census
1861/Richard E Willsdon/Son/2/Lechlade, Gloucestershire/Census
1861/Priscilla Wheeler/House Servant/13/Buscott, Berkshire/Census
+ Lodgers

1863/Jas Willesdon/Trout, St Johns Bridge/../../../Post Office Directory ****

1870/Joseph Kinch/Trout Inn, St Johns Bridge/../../Post Office Directory ****

1871/Joseph Kinch/Licensed Victualler/56/Lechlade, Gloucestershire/Census ****
1871/Eliza M Kinch/Wife/40/Barrington, Cambridgeshire/Census
1871/Fanny C Kinch/Daughter/13/Norwood, Surrey/Census
1871/Alice M Kinch/Daughter/10/Margate, Kent/Census
1871/Harry Kinch/Son/6/Crundall, Kent/Census
1871/George Kinch/Son/3/Wye, Kent/Census

1879/Daniel Bowyer/Trout Inn, St Johns Bridge/../../Kellys Directory ****

1881/Daniel Bowyer/Inn Keeper/59/Iron Acton, Gloucester/Census ****
1881/Jane Bowyer/Wife/52/Trowbridge, Wiltshire/Census
1881/Laura E Bowyer/Daughter/24/Cheltenham, Gloucester/Census
1881/Emily Bowyer/Daughter/21/Lechlade, Gloucester/Census
1881/Alice A Bowyer/Daughter/19/Lechlade, Gloucester/Census
1881/Fredk J Bowyer/Son/9/Buscott, Berkshire/Census
1881/Florence M Bowyer/Daughter/9/Buscott, Berkshire/Census
1881/Sarah J Pearce/Daughter, Engineers Wife/28/Bath, Somerset/Census
1881/Alice E Pearce/Grand Daughter/8/London, Middlesex/Census
1881/William F Pearce/Grandson/5/London, Middlesex/Census

1885/Daniel Bowyer/Trout Inn, St Johns Bridge/../../Kellys Directory ****

1894/Daniel Bowyer/Trout Inn, St Johns Bridge/../../Kellys Directory ****

1897/Daniel Bowyer/Trout Inn/../../Kellys Directory ****

1902/Daniel Bowyer/../../../Kellys Directory ****

1906/Daniel Bowyer/Trout Inn, St Johns Bridge/../../Kellys Directory ****

1910/Daniel Bowyer/../../../Kellys Directory ****

1923/Mrs Bowyer/../../../Kellys Directory ****

1927/Jas Ayliffe/Trout Inn/../../Kellys Directory ****

1939/Jas Aylliffe/../../../Kellys Directory ****



*** Provided By Colin Ager

**** Provided By Kevan