Search London wiki and Pub wiki history sites
All public house, restaurants, bars etc closed for the forseeable future from 20th March 2020, but this is a pub history site.
Cat & Custard Pot, Shipton Moyne, Tetbury, Gloucestershire
The name of this Inn was taken from a book well known some years ago by the name of "Handley Cross" or "Mr Jorrock's Hunt" Surtees being the author. Possibly, no such name really existed, and it may be the author followed Charles Dickens' plan of inventing a name by wedding together parts of two separate names.
In this book an account of a meet of Mr Jorrock's hounds at the "Cat & Custard Pot" Inn is described and the picture on the sign depicts the finish of this famous "Cat & Custard Pot" day.
Mr Jorrock's is seen in the centre with his cap stuck on his whip, holding the brush of the "old varmint" and dancing about on one leg. James Pigg, the huntsman is playing with the hounds in the left foreground, while behind Mr Jorrock's horse Xerxes, Benjamin the Whip, is in the act of dismounting.
The author of the book recounts that Pigg had arrived at the meet early, and had been treated by his many friends to several glasses of the Host's good beer. He had taken more than was good for him , which fact drew from Mr Jorrock's the query ;-
"Who has made my Pigg so drunk? He didnt leave his sty so!" Pigg, in disgrace was dismissed there and then, and Mr Jorrock's hunted the hounds himself, but during the exciting run which ensued, Pigg viewed the beaten fox and appeared at the death. Mr Jorrock's in his joy at the successful end to a glorious day forgave Pigg, and a complete reconciliation took place.
The present "Cat & Custard Pot" is so called therefore, not only because it is situated in the centre of one of the finest hunting Counties in England, but also because it supplies good cheer to all who enter it's doors. *
Directory of Pubs in the UK, historical public houses, Taverns, Inns, Beer Houses and Hotels in Gloucestershire. The Gloucestershire listing uses information from census, Trade Directories and History to add licensees, bar staff, Lodgers and Visitors.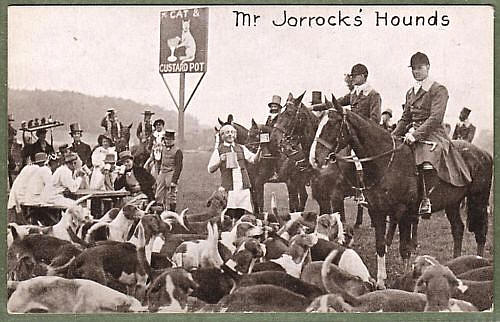 Cat & Custard Pot
Kindly provided by Colleen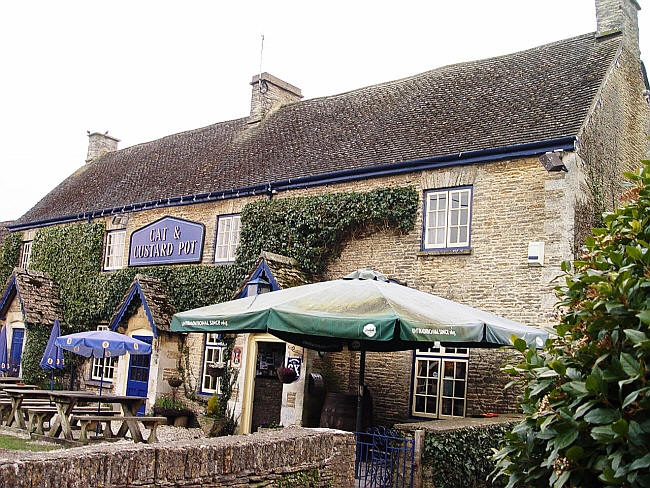 Cat & Custard Pot, Shipton Moyne - in May 2013
Kindly provided by Paul Best
The following entries are in this format:
Year/Publican or other Resident/Relationship to Head and or Occupation/Age/Where Born/Source.
1881 Charles Jeffery/Head/36/Carpenter Grocer and Beer Retailer/Hampshire. *
1881 Sarah Jeffery/Wife/34/Formerly Elementary Teacher/Durley Hampshire.
1881 Walter Ed. Jeffery/Son/11/Scholar/Medstead Hampshire.
1881 Adeline Jeffery/Daughter/9/Scholar/Medstead Hampshire.
1881 Eva Jeffery/Daughter/7/Scholar/Shipton Moyne Gloucestershire.
1881 Fred Jeffery/Son/6/Scholar/Shipton Moyne Gloucestershire.
1881 Ethel Jeffery/Daughter/4/Shipton Moyne Gloucestershire.
1881 Alice Jeffery/Daughter/3/Shipton Moyne Gloucestershire.
1881 Louisa Jeffery/Daughter/1/Shipton Moyne.
1881 Florence Jeffery/Daughter/2 months/Shipton Moyne Gloucestershire.

1891 Charles Jeffery/Head/45/Carpenter Grocer Post Master & Beer Retailrr/Hampshire. *
1891 Sarah Jeffery/Wife/44/Beer/Durley ? Hampshire.
1891 Ethel Jeffery/Daughter/14/Mothers Help/Shipton Moyne Gloucestershire.
1891 Alice Jeffery/Daughter/13/Scholar/Shipton Moyne.
1891 Louise Jeffery/Daughter/11/Scholar/Shipton Moyne Gloucestershire.
1891 Florence Jeffery/Daughter/10/Scholar/Shipton Moyne Gloucestershire.
1891 Reginal Charles Jeffery/Son/1/Shipton Moyne Gloucestershire.

1901 Sarah Jeffery/Head Widow/54/Grocer & Post Mistress/Hampshire *
1901 Fred Jeffery/Son/26/Builder?/Shipton Moyne Gloucestershire.
1901 Alice JefferyDaughter/23/Assisent Teacher School/Shipton Moyne Gloucestershire.
1901 Florence Jeffery/Daughter/20/Mother Help Dom/Shipton Moyne Gloucestershire.
1901 Reginald C. Jeffery/Son/11/Shipton Moyne Gloucestershire.

1911 Sarah Jeffery/Head Widow/64/Shop Keeper & Postmistress/Hampshire. *
1911 Florence Jeffery/Daughter/30/Shipton Moyne Gloucestershire.
1911 Reginald C. Jeffery/Son/21/Assisting in Business/Shipton Moyne Gloucestershire.

1927/Estcourt Arms/Arth. Geo. Budd/Shipton Moyne Tetbury/Kelly's Directory. *

1939/Arth Geo Budd/../../../Kellys Directory ****



* Provided By Paul Best

**** Provided By Kevan