Globe Inn, High Street, Stonehouse, Gloucestershire
Stonehouse pub history index
Still open for business in 2019
Directory of Pubs in the UK, historical public houses, Taverns, Inns, Beer Houses and Hotels in Gloucestershire. The Gloucestershire listing uses information from census, Trade Directories and History to add licensees, bar staff, Lodgers and Visitors.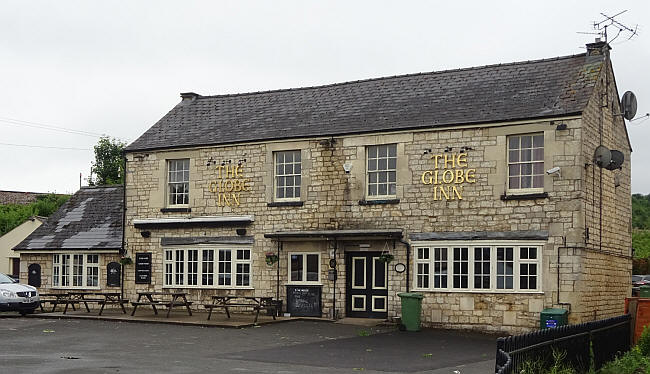 Globe Inn, High street, Stonehouse, Gloucestershire - in June 2019
from Mr Red of http://mister.red/
The following entries are in this format:
Year/Publican or other Resident/Relationship to Head and or Occupation/Age/Where Born/Source.
1820/Ruben Hyde/../../../Gell & Bradshaw Directory

1861/Walter Daniels/Inn Keeper & Butcher/42/Whitminster, Gloucestershire/Census
1861/Elizabeth Daniels/Wife/34/Bisley, Gloucestershire/Census
1861/John Daniels/Son/15/Whitminster, Gloucestershire/Census
1861/Walter Daniels/Son/13/Berkeley, Gloucestershire/Census
1861/Anne Daniels/Daughter/10/Berkeley, Gloucestershire/Census
1861/Maria Daniels/Daughter/8/Bisley, Gloucestershire/Census
1861/Henry Daniels/Son/5/Bisley, Gloucestershire/Census
1861/Charles Daniels/Son/3/Bisley, Gloucestershire/Census
1861/Maria Nicholls/Servant/22/Misenden, Gloucestershire/Census

1863/Walter Daniels/Globe/../../Post Office Directory

1870/John Pitcher/Globe/../../Post Office Directory

1871/Job Shirvington/Publican/41/Peopleton, Worcestershire/Census
1871/Sarah Shirvington/Wife/31/Offenham, Worcestershire/Census
1871/John Shirvington/Son/10/Peopleton, Worcestershire/Census
1871/Constance Shirvington/Daughter/5/Peopleton, Worcestershire/Census
1871/Edith Shirvington/Daughter/3/Campden, Gloucestershire/Census
1871/Eber Shirvington/Son/6 months/Campden, Gloucestershire/Census

1881/James Price/Publican/42/Eastington, Gloucestershire/Census
1881/Louisa Price/Wife/31/Eastington, Gloucestershire/Census
1881/Fanny Edwards/Niece/14/Stanley, Gloucestershire/Census
1881/Charles Rice/Lodger, Labourer/19/../Census
1881/Frederick Gallett/Lodger, Labourer/35/../Census

1891/Robert Russell/Licensed Victualler, Widow/53/Seckington, Gloucestershire/Census
1891/Catherine E Russell/Daughter, Housekeeper/17/Lydbrook, Gloucestershire/Census
1891/Emma Russell/Daughter, Cook/16/Lydbrook, Gloucestershire/Census
1891/Harriett L Russell/Daughter, Barmaid/14/Pembroke, Pembrokeshire/Census
1891/Robert E J/Son/12/Pembroke, Pembrokeshire/Census

1894/James Usher/../../../Kellys Directory

1902/William Uphill/../../../Kellys Directory

1906/Albert Henry Ann/../../../Kellys Directory

1910/Mrs Helen Ann/../../../Kellys Directory

1911/Mrs Helen Ann/Public House, Widow/45/Bristol, Gloucestershire/Census
1911/William Ann/Son, Mill Hand/18/Bristol, Gloucestershire/Census
1911/George Ann/Son, Mill Hand/14/Bristol, Gloucestershire/Census
1911/Helen Ann/Daughter/13/Bristol, Gloucestershire/Census

1939/Robert Frederick White/../../../Kellys Directory

1939/Robert F White/Planer in Brushworks & Inn Keeper/Born 12 July 1894//Electoral Register
1939/Mabel E E White/Housekeeper/Born 13 Oct 1896//Electoral Register