Talbot Inn, Silver Street, Tetbury, Gloucestershire
Tetbury pub index
Directory of Pubs in the UK, historical public houses, Taverns, Inns, Beer Houses and Hotels in Gloucestershire. The Gloucestershire listing uses information from census, Trade Directories and History to add licensees, bar staff, Lodgers and Visitors.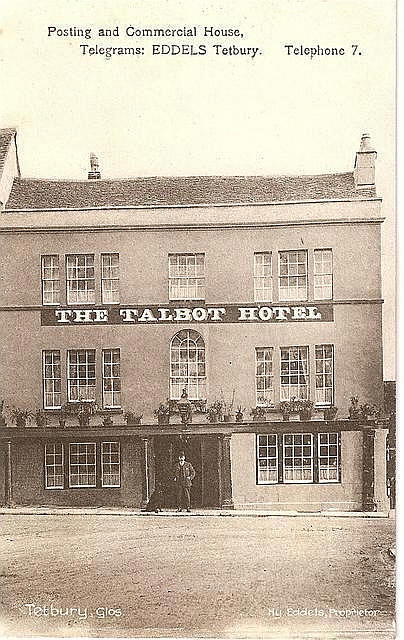 Talbot Hotel, Tetbury - circa 1915 (proprietor Hy Eddels)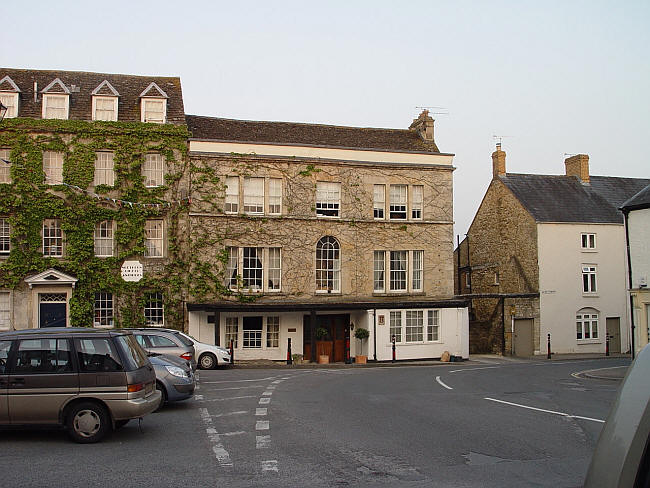 Talbot, Silver Street, Gloucester - in May 2012
Both kindly provided by Paul Best
The following entries are in this format:
Year/Publican or other Resident/Relationship to Head and or Occupation/Age/Where Born/Source.
1822-3 Eliza Hopkins, Silver Street Pigot's Directory *

1830/Bejamin Watts/../../../Pigot's Directory *

1851 Hannah Watts Market Place Slater's Directory Gloucestershire *

1868/James Webb/../../../Slater's Directory *

1871/James Webb/Landlord/58/Kingscote, Gloucestershire/Census ****
1871/Susan Webb/Wife/55/Badminton, Gloucestershire/Census
1871/Aaron Webb/Son/26/Badminton, Gloucestershire/Census
1871/John Webb/Son/24/Badminton, Gloucestershire/Census
1871/Edwin Webb/Son, Dispenser of Medicine/21/Badminton, Gloucestershire/Census
1871/Elizabeth Hards/Niece, Barmaid/44/Badminton, Gloucestershire/Census
1871/Hester Maynard/Sister in Law/67/Badminton, Gloucestershire/Census
1871/Charlotte Scales/Waitress/15/Tetbury, Gloucestershire/Census
1871/Henry Kingross/Boarder, Groom/29/Southwell, Nottingham/Census
1871/Henry Short/Boarder, Groom/21/Devon/Census

1881/Edwin Webb/32/Publican/Badminton,Gloucestershire/Census *
1881/Martha Webb/32Publicans Wife/Cirencester,Gloucestershire/Census
1881Hester Maynard/70/Aunt/Badminton,Gloucestershire/Census
1881/Hannah Woodman/40/General Servant/Tetbury,Gloucestershire/Census

1889/Edwin Webb/../../../Kelly's Directory *

1891/Edwin Webb/40/Hotel Keeper/Badminton,Gloucestershire/Census *
1891/Martha Webb/41/Wife/Cirencester,Gloucestershire/Census
1891/Rebecca Bridges/22/Niece/Barmaid/Cirencester,Gloucestershire/Census
1891/John Dall/27/Commercial/Plover,Cheshire/Census
1891/Henry Ruott/25/Commercial/Croxton Kervil,Leicestershire/Census

1897/Edwin Webb/../../../Kelly's Directory *

1901/Edwin Webb/Hotel Keeper/52/Badminton, Gloucestershire/Census *
1901/Martha Webb/52/Wife/Cirencester,Gloucestershire/Census
1901/Rebecca Bridges/28/Niece/Cirencester, Gloucestershire/Census
1901/John Bloys/45/Boarder/Paddington, London/Census

1913/H Eddells/../../../W H Smith & Son Directory Cirencester and District *

1914/Henry Eddels/../../../Kelly's Directory *

1915/H Eddells/../../../W H Smith & Son Directory Cirencester and District *

1916/Hy Eddells/../../../W H Smith & Son Directory Cirencester and District *

1923/Percy L Holloway/../../../Kelly's Directory *

1931/George H White/../../../Kelly's Directory *

1939/A E Swann/../../../Tetbury Directory and Almanack *



* Provided By Paul Best

**** Provided By Kevan