Earl Grey, Wortley Road, Wotton under Edge, Gloucestershire
Wotton under Edge pub history index
Directory of Pubs in the UK, historical public houses, Taverns, Inns, Beer Houses and Hotels in Gloucestershire. The Gloucestershire listing uses information from census, Trade Directories and History to add licensees, bar staff, Lodgers and Visitors.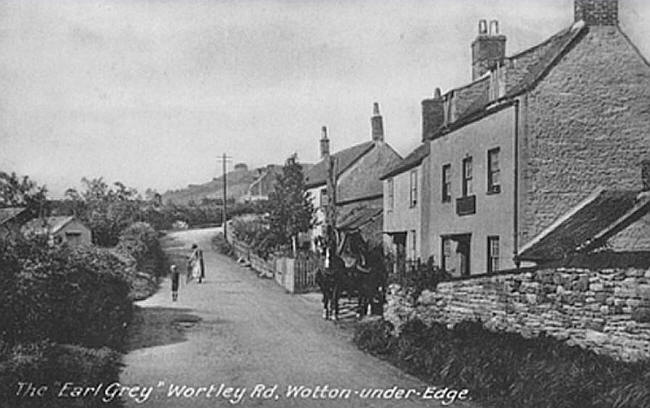 Earl Grey, Wotton under Edge
Kindly provided by Paul Best
Residents at this address.
1861 Samuel Dauncey/Head/41/Inn Keeper/Wotton under Edge Gloucestershire. *
1861 Pauline Dauncey/Wife/31/Wotton under Edge Gloucestershire.
1861 Emily Dauncey/Daughter/5/Scholar/Wotton under Edge Gloucestershire.
1861 George Dauncey/Son/4/Wotton under Edge Gloucestershire.
1861 Harry Dauncey/Son/2/Wotton under Edge Gloucestershire.
1861 Mary Dauncey/Daughter/1/Wotton under Edge Gloucestershire.

1871 Henry Gabb Jnr/Head/27/Publican/North Nibley Gloucestershire. *
1871 Helen Gabb/Wife/25/London.

1879/Frederick Holloway, beer retailer, Wortley road/../../Post Office Directory

1881 Fredrick Holloway/Head/41/Innkeeper/Wotton under Edge Gloucestershire. *
1881 Mary Jane Holloway/Wife/39/Wotton under Edge Gloucestershire.
1881 Minnie Holloway/Daughter/11/Scholar/Wotton under Edge Gloucestershire.
1881 Catherine Holloway/Daughter/10/Scholar/Wotton under EdgeGloucestershire.
1881 Margaret Holloway/Daughter/4/Scholar/Wotton under Edge Gloucestershire.
1881 Ernest Hollaway/Son/1/Wotton under Edge Gloucestershire.

1891/John Cole/Cooper & Inn Keeper/32/Wotton under Edge, Glos/Census
1891/Mary Jane Cole/Wife/29/North Nibley, Glos/Census

1901 John James Cole/Head/42/Inn Keeper & Brewers Agent/Wotton under Edge Gloucestershire. *
1901 Mary Cole/Wife/39/North Nibley Gloucestershire.

1911 Archibald Duffin/Head/57/Beer House Keeper/Antrim Ireland. *
1911 Clara Duffin/Wife/43/Wotton under Edge Gloucestershire.

1923/Archibald Duffin of the Earl Grey Wotton under Edge, Gloucestershire beer house keeper died 8 august 1923 Probate Gloucester 21 September to Thomas William Lewis manager of grocery stores and George Edward Jobbins solicitors clerk. Effects £950 7s 1d.

1939/William Jn Marsh/../../../Kellys Directory



* Provided By Paul Best