Salutation Inn, Coombe road, Wotton under Edge, Gloucestershire
Wotton under Edge pub history index
Directory of Pubs in the UK, historical public houses, Taverns, Inns, Beer Houses and Hotels in Gloucestershire. The Gloucestershire listing uses information from census, Trade Directories and History to add licensees, bar staff, Lodgers and Visitors.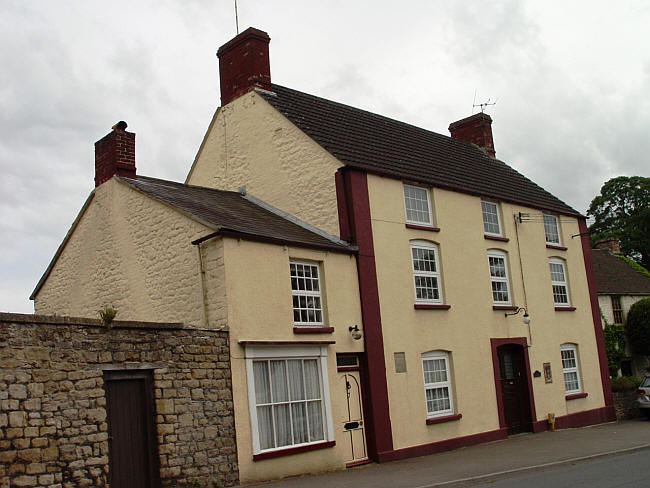 Salutation, Coombe Road, Wotton under Edge - in June 2013
Kindly provided by Paul Best
Residents at this address.
1870/Nathaniel Howell, beer retailer & grocer, Coombe road/../../Post Office Directory

1871/Nathaniel Howell/Inn Keeper/34/Wotton under Edge, Gloucestershire/Census
1871/Lydia Howell/Wife/35/Wotton under Edge, Gloucestershire/Census
1871/John Howell/Son/8/Yate, Gloucestershire/Census
1871/Henry E Howell/Son/7/Yate, Gloucestershire/Census
1871/Annie M Howell/Daughter/6/Wotton under Edge, Gloucestershire/Census
1871/William Howell/Son/4/Wotton under Edge, Gloucestershire/Census
1871/Albert Howell/Son/2/Wotton under Edge, Gloucestershire/Census
1871/Clara Howell/Daughter/1/Wotton under Edge, Gloucestershire/Census
1871/Ellen Howell/Daughter/2 months/Wotton under Edge, Gloucestershire/Census
1871/Mary Hobbs/Servant/18/North Nibley, Gloucestershire/Census

1879/Nathaniel Howell, beer retailer & grocer, Coombe road/../../Post Office Directory

1881/Nathaniel Howell/Baker & Inn Keeper/44/Wotton under Edge, Gloucestershire/Census
1881/Lydia Howell/Wife/45/Wotton under Edge, Gloucestershire/Census
1881/John Howell/Son, Drapers Assistant/18/Yate, Gloucestershire/Census
1881/Henry E Howell/Son, Drapers Assistant/17/Yate, Gloucestershire/Census
1881/William Howell/Son, Drapers Assistant/14/Wotton under Edge, Gloucestershire/Census
1881/Albert Howell/Son/12/Wotton under Edge, Gloucestershire/Census
1881/Clara Howell/Daughter/11/Wotton under Edge, Gloucestershire/Census
1881/Nellie Howell/Daughter/10/Wotton under Edge, Gloucestershire/Census
1881/Lucy Howell/Daughter/8/Wotton under Edge, Gloucestershire/Census
1881/Ralph Howell/Son/7/Wotton under Edge, Gloucestershire/Census
1881/Herbert Howell/Son/4/Wotton under Edge, Gloucestershire/Census
1881/Hester Miles/Servant/24/Cromhall, Gloucestershire/Census
1881/Annie Howell/Visitor/16/Wotton under Edge, Gloucestershire/Census

1885/Nathaniel Howell/Salutation Inn, & grocer/../../Kellys Directory

1891/Nathaniel Howell/Inn Keeper & Baker/54/Wotton under Edge, Gloucestershire/Census
1891/Lydia Howell/Wife/55/Wotton under Edge, Gloucestershire/Census
1891/Henry Howell/Son, Invoice Clerk/26/Yate, Gloucestershire/Census
1891/Albert Howell/Son, Baker/22/Wotton under Edge, Gloucestershire/Census
1891/Clara Howell/Daughter, Barmaid/21/Wotton under Edge, Gloucestershire/Census
1891/Lucy Howell/Daughter, Dressmaker/18/Wotton under Edge, Gloucestershire/Census
1891/Ralph Howell/Son, Grocers Assistant/17/Wotton under Edge, Gloucestershire/Census
1891/Herbert Howell/Son/14/Wotton under Edge, Gloucestershire/Census

1894/Nathaniel Howell/../../../Kellys Directory

1902/Mrs Lydia Howell/../../../Kellys Directory

1906/Mrs Lydia Howell/../../../Kellys Directory

1910/Herbert Howell/../../../Kellys Directory

1923/William James Williams/../../../Kellys Directory

1927/Jas Fredk Russell Varnam/../../../Kellys Directory

1939/Jas Fredk Russell Varnam/../../../Kellys Directory