Three Tuns, Bransgore, Christchurch, Hampshire
Bransgore & Hinton pub history index
Directory of Pubs in the UK, historical public houses, Taverns, Inns, Beer Houses and Hotels in Hampshire . The Hampshire listing uses information from census, Trade Directories and History to add licensees, bar staff, Lodgers and Visitors.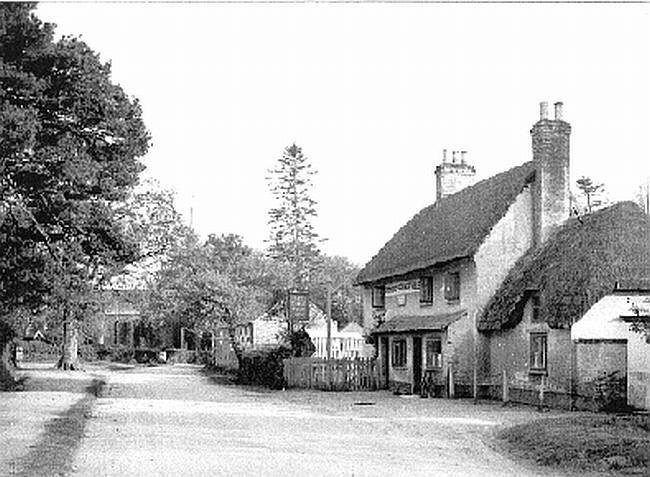 Three Tuns, Bransgore - an earlier picture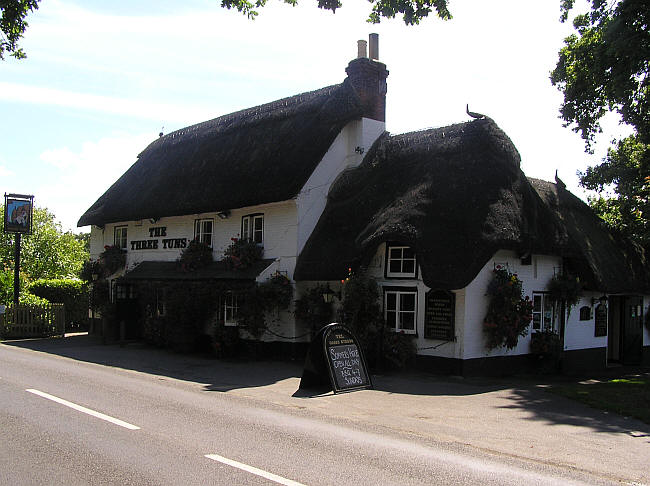 Three Tuns, Bransgore, Christchurch - in 2011
Both kindly provided by David Sear
The following entries are in this format:
Year/Publican or other Resident/Relationship to Head and or Occupation/Age/Where Born/Source.
1849/J Whittle/../../../Post Office Directory ****

1875/Mrs Jane Whittle/../../../Post Office Directory ****

1878/Mrs Jane Whittle/../../../Post Office Directory ****

1885/Mrs Jane Whittle/../../../Post Office Directory ****

1889/Mrs Jane Whittle/../../../Post Office Directory ****

1891/Ellen Harding/Landlady/39/Wimborne, Dorset/Census ****
1891/Charles Harding/Father, Gilder, Carver, Widow/72/Shapwick, Dorset/Census
1891/Thomas Stout/General Servant/40/Bransgore, Hampshire/Census

1898/George Sear/../../../Post Office Directory ****

I found an entry on the site for George Sear at the Three Tuns, Bransgore in the 1911 Post office directory, interesting as he died in 1909. *

1901/George Sear/Inn Keeper/60/London/Census *
1901/Eleanor Sear/Wife/56/Hedingham, Essex/Census
1901/Nellie Sear/Daughter, Barmaid/24/Tedworth, Hampshire/Census

1911/George Sear/../../../Post Office Directory ****

30 April 1909/Transfer of License from the late Mr. Sear to Mr. Charles Frederick Martin/Western Gazette ***

Mr Charles Frederick Martin was married to Emily Saunders the daughter of George Saunders, the local blacksmith - the family at some stage had their forge roughly opposite to the Three Tuns. ***

1911/Charles Frederick Martin/Publican/43/Brixham, Devon/Census ***
1911/Emily Martin/Wife/42/Bransgore, Christchurch, Hampshire/Census
1911/Frederick George Martin/Son/8/Mudeford, Christchurch, Hampshire/Census

3 December 1915/Transfer of License from the Mr. Martin to Mr Kerley/Western Gazette ***

Fred Edwin Kerley's war record shows he joined up 19 December 1915. His Wife was Lily and three children including Frank Edwin and Angela Lily as listed in the 1939 register. Ended service November 1919.In the 1891 census, Fred is 2 years old at the Woolpack, Sopley ***

1920/Fred Edwin Kerly/../../../Post Office Directory ****

1927/Fred Edwin Kerly/../../../Post Office Directory ****

1939/Frank E Kerly/Pig Farmer/28/../Register ***
1939/Lily Kerly/Licensee/61/../Register
1939/Angela L Cutler (Kerley)/Book Keeper/26/../Register

My Mother Peggy Saunders was also working at the Three Tuns in the mid 1940's where she met my father. Her father Edward Saunders owned the forge opposite from the 1930's to the late 1950's. The landlord at that time was also a family relative but I am yet to find out who. ***



* Provided By Robert Sear

*** Provided By Derek McKeever

**** Provided By Kevan