George & Dragon, 10 Bemisters Lane, Gosport, Hampshire
Gosport pub history index
At Lower South Street in 1889 and earlier; then at 70 South Street.
Directory of Pubs in the UK, historical public houses, Taverns, Inns, Beer Houses and Hotels in Hampshire . The Hampshire listing uses information from census, Trade Directories and History to add licensees, bar staff, Lodgers and Visitors.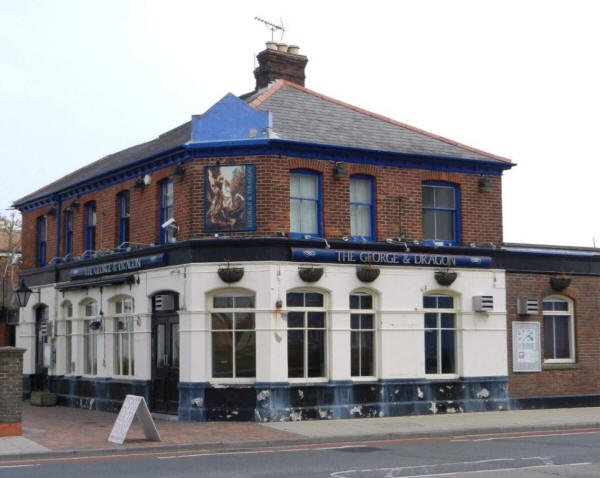 George & Dragon, 10 Bemisters Lane, Gosport - in April 2011
Kindly provided by Stephen Harris
The following entries are in this format:
Year/Publican or other Resident/Relationship to Head and or Occupation/Age/Where Born/Source.
1828/T Goodall/../../../Pigotís Directory **

1844/Jas. Linter/../../../Pigotís Directory **

1852/James Linter/../../../Slaterís Directory **

1855/James Linter / & Coal Dealer /../../Post Office Directory **

1861/Jas Linten/Licensed Victualler, Widow/50/East Meon, Hampshire/Census ****
1861/Peter Linten/Son, Shipwright/25/Gosport, Hampshire/Census
1861/Sarah Linten/Daughter, Assistant/20/Gosport, Hampshire/Census
1861/Thomas Linten/Brother, Pensioner RNWidow/66/Hmbledon, Hampshire/Census
1861/Jane Linten/Niece/22/Gosport, Hampshire/Census

1865/J Linter/../../../Harrods Directory ****

1875/Joseph Bailey/../../../Post Office Directory **

1881/Sarah Ann Bailey/Licensed Victualler, Widow/39/Gosport, Hampshire/Census ****
1881/Joseph Henry Bailey/Son/15/Gosport, Hampshire/Census
1881/Sarah Jane Bailey/Daughter/8/Gosport, Hampshire/Census
1881/Elizabeth King/Domestic Servant/19/Gosport, Hampshire/Census
1881/Fanny King/Visitor/9/Gosport, Hampshire/Census
1881/George Williams/Boarder, Hackney Carriage Driver/22/Gosport, Hampshire/Census

1885/Frank Pink/../../../Kellys Directory ****

1889/Mrs M C Carr/../../../Kellys Directory ****

1891/Maria Carr/Publican/47/Portsea, Hampshire/Census ****
1891/Gennet Marshall/Visitor/13/Gosport, Hampshire/Census

1895/Mrs Maria Catherine Carr/../../../Kellys Directory ****

1898/Edward B Monk/../../../Kellys Directory ****

1900/Arthur Henry Cheater / Licensed Victualler /../../Hampshire Quarter Sessions records held at Hampshire Record Office **

1911/Mrs Louisa Monaghan/../../../Kellys Directory ****

1920/Frank Davis/../../../Kellys Directory ****

1927/Joseph C Parsons/../../../Kellys Directory ****




** Provided By Stephen Harris

**** Provided By Kevan