Star Inn, 36-38 High Street, Gosport, Hampshire
Gosport pub history index
This pub is now called Nelsonís Bar (2011). ** This is the Star Hotel, 37 High street in 1927. I also show the newer Weatherspoons pub, The Star, at 28-29 High street.
Directory of Pubs in the UK, historical public houses, Taverns, Inns, Beer Houses and Hotels in Hampshire . The Hampshire listing uses information from census, Trade Directories and History to add licensees, bar staff, Lodgers and Visitors.
Star Inn, 36-38 High Street, Gosport - in April 2011
Kindly provided by Stephen Harris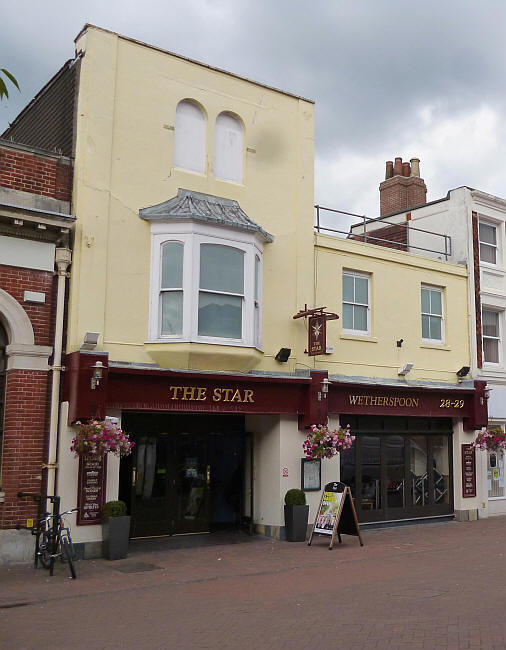 The Star, 28-29 High street, Gosport - a modern Weatherspoons pub of the same name
Kindly provided by David Fisher
The following entries are in this format:
Year/Publican or other Resident/Relationship to Head and or Occupation/Age/Where Born/Source.
1828/James Rose/../../../Pigotís Directory **

1844/John Snow Clarke/../../../Pigotís Directory **

1852/Thomas Harvey/../../../Slaterís Directory **

1855/William Handy/../../../Post Office Directory **

1859/William Handy/../../../Hampshire Directory ****

1861/William Handy/Inn Keeper, Widow/48/Worcester/Census ****
1861/William Handy/Son, Carpenter/24/Gosport, Hampshire/Census
1861/George Handy/Son, Assistant/17/Gosport, Hampshire/Census
1861/Mary Handy/Daughter/11/Gosport, Hampshire/Census
1861/Thomas Handy/Son/8/Gosport, Hampshire/Census
1861/Ann Dolan/General Servant/22/Dorset/Census
1861/Henry Meacher/Boarder, Carpenter/32/Hampshire/Census

1865/Thomas Gundry/../../../Harrods Directory ****

1875/George Handy/../../../Post Office Directory **

1881/Richard P Briant/Hotel Keeper/36/Gosport, Hampshire/Census ****
1881/Eliza Briant/Wife/34/Purbrook, Hampshire/Census
1881/Alice E Briant/Daughter/12/Gosport, Hampshire/Census
1881/Edith M Briant/Daughter/10/Gosport, Hampshire/Census
1881/Bessie E Briant/Daughter/8/Gosport, Hampshire/Census
1881/Jessie M Briant/Daughter/7/Gosport, Hampshire/Census
1881/Ida May Briant/Daughter/4/Gosport, Hampshire/Census
1881/Lilian C Briant/Daughter/1/Southsea, Hampshire/Census
1881/Emma Hale/Visitor/23/Stokes, Hampshire/Census
1881/Marian E Boyd/Barmaid/20/Poole, Dorset/Census
1881/Eliza Rusbridge/General Servant/20/Gosport, Hampshire/Census
1881/Le Champaine/Visitor, Captain (Navy)/33/Plouazoce/Census

1885/Richard P Briant/../../../Kellys Directory ****

1891/Harry Partridge/Hotel Keeper/40/Reading, Berkshire/Census ****
1891/Eleanor Partridge/Wife/29/Marlborough, Wiltshire/Census
1891/Georgina S Orford/General Servant/18/Titchfield, Hampshire/Census
1891/Charlotte S Roper/General Servant/19/Gosport, Hampshire/Census
1891/Emma M Clogg/Barmaid/21/Gosport, Hampshire/Census

1895/Alfred Bond/../../../Kellys Directory ****

1911/James Smith/../../../Kellys Directory ****

1927/Hemsley Jackman/../../../Kellys Directory ****




** Provided By Stephen Harris

**** Provided By Kevan