Bevois Town Hotel, 6 Middle Street, Southampton, Hampshire
Southampton pub history index
The fully licensed premise dates back to the 1860ís when an A W Stratton was the landlord it belonged to the Winchester Brewery before becoming a Marstonís Brewery pub, it became a free house before closing in 2010. *
Directory of Pubs in the UK, historical public houses, Taverns, Inns, Beer Houses and Hotels in Southampton, Hampshire . The Southampton, Hampshire listing uses information from census, Trade Directories and History to add licensees, bar staff, Lodgers and Visitors.
Bevois Town Hotel, 6 Middle Street, corner Liverpool Street, Southampton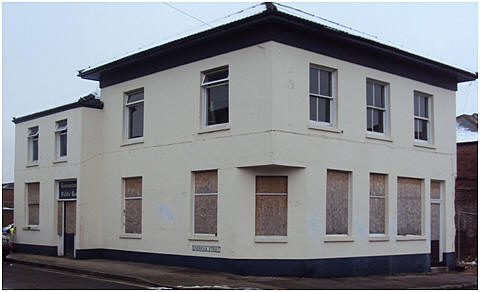 Bevois Town Hotel, awaiting its future use in 2013
Both kindly provided by Bob Bates
The following entries are in this format:
Year/Publican or other Resident/Relationship to Head and or Occupation/Age/Where Born/Source.
1871/George Samways/Bevois Town Hotel, Middle Street, Bevois Town/../../Coxs Directory ****

1871/Richard S Samways/Publican/30/Dorchester, Dorset/Census ****
1871/Jane S Samways/Wife/32/Fifehead Neville, Dorset/Census
1871/Lilly Samways/Daughter/4/Southampton, Hampshire/Census
1871/Florence Samways/Daughter/2/Southampton, Hampshire/Census
1871/Minnie Samways/Daughter/1/Southampton, Hampshire/Census
1871/Jane Grant/Servant/19/Nursling, Hampshire/Census

1875/Richard Sydenham Samway/../../../Post Office Directory ****

1878/Richard S Samways/../../../Trade Directory ****

1881/John Stocks/Publican/39/Hertford, Hertfordshire/Census ****
1881/Ann Elizbth Stocks/Wife/38/Lambeth, Surrey/Census
1881/Elsie Rixby/General Servant/17/Sparsholt, Hampshire/Census

1885/John Stocks/../../../Kellys Directory ****

1887/Henry Morley/../../../Kellys Directory ****

1889/Henry Morley/../../../Kellys Directory ****

1898/Henry Morley/../../../Kellys Directory ****

1901/James Travers/Licensed Victualler/47/Southampton, Hampshire/Census ****
1901/Elizabeth Travers/Wife/43/Southampton, Hampshire/Census
1901/Porge Travers/Son, Barman/24/Southampton, Hampshire/Census
1901/William Travers/Son, Draughtsman/22/Southampton, Hampshire/Census
1901/Annie Travers/Daughter/21/Southampton, Hampshire/Census
1901/George Travers/Son/18/Southampton, Hampshire/Census
1901/Walter Travers/Son, Clerk Ordnance Survey/17/Southampton, Hampshire/Census
1901/Nellie Travers/Daughter/14/Southampton, Hampshire/Census
1901/Frank Travers/Son/12/Southampton, Hampshire/Census
1901/Roy Travers/Son/1/Southampton, Hampshire/Census

1907/William Martin/../../../Kellys Directory ****

1911/Thos H Dent/../../../Kellys Directory ****

1916/Thomas Henry Dent/../../../Kellys Directory ****

1920/Thos H Dent/../../../Kellys Directory ****

1927/Thomas Henry Dent/Bevois Town Hotel, 6 Middle Street/../../Kellys Directory ****

1946/Geo Jn Dent/../../../Kellys Directory ****

1954/Wm Wilson/../../../Kellys Directory ****



* Provided By Bob Bates

**** Provided By Kevan