Crown & Sceptre, 28 Bevois Vale Road, Southampton, Hampshire
Southampton pub history index
There has been a Pub operating on this site since the early 1850ís. It has always been a fully licensed premise; it was destroyed during a German bombing raid during WW2. It became a Fire Brigade emergency reservoir after its destruction, the present building was erected in the 1950ís by Watney Brewery It has now closed as a public House and now operates as a Club renamed The Dungeon. *
Directory of Pubs in the UK, historical public houses, Taverns, Inns, Beer Houses and Hotels in Southampton, Hampshire . The Southampton, Hampshire listing uses information from census, Trade Directories and History to add licensees, bar staff, Lodgers and Visitors.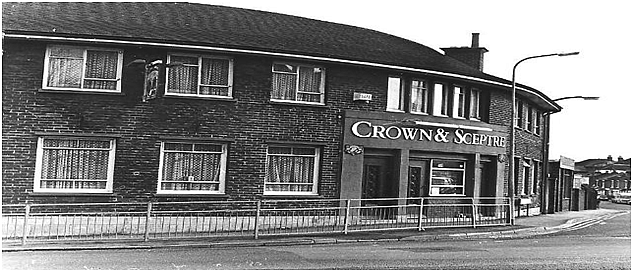 Crown & Sceptre, Bevois Valley Road, junction Mount Pleasant Road, Southampton

Crown, Bevois Valley Road - circa 1915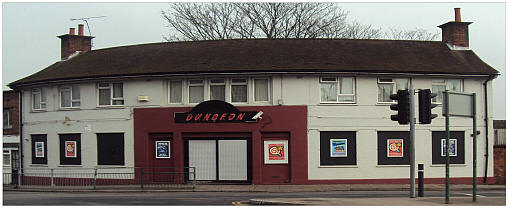 Dungeon, Bevois Valley Road
All kindly provided by Bob bates
The following entries are in this format:
Year/Publican or other Resident/Relationship to Head and or Occupation/Age/Where Born/Source.
1875/Harry Tilley/../../../Post Office Directory ****

1885/William Marsh/../../../Kellys Directory ****

1889/Wm Marsh/../../../Kellys Directory ****

1898/Wm Futcher/../../../Kellys Directory ****

1907/G C Sponder/../../../Kellys Directory ****

1911/John Nagle/../../../Kellys Directory ****

1920/Charles Stanley Brocklehurst/../../../Kellys Directory ****

1927/Edward Claude Wilkinson/../../../Kellys Directory ****

1935/Jn T Searle/../../../Kellys Directory ****

1940/Wm Davies/../../../Kellys Directory ****




* Provided By Bob Bates

**** Provided By Kevan