Glasgow, 43 Bernard Street, Southampton, Hampshire
Southampton pub history index
Known as Pullinger's Hotel in the early 1840's, however when a Philip Goepel was landlord of fully licensed pub in the late 1840's it had been renamed the Clarendon Hotel, which was noted for its hot and cold vapour baths, it was a foreign wine establishment whose owner spoke fluent French. The 1880's saw its name change to the Glasgow Hotel and it came under the ownership of Coopers Brewery, it still however had a strong bent towards the Restaurant side and not the bar side of its business in 1925 it was known as the Glasgow Restaurant and Oyster Grotto, The original building was levelled in a 1940 WW2 air raid, a temporary flat roof shack was erected until Watney's Brewery built the present building in 1958, after a major refurbishment in 1989 it reopened as the Gamekeeper, this did not prove popular so after more alterations it opened again in 1990 as Dixie's and was more a bar/cafe than a true pub, this again was not a success and the premise closed and is now an office for a rubber company. *
Directory of Pubs in the UK, historical public houses, Taverns, Inns, Beer Houses and Hotels in Southampton, Hampshire . The Southampton, Hampshire listing uses information from census, Trade Directories and History to add licensees, bar staff, Lodgers and Visitors.
Glasgow Hotel, 43 Bernard Street, Southampton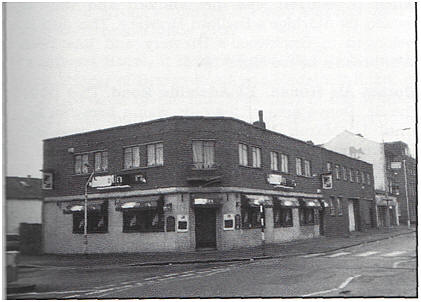 Post-war Glasgow, 43 Bernard Street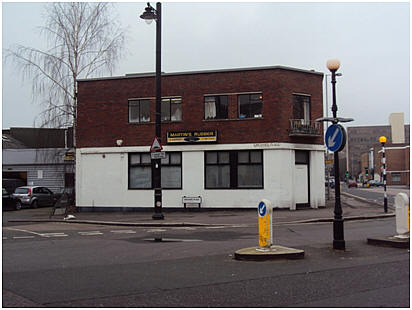 Post 1958 Glasgow, 43 Bernard Street
All kindly provided by Bob Bates
The following entries are in this format:
Year/Publican or other Resident/Relationship to Head and or Occupation/Age/Where Born/Source.
1871/C Luning/../../../Coxs Directory ****

1871/George G Wells/Licewnsed Victualler (in trust)/62/Ware, Hertfordshire/Census
1871/Charlotte Wells/Wife/62/Ware, Hertfordshire/Census
1871/Emma Triggs/General Servant/17/Freemantle, Hampshire/Census
1871/Christian Luning/Boarder, Banker/32/Brunswick, Guernsey/Census

1875/George Lapier/../../../Post Office Directory ****

1878/Geo Lapier/../../../Trade Directory ****

1881/George Lapier/Licensed Victualler/52/Scotland/Census ****
1881/Matilda J Lapier/Wife/52/Jersey, Channel Islands/Census
1881/Annie E Lapier/Daughter, Milliner/15/Cape Of Good Hope/Census
1881/Matilda J Lapier/Daughter/13/Cape Of Good Hope/Census
1881/Charles G Lapier/Son/10/Scotland/Census
1881/Charles W Matthews/Nephew, Engineer In Fitters Shop/19/Ireland/Census

1885/William Green/../../../Kellys Directory ****

1889/William Green/../../../Kellys Directory ****

1898/Walter Ravenhill/../../../Kellys Directory ****

1907/W Ravenhill/../../../Kellys Directory ****

1911/Walter Ravenhill/../../../Kellys Directory ****

1920/Edwin Hy Walker/../../../Kellys Directory ****

1927/Edwin Hy Walker/../../../Kellys Directory ****

1954/H C Young/../../../Kellys Directory ****



* Provided By Bob Bates

**** Provided By Kevan