Grapes, 41 Oxford Street, Southampton, Hampshire
Southampton pub history index
Directory of Pubs in the UK, historical public houses, Taverns, Inns, Beer Houses and Hotels in Southampton, Hampshire . The Southampton, Hampshire listing uses information from census, Trade Directories and History to add licensees, bar staff, Lodgers and Visitors.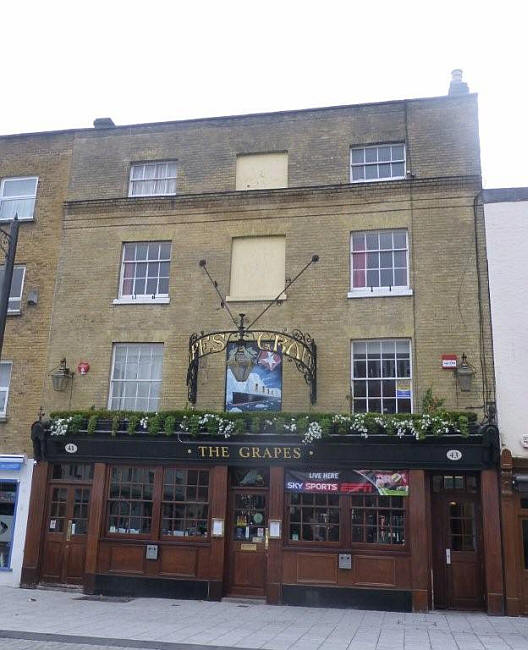 Grapes, 41 Oxford Street, Southampton.Hampshire - in June 2009
Kindly provided by Stephen Harris
The following entries are in this format:
Year/Publican or other Resident/Relationship to Head and or Occupation/Age/Where Born/Source.
1870/Richard Roberts/../../../Coxs Directory ****

1871/Richard Roberts/Licensed Victualler/33/Ringwood, Hampshire/Census ****
1871/Ann Roberts/~Wife/33/Blockenhurst, Hampshire/Census
1871/Susan Ballard/Sister in Law, Cook (out of employ)/25/Blockenhurst, Hampshire/Census
1871/Charlotte Sherlock/General Servant/18/St marys, Southampton/Census
1871/Frederick Rattin/General Servant/14/All saints, Southampton/Census
1871/Alfred Stokes/Boarder, Pewterer Journeyman/29/Bermondsey, Surrey/Census
1871/John N Jessie/Lodger, Ship Steward Steam/28/Saltash, Cornwall/Census

1875/Mrs Ann Roberts/../../../Post Office Directory ****

1878/Edward W Balne/../../../Trade Directory ****

1881/Edwin V Balne/Licensed Victualler/25/Lambeth, Surrey/Census ****
1881/Ellen Balne/Wife/22/Southampton, Hampshire/Census
1881/Edwin T Balne/Son/1/Southampton, Hampshire/Census
1881/Selina M Warren/Barmaid/18/Southampton, Hampshire/Census
1881/Eliza Squires/General Servant/16/Southampton, Hampshire/Census

1885/William Edwin Balne/../../../Kellys Directory ****

1889/Edwin Balne/../../../Kellys Directory ****

1898/Edwin William Balne/../../../Kellys Directory ****

1907/Edwin Thomas Balne/../../../Kellys Directory ****

1911/Edwin Thomas Balne/../../../Kellys Directory ****

1920/Edwin William Balne/../../../Kellys Directory ****

1927/Alfd Saml & Jas Edwin Wm Balne/../../../Kellys Directory ****

1935/W A Flight/../../../Kellys Directory ****

1940/W A Flight/../../../Kellys Directory ****

1946/Mrs L M Flight/../../../Kellys Directory ****

1954/Mrs L M Flight/../../../Kellys Directory ****



* Provided By Bob Bates

**** Provided By Kevan