Horse & Groom, 103 East Street, Southampton, Hampshire
Southampton pub history index
Having stood since the 1780ís this establishment run by Joseph Wooldridge was known the world over by the numerous Seafarerís docking in Southampton, drawn no doubt by the type of lady who frequented it. Known as the Horse and Jockey until 1820 it was a fully licensed Premise, it certainly was not a drinking house for the faint hearted with fights, robberies with occasional murder common place, the murder was that of an American sailor who in 1959 was stabbed to death by one of his shipmates in the Lounge Bar.
Ask anyone who ever visited the pub what they remember and to a man they will say the two large stuffed bear which overwhelmed the lounge bar, Harry Batten a Landlord introduced them in 1904 and they were still in place when the pub closed on 4th April 1973, shortly after it was demolished when the area was redeveloped. * The address in the 1871 census only, is at 1 Upper Canal Walk.
Directory of Pubs in the UK, historical public houses, Taverns, Inns, Beer Houses and Hotels in Southampton, Hampshire . The Southampton, Hampshire listing uses information from census, Trade Directories and History to add licensees, bar staff, Lodgers and Visitors.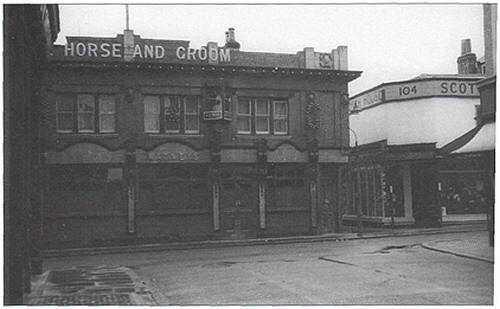 Early 1950ís view of Horse & Groom East Street Facia.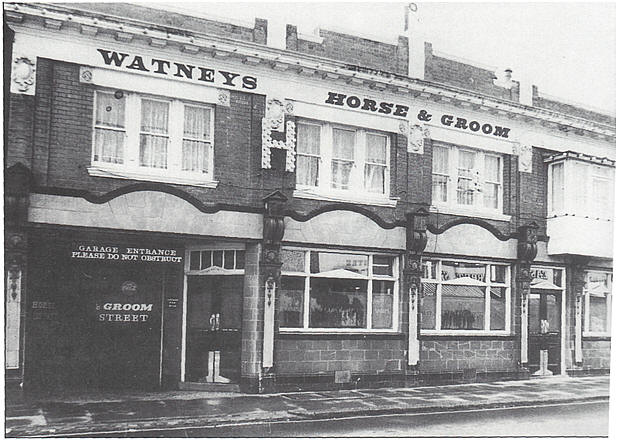 Horse and Groom, 103 East Street, corner Canal Walk, Southampton
Noth kindly provided by Bob Bates
The following entries are in this format:
Year/Publican or other Resident/Relationship to Head and or Occupation/Age/Where Born/Source.
1861/Elizabeth Short/Victualler, Widow/45/Longstock, Hampshire/Census ****
1861/Albina Short/Daughter/13/Clatford, Hampshire/Census
1861/Frances Short/Daughter/12/Southampton/Census
1861/Harriet H Short/Daughter/9/Southampton/Census
1861/George A Short/Son/6/Southampton/Census
1861/Tom A Short/Son/3/Southampton/Census
1861/Sarah Legg/Sister, Laundress/40/Wherwell, Hampshire/Census
1861/Sarah L Smith/Barmaid/19/Wherwell, Hampshire/Census
1861/Edward Raison/Ostler/27/Marlborough, Wiltshire/Census
1861/Alice Elcock/House Servant/17/Powner, Hampshire/Census
1861/Emily Ashwood/Nursemaid/34/Poole, Dorset/Census
1861/C Charles/Boarder, Commercial Traveller/23/London/Census
1861/Jane Charles/Boarder Wife/22/London/Census
1861/JOhn W Street/Boarder, Carpenter/32/Poole, Dorset/Census
1861/George Abbott/Boarder, Smith & Ironmonger/39/Yeovil, Somerset/Census

1863/Mrs Short/../../../Post Office Directory ****

1871/John H Ridgley/Beer Retailer/../../Coxs Directory ****

1871/John Hy Ridgley/Licensed Victualler/31/Shirley, Hampshire/Census ****
1871/UIsabella Esther Ridgley/Wife/31/St Leonards, Middlesex/Census
1871/Isabel Edith Ridgley/Daughter/6/Romsey, Hampshire/Census
1871/Florence Ridgley/Daughter/4/Romsey, Hampshire/Census
1871/Ellen Hall/General Servant/41/Portsea, Hampshire/Census
1871/Maria H Billett/Barmaid/22/Whitchurch, Hampshire/Census
1871/Edwin Forsey/Ostler, Labourer/23/St Heliers, Jersey/Census

1875/John Cooke/../../../Post Office Directory ****

1878/George Scorey/../../../Trade Directory ****

1881/George Scorey/Innkeeper/35/Hampshire/Census ****
1881/Celia Scorey/Wife/38/Cardiff/Census
1881/Earnest Scorey/Son/3/Hampshire/Census
1881/Eliza Mott/Barmaid/21/Southampton, Hampshire/Census
1881/Rose Lace/General Servant/19/Hampshire/Census
1881/Charles N Woods/Groom/26/Hampshire/Census

1885/George Scorey/../../../Kellys Directory ****

1889/George Scorey/../../../Kellys Directory ****

1898/George Scorey/../../../Kellys Directory ****

1907/Harry William Batten/../../../Kellys Directory ****

1911/H W Batten/../../../Kellys Directory ****

1920/H W Batten/../../../Kellys Directory ****

1927/Harry William Batten/../../../Kellys Directory ****

1935/Maurice Geo Sibley/../../../Kellys Directory ****

1940/Mrs G G Sibley/../../../Kellys Directory ****

1946/Mrs G G Sibley/../../../Kellys Directory ****

1954/Mrs G G Sibley/../../../Kellys Directory ****



* Provided By Bob Bates

**** Provided By Kevan