Lord Roberts, 73 Canal Walk, Southampton, Hampshire
Southampton pub history index
Breweries: Panton's Wareham brewery, Scrase's Star Brewery, Welsh's Hyde Abbey Brewery, Cooper's Brewery, Watney's Brewery, Free House *
Dating back to the 1850's when a James Parkman was Landlord it was known as United Flags until 1900 when it was renamed the Lord Roberts in honour of the famous Victorian Soldier. Panton's Wareham Brewery leased the premise from December 1890 to 1892 when it was brought by the Scrase's Star Brewery. During the period of ownership under Panton's their was a lot of trouble with the landlord a one Eugene Goumez who having twenty years experience as a landlord had a major falling out with the Brewery , he was replaced after the Chief Constable of Southampton in 1891 recommended that the pub's licence should be withdrawn. Scrase's Star Brewery sold it onto Welsh's Hyde Abbey Brewery again being sold to Cooper's Brewery in 1929 and finally Watney's Brewery before becoming a free house in 1986 and changing its name to The Strand, as the Lord Robert's it had become a notorious watering hole for both local queens and ones off of the Liners that used to dock in the port. It closed in 2012 and was demolished to be replaced by a block of flats. *
Directory of Pubs in the UK, historical public houses, Taverns, Inns, Beer Houses and Hotels in Southampton, Hampshire . The Southampton, Hampshire listing uses information from census, Trade Directories and History to add licensees, bar staff, Lodgers and Visitors.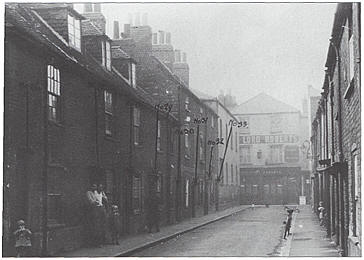 This 1930's photo is looking down Bell Street towards Canal Walk and the Lord Robert's at the far end of the street
Lord Roberts (as the Strand), 73 Canal Walk, Southampton
Both kindly provided by Bob Bates
The following entries are in this format:
Year/Publican or other Resident/Relationship to Head and or Occupation/Age/Where Born/Source.
1861/William White/Maltster, Widow/75/Ringwood, Hampshire/Census ****
1861/William Courtney/Tailor & Inn Keeper/38/Wareham, Hampshire/Census
1861/Harriet Courtney/Wife/43/Ringwood, Hampshire/Census
1861/Matilda Courtney/Daughter/17/Wareham, Hampshire/Census
1861/William Courtney/Son/15/Wareham, Hampshire/Census
1861/Fred Courtney/Son/13/Southampton, Hampshire/Census
1861/Walter Courtney/Son/8/Southampton, Hampshire/Census
1861/William Courtney/Son/1/Kennington, Surrey/Census

1863/William Courtney/../../../Post Office Directory ****

1871/William Courtney/Licensed Victualler/49/Wareham, Dorset/Census ****
1871/Mary Ann Courtney/Wife/53/Ringwood, Hampshire/Census
1871/William Courtney/Son, Sailor/25/Wareham, Dorset/Census
1871/Fred Courtney/Son, Coach painter/23/Southampton, Hampshire/Census
1871/Priscilla Courtney/Daughter, Barmaid/17/Southampton, Hampshire/Census
1871/Alice Courtney/Daughter/14/Southampton, Hampshire/Census
1871/William E Courtney/Son in Law/11/Kennington, Surrey/Census
1871/Harry Courtney/Son/9/Southampton, Hampshire/Census
1871/William White/Father in Law, Retired Maltster, Widow/84/Ringwood, Hampshire/Census
1871/Amelia Ransom/General Servant/18/Fareham, Hampshire/Census
1871/George W Wilkinson/Boarder, Turner/39/Norwich, Norfolk/Census

1875/William Courtney/United Flags, 73 canal walk/../../Kellys Directory ****

1898/Henry Elliott/United Flags, 73 canal walk/../../Kellys Directory ****

1907/Henry Rogers/../../../Kellys Directory ****

1911/Henry Rogers/../../../Kellys Directory ****

1920/H J Rogers/../../../Kellys Directory ****

1927/Henry Rogers/../../../Kellys Directory ****

1935/Hy Jas Rogers/../../../Kellys Directory ****

1940/Hy Jas Rogers/../../../Kellys Directory ****

1946/Mrs E V Haddow/../../../Kellys Directory ****

1954/Saml Geo Salway/../../../Kellys Directory ****



* Provided By Bob Bates

**** Provided By Kevan