Royal Arms, 14 Padwell Road, Southampton, Hampshire
Southampton pub history index
Charles Swanson was landlord in the 1870's of this fully licensed property; the Scrase's Star Brewery House later being brought by Strong's Romsey Brewery; in 1969 Whitbread's Brewery took over when they purchased Strong's Romsey Brewery. The pub was nearly destroyed in 1941 when a Heinkel 111 bomber crashed into the house opposite causing the pub to be badly damaged having to be propped up with wooden props for many years after the war, it changed names to the Gatehouse before closing 2008, and now converted into flats. *
The landlady Eliza Nightingale in 1915 was fined £11.00.00 for 1) serving drink outside permitted hours: 2) refusing to admit a policeman on duty. *
Directory of Pubs in the UK, historical public houses, Taverns, Inns, Beer Houses and Hotels in Southampton, Hampshire . The Southampton, Hampshire listing uses information from census, Trade Directories and History to add licensees, bar staff, Lodgers and Visitors.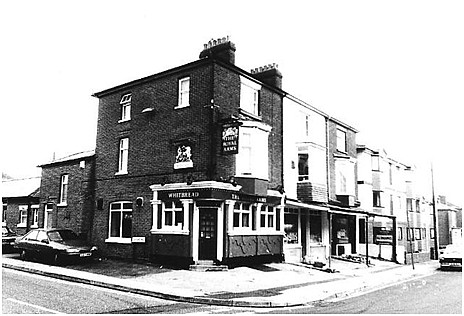 Royal Arms (Gatehouse), 14 Padwell Road, corner Oxford Road, Southampton
The Royal Arms, now residential flats.
Both kindly provided by Bob Bates
The following entries are in this format:
Year/Publican or other Resident/Relationship to Head and or Occupation/Age/Where Born/Source.
1871/Charles W Swanson/Publican/44/Limehouse, Middlesex/Census ****
1871/Sarah Swanson/Wife/37/Eling, Hampshire/Census
1871/Charles W Swanson/Son/7/Southampton, Hampshire/Census
1871/James Swanson/Son/6/Southampton, Hampshire/Census
1871/Frederick M Swanson/Son/1 month/Southampton, Hampshire/Census
1871/Mary Batten/General Servant/20/Eling, Hampshire/Census

1875/Charles William Swanson/../../../Post Office Directory ****

1878/Charles William Swanson/../../../Trade Directory ****

1881/William C Willis/Licensed Victualler/31/Milton, Kent/Census ****
1881/Ellen M Willis/Wife/33/Southampton, Hampshire/Census
1881/Frederick G Willis/Son/7/Southampton, Hampshire/Census
1881/William C Willis/Son/4/Southampton, Hampshire/Census
1881/Frances C Effemy/General Servant/19/Mitchelmersh, Hampshire/Census

1885/Mrs S Lawson/../../../Kellys Directory ****

1889/Mrs Sarah Lawson/../../../Kellys Directory ****

1898/William Nightingale/../../../Kellys Directory ****

1901/William Nightingale/Licensed Victualler/52/Dorking, Surrey/Census ****
1901/Eliza Nightingale/Wife/48/Tormsham, Devon/Census
1901/William Nightingale/Son, Gardener/28/Torquay, Devon/Census
1901/Albert W Nightingale/Grandson/8/Torquay, Devon/Census
1901/John Nead/Brother in Law, Coachman/44/Tormsham, Devon/Census
1901/William H Weymouth/Visitor, Baker/38/Barton, Devon/Census

1907/Wm Nightingale/../../../Kellys Directory ****

1911/Mrs Eliza Nightingale/../../../Kellys Directory ****

1920/Mrs Eliza Nightingale/../../../Kellys Directory ****

1927/Mrs Eliza Nightingale/../../../Kellys Directory ****

1935/Wm Nightingale/../../../Kellys Directory ****

1946/Chas M Nobbs/../../../Kellys Directory ****

1946/Mrs Mary Thompson/../../../Kellys Directory ****

1954/M E Burbridge/../../../Kellys Directory ****



* Provided By Bob Bates

**** Provided By Kevan