Search London wiki and Pub wiki history sites
Three Horseshoes, Ayot St Lawrence, Welwyn, Hertfordshire
Ayot St Peter index
This is now called the Brockett Arms ***
Directory of Pubs in the UK, historical public houses, Taverns, Inns, Beer Houses and Hotels in Hertfordshire . The Hertfordshire listing uses information from census, Trade Directories and History to add licensees, bar staff, Lodgers and Visitors.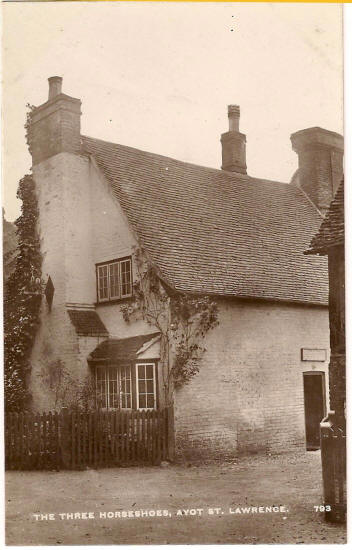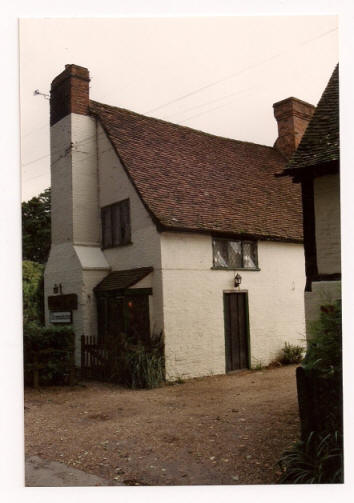 Three Horseshoes, Ayot St Lawrence - 1912 Postcard; and again in circa 2003 as the Brockett Arms
Both kindly provided by Maggie Dowden
The following entries are in this format:
Year/Publican or other Resident/Relationship to Head and or Occupation/Age/Where Born/Source.
1882/Hy Mulcott/../../../Post Office Directory ****

1886/H Mulcott/../../../Post Office Directory ****

1890/H Mulcott/../../../Post Office Directory ****

1891/Joseph Mulcock/Licensed Victualler/36/Little Coxwell, Berks/Census ****
1891/Mary Ann Mulcock/Wife/28/Bentley, Suffolk/Census
1891/Ellen Mulcock/Sister/18/Little Coxwell, Berks/Census
1891/Joseph Dowble/Father in Law, Agricultural Labourer/68/Bentley, Suffolk/Census

1895/Mrs Henry Mulcock/../../../Post Office Directory ****

1901/Charles Cooper/Inn Keeper/49/Stotfold, Beds/Census ****
1901/Mary A Cooper/Wife/38/Bentley, Suffolk/Census
1901/Mary Cooper/Daughter/24/Melbourne, Cambs/Census
1901/William Cooper/Son/13/Kimnpton, Herts/Census
1901/Elizabeth Cooper/Daughter/9/Kimnpton, Herts/Census
1901/Leonard Mulcock/Stepson/11/Ayot St Lwarence, Herts/Census
1901/Harry Mulcock/Stepson/9/Ayot St Lwarence, Herts/Census
1901/Elizabeth Mulcock/Step Daughter/7/Ayot St Lwarence, Herts/Census
1901/Stanley Cooper/Son/6 months/Ayot St Lwarence, Herts/Census

1902/Chas Cooper/../../../Post Office Directory ****

My maternal grandmother, Rose Matilda Tilley and her husband Joseph George Tilley (d. 1911) were keepers of this pub. I am trying to establish when they took over and the year that she left, it seems that she stayed on after her husband died. We have a postcard written by my mother in 1912 which has a photograph of the pub on it and you can clearly see with a magnifying glass my grandmothers name on the board over the door. ***

1908/J Tilley/../../../Post Office Directory ****

1911/Joseph George Tilley/Inn Keeper/45/Broughton/Census ***
1911/Rose Matilda Tilley/Wife/33/Alton Barnes, Wilts/Census
1911/Herbert George Tilley/Son/12/Eaton Socon, Beds/Census
1911/William Newell/Stepson/12/Denham, Bucks/Census
1911/Nellie Phoebe May Newell/Daughter/5 months/Ayot St Lawrence, Herts/Census

1912/Mrs Rose Matilda Tilley/../../../Post Office Directory ****

1914/Alfred E Neil/../../../Post Office Directory ****

1922/Frederick Wortham/../../../Post Office Directory ****

1926/Frederick Wortham/../../../Post Office Directory ****

1929/Albert C Moore/../../../Post Office Directory ****

1933/Albert C Moore/../../../Post Office Directory ****



*** Provided By Maggie Dowden

**** Provided By Kevan