Search London wiki and Pub wiki history sites
The Fox Inn, 469 Luton road, Kinsbourne Green, Harpenden, Hertfordshire AL5
at Kinsbourne Green in 1890 directory. The licensee records are only listed until 1937, but it is still a Mitchells & Butlers Premium Country public house in 2017.
Harpenden pub history index
Directory of Pubs in the UK, historical public houses, Taverns, Inns, Beer Houses and Hotels in Hertfordshire . The Hertfordshire listing uses information from census, Trade Directories and History to add licensees, bar staff, Lodgers and Visitors.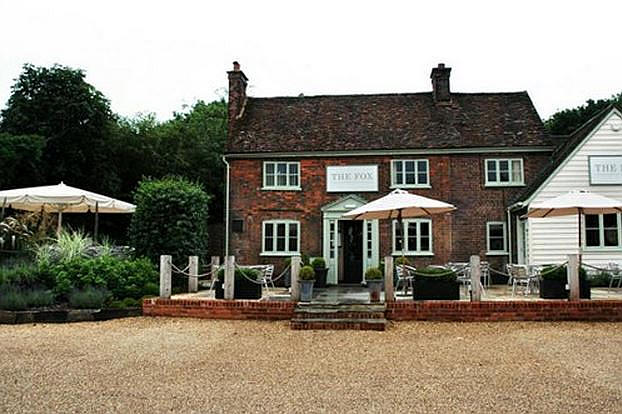 Fox, Harpenden
Kindly provided by Peter Wonnacott
The following entries are in this format:
Year/Publican or other Resident/Relationship to Head and or Occupation/Age/Where Born/Source.
1841/George Bassill/Beer Seller/55/Hertfordshire/Census ****
1841/Mary Bassill/../55/Hertfordshire/Census
1841/Mary Bassill/../15/Hertfordshire/Census
1841/Sarah Bassill/../10/Hertfordshire/Census

1851/George Bassill/Beer House Keeper/68/Redbourn, Hertfordshire/Census ****
1851/Mary Bassill/Wife/64/Stevenage, Hertfordshire/Census
1851/Mary Bassill/Daughter, Dressmaker/27/Harpenden, Hertfordshire/Census
1851/Sarah Jackson/Daughter, Bonnet Sewer/21/Harpenden, Hertfordshire/Census
1851/William Jackson/Grandson/5 months/Newport, Monmouthshire/Census
1851/Ellen Bassill/Grand Daughter/4/Great Gaddesden, Hertfordshire/Census

1861/Samuel Bassil/Ag Labourer/45/Harpenden/Census ****
1861/Maria Bassil/Wife/43/Harpenden/Census
1861/William Bassil/Son, Ag Labourer/20/Harpenden/Census
1861/Robert Bassil/Son, gardener/18/Harpenden/Census
1861/Ann Bassil/Daughter, Bonnet Sewer/16/Harpenden/Census
1861/Emily Bassil/Daughter, Bonnet Sewer/14/Harpenden/Census
1861/Ellen Bassil/Daughter, Bonnet Sewer/12/Harpenden/Census
1861/Thomas Brown/Lodger, Ag Labourer/19/Luton/Census
1861/William Frost/Lodger, Sawyer/21/Northampton/Census

1866/Samuel Bassil/Beer Retailer/../../Post Office Directory ****

1871/Samuel Bassil/Ag Labourer/55/Harpenden, Hertfordshire/Census ****
1871/Maria Bassil/Wife, Sewer/53/Harpenden, Hertfordshire//Census
1871/Ann Bassil/Daughter, Sewer/25/Harpenden, Hertfordshire/Census
1871/Emily Bassil/Daughter, Sewer/24/Harpenden, Hertfordshire/Census
1871/Ellen Bassil/Daughter, Sewer/22/Harpenden, Hertfordshire/Census

1881/Samuel Bassil/Ag Labourer/65/Harpenden, Hertfordshire/Census ****
1881/Maria Bassil/Wife/63/Harpenden, Hertfordshire/Census
1881/Ann Bassil/Daughter/36/Harpenden, Hertfordshire/Census
1881/Ellen Bassil/Daughter, Dressmaker/32/Harpenden, Hertfordshire/Census

1882/Samuel Bassil/Beer Retailer, Kingsbourn green/../../Post Office Directory ****

1886/Samuel Bassil/Beer Retailer, Kingsbourn green/../../Post Office Directory ****

1890/Samuel Bassil/Beer Retailer, Kingsbourn green/../../Post Office Directory ****

1891/Samuel Bassil/Beer Retailer/74/Flamsted, Herts/Census
1891/Maria Bassil/Wife/73/Harpenden, Herts/Census
1891/Ann Bassil/Daughter/44/Harpenden, Herts/Census

1901/Ann Bassil/Beer House Keeper/56/Harpenden, Hertfordshire/Census ****
1901/Maria Bassil/Mother, Widow/83/Harpenden, Hertfordshire/Census
1901/Robert Bassil/Brother, Retired Gardener/58/Harpenden, Hertfordshire/Census

1911/Robert Bassil/Beer Retailer, Widow/68/Harpenden, Hertfordshire/Census ****
1911/Ann Bassil/Sister/66/Harpenden, Hertfordshire/Census
1911/Samuel Allen Bassil/Son, Assistant/36/Enfield, Middlesex/Census

1912/Rt Bassil/Beer Retailer/../../Post Office Directory ****

1922/Samuel Allen/Beer Retailer/../../Post Office Directory ****

1926/William Chas Bassil/Beer Retailer/../../Post Office Directory ****

1929/William Chas Bassil/Beer Retailer/../../Post Office Directory ****

1933/William Chas Bassil/Beer Retailer/../../Post Office Directory ****

1937/William Chas Bassil/../../../Post Office Directory ****



** Provided By Stephen Harris

**** Provided By Kevan