The Fox Inn, 469 Luton road, Kinsbourne Green, Harpenden, Hertfordshire AL5
at Kinsbourne Green in 1890 directory. The licensee records are only listed until 1937, but it is still a Mitchells & Butlers Premium Country public house in 2017.
Harpenden pub history index
Directory of Pubs in the UK, historical public houses, Taverns, Inns, Beer Houses and Hotels in Hertfordshire .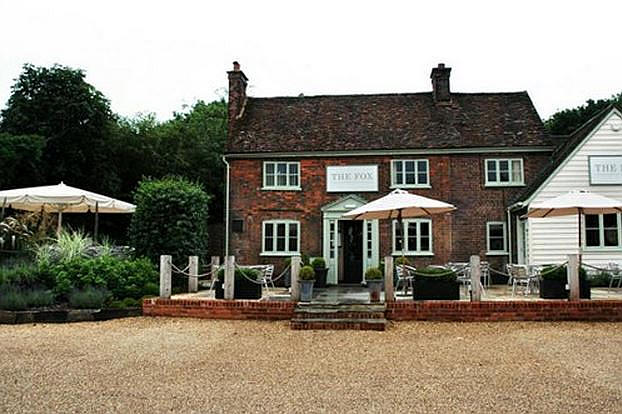 Fox, Harpenden
Kindly provided by Peter Wonnacott
Residents at this address
1841/George Bassill/Beer Seller/55/Hertfordshire/Census
1841/Mary Bassill/../55/Hertfordshire/Census
1841/Mary Bassill/../15/Hertfordshire/Census
1841/Sarah Bassill/../10/Hertfordshire/Census

1851/George Bassill/Beer House Keeper/68/Redbourn, Hertfordshire/Census
1851/Mary Bassill/Wife/64/Stevenage, Hertfordshire/Census
1851/Mary Bassill/Daughter, Dressmaker/27/Harpenden, Hertfordshire/Census
1851/Sarah Jackson/Daughter, Bonnet Sewer/21/Harpenden, Hertfordshire/Census
1851/William Jackson/Grandson/5 months/Newport, Monmouthshire/Census
1851/Ellen Bassill/Grand Daughter/4/Great Gaddesden, Hertfordshire/Census

1861/Samuel Bassil/Ag Labourer/45/Harpenden/Census
1861/Maria Bassil/Wife/43/Harpenden/Census
1861/William Bassil/Son, Ag Labourer/20/Harpenden/Census
1861/Robert Bassil/Son, gardener/18/Harpenden/Census
1861/Ann Bassil/Daughter, Bonnet Sewer/16/Harpenden/Census
1861/Emily Bassil/Daughter, Bonnet Sewer/14/Harpenden/Census
1861/Ellen Bassil/Daughter, Bonnet Sewer/12/Harpenden/Census
1861/Thomas Brown/Lodger, Ag Labourer/19/Luton/Census
1861/William Frost/Lodger, Sawyer/21/Northampton/Census

1866/Samuel Bassil/Beer Retailer/../../Post Office Directory

1871/Samuel Bassil/Ag Labourer/55/Harpenden, Hertfordshire/Census
1871/Maria Bassil/Wife, Sewer/53/Harpenden, Hertfordshire//Census
1871/Ann Bassil/Daughter, Sewer/25/Harpenden, Hertfordshire/Census
1871/Emily Bassil/Daughter, Sewer/24/Harpenden, Hertfordshire/Census
1871/Ellen Bassil/Daughter, Sewer/22/Harpenden, Hertfordshire/Census

1881/Samuel Bassil/Ag Labourer/65/Harpenden, Hertfordshire/Census
1881/Maria Bassil/Wife/63/Harpenden, Hertfordshire/Census
1881/Ann Bassil/Daughter/36/Harpenden, Hertfordshire/Census
1881/Ellen Bassil/Daughter, Dressmaker/32/Harpenden, Hertfordshire/Census

1882/Samuel Bassil/Beer Retailer, Kingsbourn green/../../Post Office Directory

1886/Samuel Bassil/Beer Retailer, Kingsbourn green/../../Post Office Directory

1890/Samuel Bassil/Beer Retailer, Kingsbourn green/../../Post Office Directory

1891/Samuel Bassil/Beer Retailer/74/Flamsted, Herts/Census
1891/Maria Bassil/Wife/73/Harpenden, Herts/Census
1891/Ann Bassil/Daughter/44/Harpenden, Herts/Census

1901/Ann Bassil/Beer House Keeper/56/Harpenden, Hertfordshire/Census
1901/Maria Bassil/Mother, Widow/83/Harpenden, Hertfordshire/Census
1901/Robert Bassil/Brother, Retired Gardener/58/Harpenden, Hertfordshire/Census

1911/Robert Bassil/Beer Retailer, Widow/68/Harpenden, Hertfordshire/Census
1911/Ann Bassil/Sister/66/Harpenden, Hertfordshire/Census
1911/Samuel Allen Bassil/Son, Assistant/36/Enfield, Middlesex/Census

1912/Rt Bassil/Beer Retailer/../../Post Office Directory

1922/Samuel Allen/Beer Retailer/../../Post Office Directory

1926/William Chas Bassil/Beer Retailer/../../Post Office Directory

1929/William Chas Bassil/Beer Retailer/../../Post Office Directory

1933/William Chas Bassil/Beer Retailer/../../Post Office Directory

1937/William Chas Bassil/../../../Post Office Directory



** Provided By Stephen Harris