Search London wiki and Pub wiki history sites
Talbot Arms, 82 Fore Street, Hertford, Hertfordshire
Hertford index
This pub closed in around 1960 and the premises now house an antiques shop. At a variety of addresses, e.g. 46 Fore Street in 1929 **
Directory of Pubs in the UK, historical public houses, Taverns, Inns, Beer Houses and Hotels in Hertfordshire . The Hertfordshire listing uses information from census, Trade Directories and History to add licensees, bar staff, Lodgers and Visitors.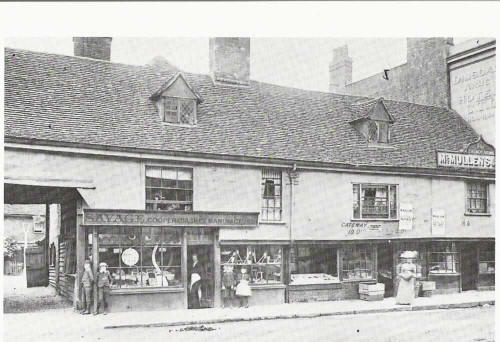 Talbot Arms, Fore Street, Hertford - date unknown
Kindly provided by Roger Gould
The Dimsdale Arms can bee seen at the right end of the picture, and Savage, cooper and basket manufacturer to the left.
My great great grandfather lived and died in the 'Savage' shop, next to the Talbot Arms, in 1849. In my investigations of him I came across a George A Savage (cooper) in the 1881 census who was living exactly opposite on Fore St. I then found him again in the 1891 census with his wife and 4 children living nearby in Railway Street. The old buildings were knocked down in 1889 to make way for the new post office. I believe the photo was taken just before the Savages had to move out, it shows Mrs Savage and her daughter and 3 sons. Judging from the visual age of the children I put the date as 1888 plus or minus 1. *
Talbot Arms, 82 Fore Street, Hertford - in February 2009
Kindly provided by Stephen Harris
The following entries are in this format:
Year/Publican or other Resident/Relationship to Head and or Occupation/Age/Where Born/Source.
My great great grandfather Henry Chesher was landlord from perhaps 1853 until his death in 1880. It seems it was demolished some time before 1910, and replaced by a 'new' Talbot Arms (as above), with the new Post Office built alongside. ***

Hertford Mercury, Aug 17 1844:
Ware: Novel Wager
'Mr H Chesher, eating house keeper, of Hertford recently wagered a sovereign and a bottle of wine, that he would sell a thousand wheaten rolls in Ware-market in twelve hours. The wager was taken under the following conditions: The rolls (very small ones) were to be sold at four a penny and not more than four pennies' worth were to be sold to any person at one time. On Tuesday the wager came off, the rolls were made and taken to Ware, and such was the avidity with which the opportunity of getting a 'cheap roll' was siezed that within one hour Chesher had sold twenty eight over the number and he had no doubt that if he had a thousand more, he could have disposed of them. The town crier was sent round the town to give notice of the sale and such a large gathering of all classes took place, much amusement being excited by the contests of the buyers to be first served.' ***

Hertfordshire Countryside, Feb 1978, P34:
'Charge of the Light Brigade' letter found in museum:
'In 1850 he (Henry Chesher) also had an eating house in Fore Street and three years later a beer retailing business, fruiterers and eating house there.
The last reference is in 1870 when Henry Chesher is said to have run a fruiterers and beer and spirit retailing business in Fore Street.' ***

1851/Henry Chesher/Eating House Keeper/43/Brickendon, Herts/Census ***
1851/Caroline Chesher/Wife/42/Hertford, Herts/Census
1851/Henry Chesher/Son, Errand Boy/14/Hertford, Herts/Census
1851/Edward Chesher/Son/10/Hertford, Herts/Census
1851/Emily Chesher/Daughter/6/Hertford, Herts/Census
1851/Walter Chesher/Son/3/Hertford, Herts/Census
1851/Alfred Chesher/Son/1/Hertford, Herts/Census
1851/Sarah Gutteridge/Servant/14/Datchworth, Herts/Census

1861/Henry Chesher/Fishmonger & Fruiterer/56/Brickendon, Herts/Census ***
1861/Caroline Chesher/Wife/56/Hertford, Herts/Census
1861/Emily Chesher/Daughter/16/Hertford, Herts/Census
1861/Walter Chesher/Son/14/Hertford, Herts/Census
1861/Alfred Chesher/Son/12/Hertford, Herts/Census
1861/George Chesher/Son/9/Hertford, Herts/Census

1871/Henry Chesher/Licensed Victualler/63/Brickendon, Herts/Census ***
1871/Caroline Chesher/Wife/63/St Andrews, Herts/Census
1871/Emily J Chesher/Daughter/26/Hertford, Herts/Census
1871/George Chesher/Son/19/Hertford, Herts/Census
1871/Caroline A Chesher/Grand Daughter/7/Barbados, West Indies/Census
1871/Hyler Wilm Chesher/Grandson/5/Barbados, West Indies/Census
1871/Charles Chesher/Grandson/1/Hertford, Herts/Census

Hertford Mercury, circa Dec 1916:
Alf. Chesher, The Hertford Musician:
'He was 65 years of age and was the son of Harry Chesher, the landlord of the old Talbot Arms before it and the adjoining Chequers Yard were demolished to make way for the present Post Office.' ***

Unknown 1990s publication re Hertfordshire public houses:
Based on corporation records researched by Harry Bentley (Hertford Town Clerk in the 1930s):
'Talbot Arms, 84 Fore Street. Formerly Chequers from 1629. Original building on present Post Office site was de-licensed in 1691 and converted into tenements. Reopened 1729-1762 on a site further to the west, still on south side of Fore Street. Part of the original Chequer Estate was purchased in 1890 by McMullen, who erected on it a small public house called the Talbot Arms. The rest of the site was sold for the present Post Office. Talbot Arms closed 1966. The façade remains with the name Talbot Arms above the entrance.' ***

1881/Charlotte English/Innkeeper, widow/61/Norwich, Norfolk/Census

1882/Mrs Charlotte English/& Fruiterer/../../Kellys Directory ****

1926/Harry Collins/../../../Kellys Directory **

1929/Harry Collins/../../../Kellys Directory **

1933/Harry Collins/../../../Kellys Directory **

1937/G Hills/Proprietor/../../Post Office Directory ****

1939/G Hills/../../../Kellys Directory **

December 1939/Albert C Payne/Outgoing Licensee/../../Hertford Mercury

December 1939/Conrad J W Hill/Incoming Licensee/../../Hertford Mercury



* Provided By John Randall

** Provided By Stephen Harris

*** Provided By Roger Gould

**** Provided By Kevan