Search London wiki and Pub wiki history sites
Black Horse, 20 High Street, Hitchin, Hertfordshire
Hitchin pub history index
High Street was earlier called Cock street. This pub is now closed and in retail use. **
Directory of Pubs in the UK, historical public houses, Taverns, Inns, Beer Houses and Hotels in Hertfordshire . The Hertfordshire listing uses information from census, Trade Directories and History to add licensees, bar staff, Lodgers and Visitors.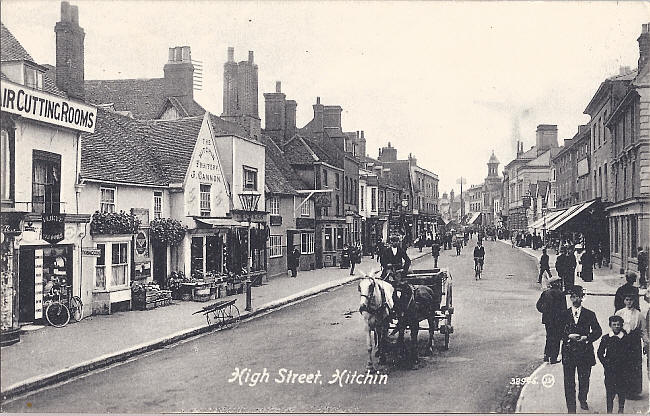 Black Horse & High Street, Hitchin
Kindly provided by Mike Gallagher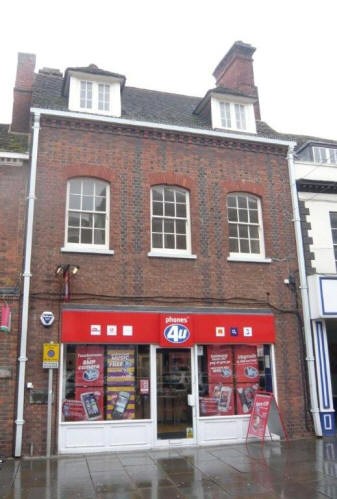 Black Horse, 20 High Street, Hitchin - in June 2009
Kindly provided by Stephen Harris
The following entries are in this format:
Year/Publican or other Resident/Relationship to Head and or Occupation/Age/Where Born/Source.
1839/Ann Kingsley/../../../Pigots Directory ***

1855:(Mrs) Thomas Davies/../../../P.O. Directory **

1861/Joseph Cannon/Publican/47/Kings Walden, Herts/Census ***
1861/Ann Cannon/Wife/48/Walsworth, Herts/Census

I am related to the Sarah Thorogood you have listed as the landlady, her maiden name was Bonfield. *+

1866/C Thurgood/../../../Post Office Directory ****

1871/Charles Thorogood/Maltster/26/Hitchin, Hertfordshire/Census *
1871/Sarah Thorogood/Wife/28/Wallington, Hertfordshire/Census
1871/Chas William Thorogood/Son/5/Hitchin, Hertfordshire/Census
1871/Sarah Anne Thorogood/Daughter/4/Hitchin, Hertfordshire/Census
1871/Thos Hy Thorogood/Son/1/Hitchin, Hertfordshire/Census
1871/Ann Bonfield/Mother, Plaiter/52/Melbourn, Cambridgeshire/Census

1881/Charles Thorogood/Baker, Inn Keeper/36/Hitchin, Hertfordshire/Census
1881/Sarah Thorogood/Wife/37/Wallington, Hertfordshire/Census
1881/William Thorogood/Son, Harness Maker/16/Hitchin, Hertfordshire/Census
1881/Sarah Thorogood/Daughter/14/Hitchin, Hertfordshire/Census
1881/Thomas Thorogood/Son/11/Hitchin, Hertfordshire/Census
1881/Herbert Thorogood/Son/8/Hitchin, Hertfordshire/Census
1881/Frederick Thorogood/Son/5/Hitchin, Hertfordshire/Census
1881/Walter Thorogood/Son/3/Hitchin, Hertfordshire/Census
1881/Ann Bonfield/Mother in Law, Widow/60/Melbourn, Cambridgeshire/Census

1886/Charles Thorogood/../../../Post Office Directory ****

1890/Charles Thorogood/../../../Post Office Directory ****

1891/Charles Thorogood/Inn Keeper/45/Hitchin, Herts/Census ****
1891/Martha E Thorogood/Wife/47/Wallington, Herts/Census
1891/Frederick A Thorogood/Son, Harness Makers Apprentice/15/Hitchin, Herts/Census
1891/Walter Alex Thorogood/Son/13/Hitchin, Herts/Census
1891/Leonard George Thorogood/Son/2/Hitchin, Herts/Census
1891/Maud Maria Thorogood/Daughter/5 months/Hitchin, Herts/Census
1891/Marian Black/Visitor/14/London/Census
1891/James Mansell/Lodger, Helper in House/40/Hitchin, Herts/Census

1901/Thomas Fryer/Innkeeper/28/Faermoy, Ireland/Census ***
1901/L Fryer/Wife/26/Faermoy, Ireland/Census

1894/George Thorogood/../../../Kelly's Directory **

1895/George Thorogood/../../../Kelly's Directory of Hertfordshire **

1899/George Thorogood/../../../Kelly's Directory of Hertfordshire **

1912/Jim Abrams/../../../Post Office Directory ****

1922/Mrs Lucy Burr/../../../Post Office Directory ****

1926/Mrs Lucy Burr/../../../Post Office Directory ****

1929/William Parsons/../../../Post Office Directory ****

1933/William Parsons/../../../Post Office Directory ****

1937/William Parsons/../../../Post Office Directory ****



* Provided By Brian Haines

*+ Provided By Mike Gallagher

** Provided By Stephen Harris

*** Provided By Colin Ager

**** Provided By Kevan