Search London wiki and Pub wiki history sites
Sun, Lemsford, Hatfield, Hertfordshire
This pub is thought to have been established in 1717. **
Directory of Pubs in the UK, historical public houses, Taverns, Inns, Beer Houses and Hotels in Hertfordshire . The Hertfordshire listing uses information from census, Trade Directories and History to add licensees, bar staff, Lodgers and Visitors.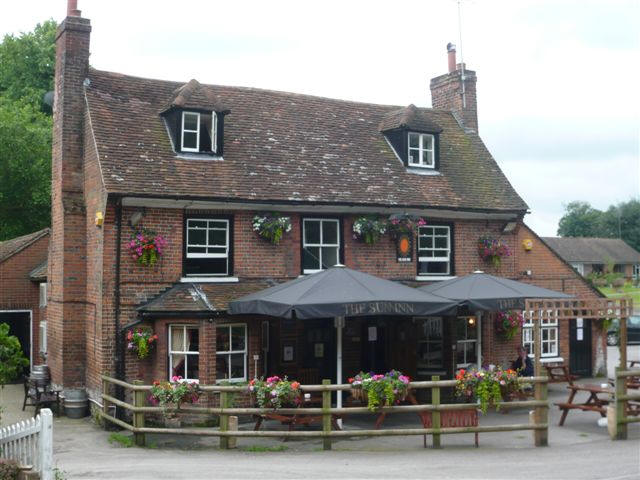 Sun, 34 Lemsford Village, Lemsford - in June 2008
Kindly provided by Stephen Harris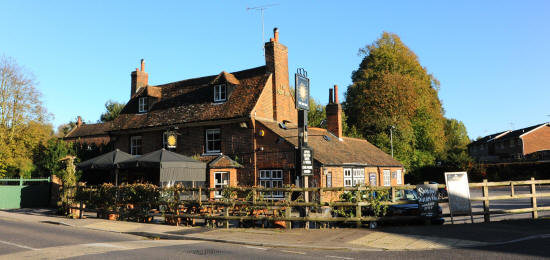 Sun Inn, Lemsford, Hatfield
Kindly provided by Rosemary Wenzerul
The following entries are in this format:
Year/Publican or other Resident/Relationship to Head and or Occupation/Age/Where Born/Source.
1881/Thomas Halsey/Publican/67/Cromer Hyde, Hertford/Census ****
1881/Hannah Halsey/Wife/63/Hatfield, Hertford/Census
1881/Eliza Halsey/Daughter/34/Lemsford, Hertford/Census
1881/George Halsey/Son, General Labourer/32/Lemsford, Hertford/Census
1881/Sophia Halsey/Daughter/20/Lemsford, Hertford/Census
1881/Henry Halsey/Grandson/12/Lemsford, Hertford/Census
1881/Emily Wallis/Daughter/28/Lemsford, Hertford/Census
1881/Noah Wallis/Son In Law, Farm Labourer/32/Weston, Hertford/Census
1881/Reginald J Wallis/Son/6 months/Lemsford, Hertford/Census
1881/Lizzie Males/Daughter/25/Lemsford, Hertford/Census
1881/Bertie Males/Grandson/3 months/Harlesden Green, Middlesex/Census

1882/Thomas Halsey/../../../Post Office Directory ****

1886/Mrs Hannah Halsey/../../../Post Office Directory ****

1890/Mrs Hannah Halsey/../../../Post Office Directory ****

1891/Noah Wallis/Agricultural Labourer/41/Weston, Herts/Census ****
1891/Emily Wallis/Wife/36/Lemsford, Herts/Census
1891/Harry Wallis/Son/11/Lemsford, Herts/Census
1891/Reginald Wallis/Son/10/Lemsford, Herts/Census
1891/Annie Wallis/Daughter/8/Lemsford, Herts/Census
1891/Oliver Wallis/Daughter/7/Lemsford, Herts/Census
1891/Albert Wallis/Son/4/Lemsford, Herts/Census

1912/George Halsey/../../../Post Office Directory ****

1922/George Halsey/../../../Post Office Directory ****

1926/Harry Halsey/../../../Post Office Directory ****

1929/Harry Halsey/../../../Post Office Directory ****

1933/Harry Halsey/../../../Post Office Directory ****

1937/Harry Halsey/../../../Post Office Directory ****



** Provided By Stephen Harris

**** Provided By Kevan