Search London wiki and Pub wiki history sites
Bull Hotel, 56 High Street, Royston, Hertfordshire
This pub was established as the Black Bull by 1520 and continued under that name until at least 1828. It had become the Bull Inn by 1855. **
Directory of Pubs in the UK, historical public houses, Taverns, Inns, Beer Houses and Hotels in Hertfordshire . The Hertfordshire listing uses information from census, Trade Directories and History to add licensees, bar staff, Lodgers and Visitors.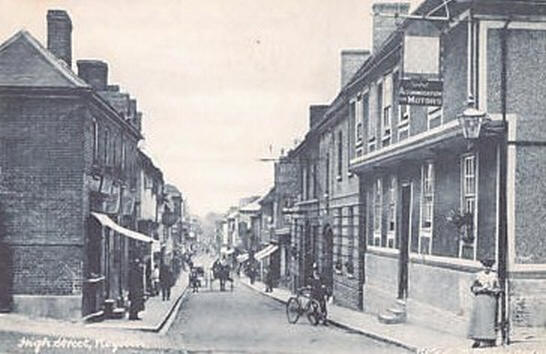 Bull Hotel/Inn, 56 High Street, Royston - circa 1900
The Bull Inn is the second building from the camera on the right hand side of the street (in the same postcard view, the nearest building on the right side is the Chequers).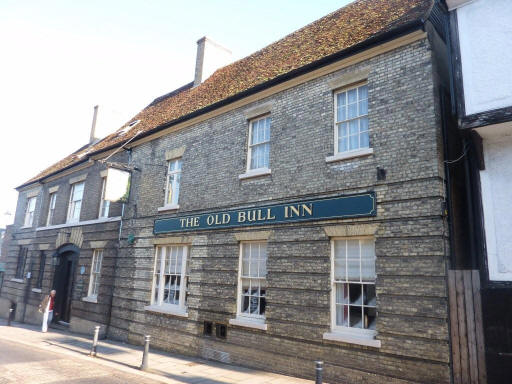 Bull Inn, 56 High Street, Royston - in January 2010
Both kindly provided by Stephen Harris
The following entries are in this format:
Year/Publican or other Resident/Relationship to Head and or Occupation/Age/Where Born/Source.
1828/John Fincher Petts/../../../records of Rowley, Son & Royce, solicitors, held at Cambridgeshire Records Office **

1855/Miss Mary Luck/../../../Post Office Directory **

1866/Miss M Luck/../../../Post Office Directory ****

1890/Mrs M Putt/../../../Kelly's Directory of Hertfordshire **

1891/Martha Putt/Hotel Keeper, Widow/46/Royston, Herts/Census ****
1891/Eliann M Putt/Daughter/10/Royston, Herts/Census
1891/Eliza Pearson/Inn Keepers Assistant, Widow/37/Cornhill, London/Census
1891/Emily J Whitehead/Cook/24/Maidstone, Kent/Census
1891/Louisa Whitehead/Waitress/22/Maidstone, Kent/Census
1891/Emily Rayner/Housemaid/22/Therfield, Herts/Census
1891/William Eggleton/Boots/30/Fakenham, Norfolk/Census
1891/Allen Humphrey/Driver/20/Therfield, Herts/Census

1894/Mrs M Putt/../../../Kelly's Directory **

1899/Mrs M Putt/../../../Kelly's Directory of Hertfordshire **

1912/Edwin Logsdon/../../../Post Office Directory ****

1937/F G Anstiss/../../../Post Office Directory ****



** Provided By Stephen Harris

**** Provided By Kevan