Search London wiki and Pub wiki history sites
Cock, Stocking Pelham, Buntingford, Hertfordshire
Stocking Pelham pub index
I appears the Cock burnt down in February, 2008
Directory of Pubs in the UK, historical public houses, Taverns, Inns, Beer Houses and Hotels in Hertfordshire . The Hertfordshire listing uses information from census, Trade Directories and History to add licensees, bar staff, Lodgers and Visitors.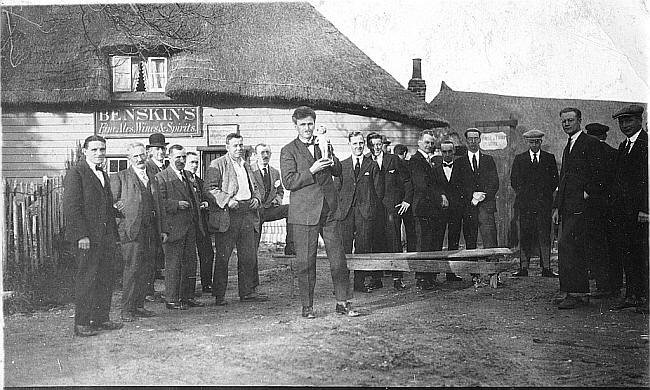 Cock Inn, Stocking Pelham - circa 1920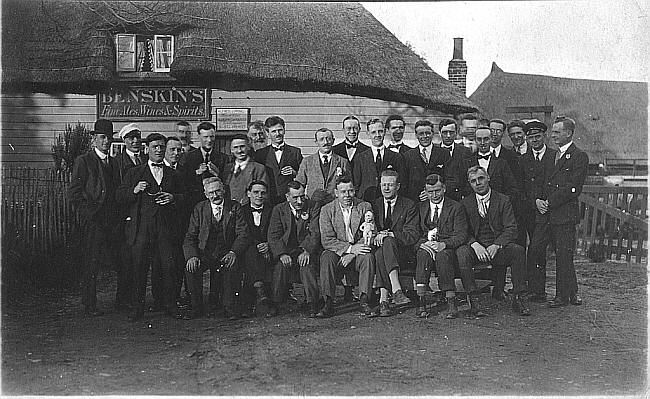 Cock Inn, Stocking Pelham - circa 1920
My grandfather was born in 1897 and grew up in Chingford. He is the chap in the glasses, and the Landlord's sign above the door lists a Alfred J Pring, and would be circa 1920.

Both kindly provided by Geoff Hogg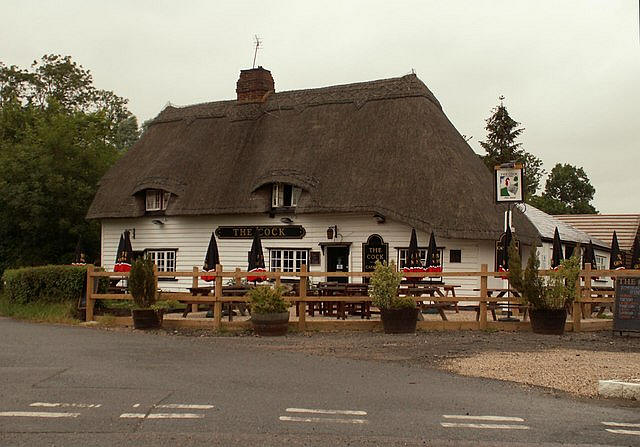 The Cock inn, Stocking Pelham, Herts
© Copyright Robert Edwards and licensed for reuse under this Creative Commons Licence
The following entries are in this format:
Year/Publican or other Resident/Relationship to Head and or Occupation/Age/Where Born/Source.
1851/Joseph Wootten/Victualler/30/Furneaux Pelham, Hertfordshire/Census ****
1851/Sarah Wootten/Wife/28/Clavering, Essex/Census
1851/Emley Wootten//Daughter/6/Furneaux Pelham, Hertfordshire/Census
1851/Harriot S Wootten/Daughter/4/Stocking Pelham, Hertfordshire/Census
1851/Alice Jane Wootten/Daughter/2/Stocking Pelham, Hertfordshire/Census

1861/Joseph Wootten/Inn Keeper/42/Furneaux Pelham, Hertfordshire/Census ****
1861/Sarah Wootten/Wife/38/Brent Pelham, Hertfordshire/Census
1861/Alice J Wootten/Daughter/13/Stocking Pelham, Hertfordshire/Census
1861/George Wootten/Son/9/Stocking Pelham, Hertfordshire/Census
1861/Albert J Wootten/Son/4/Stocking Pelham, Hertfordshire/Census

1866/J Wootten/../../../Post Office Directory ****

1871/Joseph Wootten/Publican/52/Furneaux Pelham, Hertfordshire/Census ****
1871/Sarah Wootten/Wife/48/../Census
1871/George Wootten/Son/19/Stocking Pelham, Hertfordshire/Census
1871/Albert J Wootten/Son/14/Stocking Pelham, Hertfordshire/Census
1871/Leonard H Wootten/Grandson/3/Stocking Pelham, Hertfordshire/Census

1881/Joseph Wootten/Publican/63/Furneaux Pelham/Census ****
1881/Sarah Wootten/Wife/58/../Census
1881/Leonard H Wootten/Grandson/13/Stocking Pelham/Census

1882/Joseph Wootten/../../../Post Office Directory ****

1886/Mrs Sarah Wootten/../../../Post Office Directory ****

1890/Mrs Sarah Wootten/../../../Post Office Directory ****

1891/Sarah Wootten/Inn Keeper, Widow/68/../Census ****
1891/Harriett Caton/Grand Daughter/16/Langley, Essex/Census

1901/Sarah Wootten/Publican, Widow/78/../Census ****
1901/Martha Caton/Step Daughter/12/Langley, Essex/Census

1911/Sarah Wootten/Publican, Licensed Victualler, Widow/88/Brent Pelham, Hertfordshire/Census ****
1911/Albert John Wootten/Son, Manager/55/Stocking Pelham/Census
1911/Emily Wootten/Daughter in Law/58/Langley, Essex/Census

1912/Albert Wootten/../../../Post Office Directory ****

1922/Albert Jn Wootten/../../../Post Office Directory ****

1926/Alfred Pring/../../../Post Office Directory ****

1929/Alfred Pring/../../../Post Office Directory ****

1933/E R Coles/../../../Post Office Directory ****

1937/Edgar Rowland Coles/../../../Post Office Directory ****



** Provided By Stephen Harris

**** Provided By Kevan