Search London wiki and Pub wiki history sites
Fox & Duck, Fox Lane, Therfield, Royston, Hertfordshire
aka Fox Inn in many of the census
Therfield pub history index
Directory of Pubs in the UK, historical public houses, Taverns, Inns, Beer Houses and Hotels in Hertfordshire . The Hertfordshire listing uses information from census, Trade Directories and History to add licensees, bar staff, Lodgers and Visitors.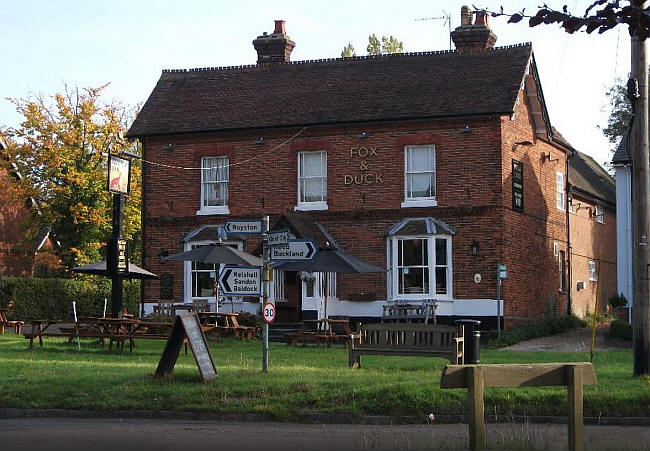 Fox & Duck, Fox Lane, Therfield, Royston
Kindly provided by Peter Wonnacott
The following entries are in this format:
Year/Publican or other Resident/Relationship to Head and or Occupation/Age/Where Born/Source.
1866/J Smith/../../../Post Office Directory ****

1871/John Smith/ShoeMaker & Publican/38/Kelshall, Hertfordshire/Census ****
1871/Jane Smith/Wife/30/Therfield, Hertfordshire/Census
1871/Emily Smith/Daughter/4/Therfield, Hertfordshire/Census
1871/Mary Smith/Daughter/1/Therfield, Hertfordshire/Census

1881/John Smith/Boot Maker & Publican/48/Kelshall, Hertfordshire/Census ****
1881/Jane Smith/Wife/40/Therfield, Hertfordshire/Census
1881/Emily Smith/Daughter, Assistant/14/Therfield, Hertfordshire/Census
1881/Mary Smith/Daughter/11/Therfield, Hertfordshire/Census
1881/George Smith/Son/7/Therfield, Hertfordshire/Census

1882/John Smith/../../../Post Office Directory ****

1886/John Smith/../../../Post Office Directory ****

1890/John Smith/../../../Post Office Directory ****

1891/John Smith/Publican & Farmer/60/Kelshall, Hertfordshire/Census
1891/Jane Smith/Wife/50/Therfield, Hertfordshire/Census
1891/George Smith/Son, Bricklayers labourer/17/Therfield, Hertfordshire/Census

1901/John Smith/Licensed Victualler/70/Kelshall, Hertfordshire/Census ****
1901/Jane Smith/Wife/60/Therfield, Hertfordshire/Census
1901/Mary Smith/Daughter, Teacher Board School/31/Therfield, Hertfordshire/Census
1901/George Smith/Son, Bricklayer/27/Therfield, Hertfordshire/Census

1911/Jane Smith/Licensed Victualler, Widow/70/Royston, Therfield, Hertfordshire/Census ****
1911/Minnie Watson/General Servant/14/Royston, Kelshall/Census

1912/Mrs Jane Smith/../../../Post Office Directory ****

1922/Mrs Mabel Berry/../../../Post Office Directory ****

1926/Mrs Mabel Berry/../../../Post Office Directory ****

1929/Mrs Mabel Berry/../../../Post Office Directory ****

1933/Leonard Berry/../../../Post Office Directory ****

1937/Jn Chinnery/../../../Post Office Directory ****



** Provided By Stephen Harris

**** Provided By Kevan