Pub history and pub wiki
Prince Albert, 228 High Street, Waltham Cross, Hertfordshire
Waltham Cross index
Directory of Pubs in the UK, historical public houses, Taverns, Inns, Beer Houses and Hotels in Hertfordshire . The Hertfordshire listing uses information from census, Trade Directories and History to add licensees, bar staff, Lodgers and Visitors.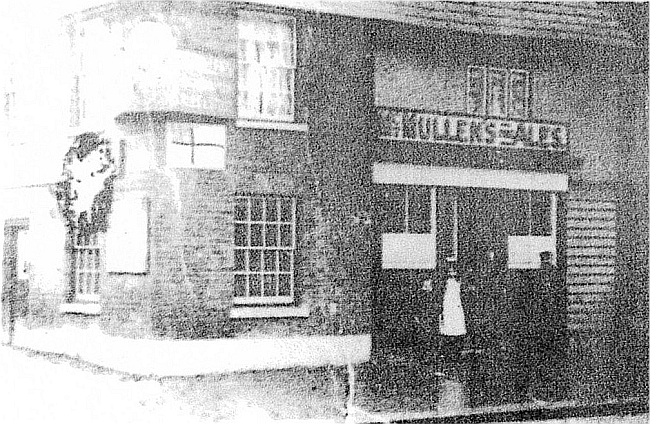 Prince Albert, 228 High Street, Waltham Cross - circa 1890
Kindly provided by Michael
Residents at this address.
1851/Thomas Hardy/Beer Retailer, Waltham Cross/../../Post Office Directory ***

1851/Thomas Hardy/Retailer of Beer/62/Woodnewton, Northants/Census ***
1851/Elizabeth Hardy/Wife/61/Woodnewton, Northants/Census
1851/John Thos Hardy/Son, Baker/36/Woodnewton, Northants/Census
1851/Sarah Ann Hardy/Dau, Straw Bonnet Maker/24/Woodnewton, Northants/Census
1851/Catherine Hardy/Dau, Dress Maker/22/Woodnewton, Northants/Census

1855/(Mrs) Elizabeth Hardy/Beer Retailer, Crossbrook Street/../../Post Office Directory ***

1859/William Cheffins/Beer Retailer, Waltham Cross/../../Post Office Directory ***

1861/Willm Harper Cheffins/Publican & Coal Merchant/31/Cheshunt, Herts/Census ***
1861/Catherine Cheffins/Wife/32/Woodnewton, Northants/Census
1861/Kate Cheffins/Daughr/1/Cheshunt, Herts/Census

1862/William Harper Cheffins/Beer Retailer, Waltham Cross/../../Post Office Directory ***

1870/Thomas Allen/Beer Retailer/../../Post Office Directory ***

1871/Thomas Allen/Beer House Keeper/34/Bourne, Lincs/Census ***
1871/Julia A Allen/Wife/35/Hatfield, Herts/Census
1871/Eliza C Allen/Daur, Scholar/7/Chingford, Essex/Census
1871/Thomas W Allen/Son, Scholar/5/Chingford, Essex/Census
1871/Edith J Allen/Daur/1/Little Berkhampstead, Herts/Census
1871/William Reason/Lodger, Gardener/19/Essendon, Herts/Census

1874/Thomas Allen/Beer Retailer/../../Post Office Directory ***

1878/Thomas Allen/Beer Retailer/../../Post Office Directory ***

1881/John W Goard/Beer House Keeper/43/Canada/Census ***
1881/Emma Goard/Wife/41/Harby, Leics/Census
1881/Alice Goard/Daur/18/Cheshunt, Herts/Census
1881/Arthur G Goard/Son, Scholar/10/Cheshunt, Herts/Census
1881/Ernest W Goard/Son, Scholar/5/Cheshunt, Herts/Census
1881/Florence H Goard/Daur/2/Cheshunt, Herts/Census
1881/Cecil S Goard/Son/5m/Cheshunt, Herts/Census

1882/John William Goard/Beer Retailer/../../Post Office Directory ***

1886/John William Goard/Beer Retailer/../../Post Office Directory ***

1890/John William Goard/Beer Retailer/../../Post Office Directory ***

1891/Emma Goard/Beerhouse Keeper, Widow/50/Harby, Leics/Census ***
1891/Ernest W Goard/Son/15/Waltham New Town, Herts/Census
1891/Florence H Goard/Daur/12/Waltham New Town, Herts/Census
1891/Cecil S Goard/Son/10/Waltham Cross, Herts/Census

1895/(Mrs) Emily Coward/Beer Retailer, High Road/../../Post Office Directory ***

1898/(Mrs) Emily Coward/Beer Retailer, High Road/../../Post Office Directory ***

1901/John G Coward/Gun Makers Machinist/39/Cheshunt, Herts/Census ***
1901/Emily J Coward/Wife/37/Waltham Cross, Herts/Census
1901/Harry E Coward/Son, Wood Machine Hand/14/Waltham Cross, Herts/Census
1901/Arthur J Coward/Son/12/Waltham Cross, Herts/Census
1901/Clara E Coward/Daur/9/Waltham Cross, Herts/Census
1901/Harold D Coward/Son/6/Waltham Cross, Herts/Census
1901/Dorothy H Coward/Daur/5/Waltham Cross, Herts/Census
1901/William N Coward/Son/3/Waltham Cross, Herts/Census
1901/Florence H Goard/Sister in Law, Living on own means/22/Waltham Cross, Herts/Census
1901/Cecil S Goard/Brother in Law, Gun Smith/20/Waltham Cross, Herts/Census

1902/(Mrs) Emily Coward/Beer Retailer, 228 High Road/../../Post Office Directory ***

1906/(Mrs) Emily Coward/Beer Retailer, 228 High Road/../../Post Office Directory ***

1908/(Mrs) Emily Coward/Beer Retailer, 228 High Street/../../Post Office Directory ***

1910/(Mrs) Emily Coward/Beer Retailer, 228 High Street/../../Post Office Directory ***

1911/John Coward/Beer House Keeper/49/Cheshunt, Herts/Census ***
1911/Emily Coward/Wife, Assisting in Business/46/Cheshunt, Herts/Census
1911/Arthur Coward/Son, Laborer General/22/Cheshunt, Herts/Census
1911/Harold Coward/Son, Boot Repairer/17/Cheshunt, Herts/Census
1911/William Coward/Son, School/14/Cheshunt, Herts/Census
1911/Constance Coward/Daugther, School/7/Cheshunt, Herts/Census
1911/Arthur Dipple/Boarder, Coffee House Keeper/50/Putney, Middx/Census

1912/(Mrs) Emily Coward/Beer Retailer, 228 High Street/../../Post Office Directory ***

1914/(Mrs) Emily Coward/Beer Retailer, 228 High Street/../../Post Office Directory ***

1917/(Mrs) Emily Coward/Beer Retailer, 228 High Street/../../Post Office Directory ***

1922/(Mrs) Emily Coward/Beer Retailer, 228 High Street/../../Post Office Directory ***



** Provided By Stephen Harris

*** Provided By Michael
Search for a pub, an address or person
And Last updated on: Thursday, 11-Jul-2019 11:28:26 BST