Red Lion, 21 St James Square, Newport, Isle of Wight
Newport pub index
Directory of Pubs in the UK, historical public houses, Taverns, Inns, Beer Houses and Hotels in Isle of Wight. The Isle of Wight listing uses information from census, Trade Directories and History to add licensees, bar staff, Lodgers and Visitors.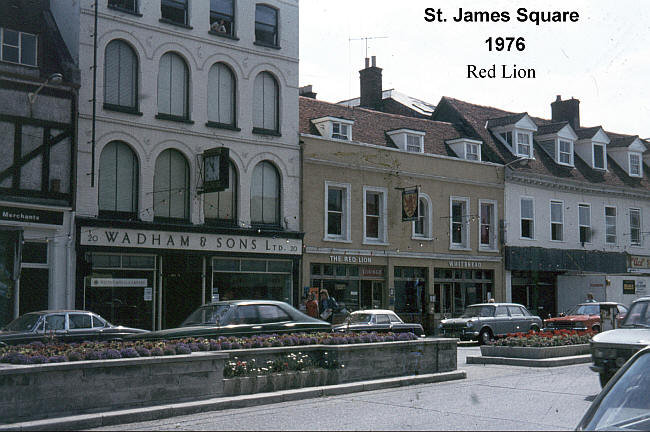 Red Lion, 21 St James Street, Newport, Isle of Wight - in 1976
Kindly provided by Barry Cant
The following entries are in this format:
Year/Publican or other Resident/Relationship to Head and or Occupation/Age/Where Born/Source.
1871/Archibald Campbell/Inn Keeper/42/Scotland/Census ****
1871/Mary A Campbell/Wife/37/Corscombe, Dorset/Census
1871/Alexander Campbell/Brother, Assistant/27/Scotland/Census
1871/Fanny M Higgins/Niece/10/Scotland/Census

1875/Archibald Campbell/../../../Kellys Directory ****

1881/Alexander Campbell/Inn Keeper/38/Perthshire, Scotland/Census ****
1881/Jane Campbell/Wife/37/Yetminster, Dorset/Census
1881/Archibald Campbell/Son/1/Newport, Isle of Wight/Census
1881/Mary A Thorne/Barmaid/24/Southampton/Census
1881/Annie Jukes/Domestic Servant/19/Newport, Isle of Wight/Census

1885/Alex Campbell/../../../Kellys Directory ****

1889/Alexander Campbell/../../../Kellys Directory ****

1891/Alexander Campbell/Inn Keeper/46/Perthshire, Scotland/Census ****
1891/Jane Campbell/Wife/45/Yetminster, Dorset/Census
1891/Archibald Campbell/Son/11/Newport, Isle of Wight/Census
1891/Alexander Campbell/Son/9/Newport, Isle of Wight/Census
1891/Bessie Childs/General Servant/15/Yetminster, Dorset/Census

1898/A Campbell/../../../Kellys Directory ****

1901/Charles W Buckland/Licensed Victualler/39/Hersham, Surrey/Census ****
1901/Alice Buckland/Wife/37/Esher, Surrey/Census
1901/Donald Buckland/Son/14/Aldershot, Hampshire/Census
1901/Winifred Buckland/Daughter/13/Aldershot, Hampshire/Census
1901/Irene Buckland/Daughter/10/Malta/Census
1901/Alice Buckland/Daughter/2/Warley, Essex/Census

1911/John Alexander McQueen/../../../Kellys Directory ****

1911/John Alexander McQueen/Licensed Victualler/49/Edinburgh, Midlothian/Census ****
1911/Annie Eliza McQueen/Wife, Assistant/48/Rochester, Kent/Census
1911/Margaret Irene McQueen/Daughter, Assistant/18/Nova Scotia, Halifax/Census
1911/Agnes Lilian McQueen/Daughter, Assistant/15/Plymouth, Devon/Census

1920/John Alexander McQueen/../../../Kellys Directory ****

1927/John Alexander McQueen/../../../Kellys Directory ****



**** Provided By Kevan