Search London wiki and Pub wiki history sites
Marquis of Granby Inn, Ash, Canterbury
Pub history in Ash index
A listing of historical public houses, Taverns, Inns, Beer Houses and Hotels in Ash, Kent. The Ash Kent listing uses information from census, Trade Directories and History to add licensees, bar staff, Lodgers and Visitors.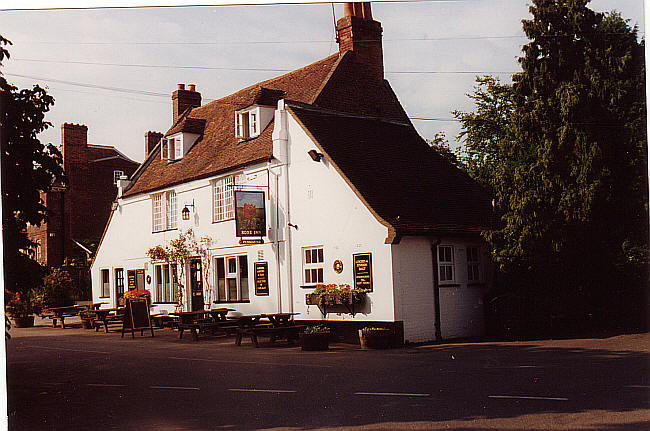 Marquis of Granby, Ash near Sevenoaks - in 1995
Kindly provided by Olwen Fenton
Residents at this address.
1858/Robert Tritton/../../../Melvilles Directory

My late husband's great grandfather John Matson Bourn(e)( 1819 - 1899) operated the Marquis of Granby Inn from pre 1860 until ( family believes)his death in 1899. It is likely he was at the Plough, Hoaden hamlet in the 1851 census. *

1861/John M Bourn/Wheelwright & Victuller/41/Canterbury, Kent/Census
1861/Eliza Bourn/Wife/37/Ickham, Kent/Census
1861/John M Bourn/Son, Grocers Assistant/18/Canterbury, Kent/Census
1861/Eliza Bourn/Daughter/16/Canterbury, Kent/Census
1861/Henry Bourn/Son/14/Canterbury, Kent/Census
1861/Austen S Bourn/Son/11/Buckland Dover, Kent/Census
1861/Fanny Bourn/Daughter/8/Ash, Kent/Census
1861/Anne Bourn/Daughter/6/Ash, Kent/Census
1861/Elizabeth Bourn/Daughter/3/Ash, Kent/Census
1861/Isabella Bourn/Daughter/11 months/Ash, Kent/Census
1861/Catherine Hills/Visitor, Servant/18/Ash, Kent/Census
1861/John Bax/Visitor, Ostler/19/Eastry, Kent/Census

1862/John Bourn/../../../Post Office Directory

1867/J Bourn/../../../Post Office Directory

1871/John M Bourn/Licensed Victuller & Wheelwright/51/Canterbury, Kent/Census
1871/Eliza Bourn/Wife/48/Ickham, Kent/Census
1871/Fanny Bourn/Daughter, Barmaid/19/Ash, Kent/Census
1871/Isabell Bourn/Daughter/10/Ash, Kent/Census
1871/Emma F Bourn/Daughter/7/Ash, Kent/Census

1874/John Bourn/../../../Post Office Directory

1881/John M Bourn/Licensed Victuller & Wheelwright/61/Canterbury, Kent/Census
1881/Eliza Bourn/Wife/58/Ickham, Kent/Census
1881/Isabella Bourn/Daughter/20/Ash, Kent/Census
1881/Emma Bourn/Daughter/18/Ash, Kent/Census
1881/Ellen Jane Beer/Grand Daughter/10/Ash, Kent/Census

1882/John Bourne/../../../Post Office Directory

1891/John Bourn/Licensed Victuller/71/Canterbury, Kent/Census
1891/Eliza Bourn/Wife/67/Ickham, Kent/Census
1891/Henry C Bourn/Grandson, Carpenter/20/Goodnestone, Kent/Census
1891/John T Chaconas/Grandson/11/Goodnestone, Kent/Census

1903/William Brazell

1913/Wm Gore/../../../Post Office Directory



* Provided By Olwen Fenton