Search London wiki and Pub wiki history sites
White Hart Family Hotel & Posting House, Assembly & Billiard Rooms, 138, 139 & 140 High Street, Bromley
Bromley, Kent pub history index
A listing of historical public houses, Taverns, Inns, Beer Houses and Hotels in Bromley, Kent. The Bromley, Kent listing uses information from census, Trade Directories and History to add licensees, bar staff, Lodgers and Visitors.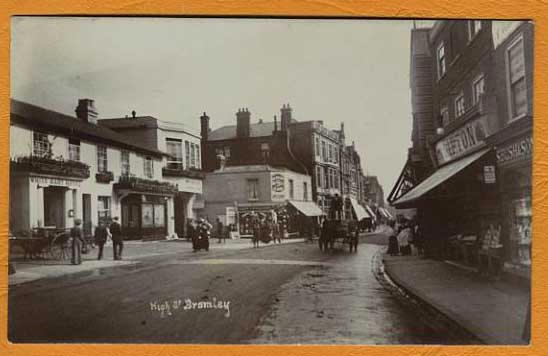 White Hart, High Street, Bromley - in 1909
Kindly provided by Colleen
The following entries are in this format:
Year/Publican or other Resident/Relationship to Head and or Occupation/Age/Where Born/Source.
1840/William Pawley/../../../Pigots Directory ****

William Lowndes was one of my GGG Grandfathers, prior to the White Hart, Bromley he was at the Crown & Anchor, Brighton in 1854 **
1858/William Lowndes/../../../Melvilles Directory ****

1861/William Lownds/Hotel Keeper/43/London, Middlesex/Census ****
1861/Ann Lownds/Wife/40/Bath, Somerset/Census
1861/Elizabeth Lownds/Daughter/14/Brighton, Sussex/Census
1861/William Lownds/Son/12/Brighton, Sussex/Census
1861/Elizabeth Lownds/Sister/34/London, Middlesex/Census
1861/David Gullan/Boarder, Gentleman/56/Scotland/Census
1861/Martha Elsom/Cook/26/Reed, Herts/Census
1861/Eliza Sheppard/Housemaid/38/West Riding, Yorks/Census
1861/William Warman/Waiter/38/River, Kent/Census
1861/Benjamin Baker/Porter/16/Bromley, Kent/Census

1862/William Lownds/../../../Kellys Directory ****

1871/William Lownds/Hotel Keeper/52/London, Middlesex/Census ****
1871/Ann Elizth Lownds/Wife/50/Bath, Somerset/Census
1871/Elizabeth Ann Lownds/Daughter/24/Brighton, Sussex/Census
1871/William Thomas Lownds/Son/22/Brighton, Sussex/Census
1871/Charles Alers Hawkey/Boarder/37/London/Census
1871/Stephen Smith/Waiter/27/Rochester, Kent/Census
1871/George Tidy/Porter/19/East Farleigh, Kent/Census
1871/Sarah Wright/Housemaid/26/London, Middlesex/Census
1871/Mary Korkley/Cook/27/Denver, Norfolk/Census
1871/Elizabeth Friend/Kitchenmaid/23/Westerham, Kent/Census

1874/William Lownds/White Hart Hotel & posting house, 139 High street/../../Post Office Directory ****

1882/William Lownds/../../../Post Office Directory ****

1903/Albert Arundell Ferris/White Hart hotel, 139 & 140 High street/../../Post Office Directory ****

1918/Leon Claessens/../../../Post Office Directory ****

1930/W R Fewell/manager/../../Post Office Directory ****

1938/H M Over/manager/../../Post Office Directory ****



**** Provided By Kevan