Britannia, Lower Halstow, Sittingbourne
This pub was present by 1861, closed in 1930 and is now in private residential use. The entry in 1871 is listed as at Mount Pleasant. **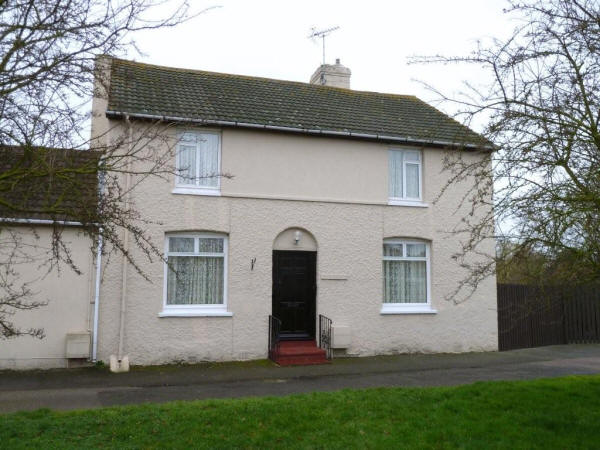 Britannia, Church Walk, The Street, Lower Halstow - in February 2011
Kindly provided by Stephen Harris
The Britannia pub, Lower Halstow which closed back in 1937. Some of the original signage from when it was a working pub is clearly visible.
Kindly provided by Jamie Goatman
Directory of Pubs in the UK, historical public houses, Taverns, Inns, Beer Houses and Hotels in Lower Halstow, Sittingbourne, Kent . The Lower Halstow, Sittingbourne, Kent listing uses information from census, Trade Directories and History to add licensees, bar staff, Lodgers and Visitors.
The following entries are in this format:
Year/Publican or other Resident/Relationship to Head and or Occupation/Age/Where Born/Source.
1858/Thomas Horn/Beer Retailer/../../Melvilles Directory ****

1861/Michael Hart/Labourer/35/Lower Halstow, Kent/Census ***
1861/Harriett Hart/Wife/29/Upchurch, Kent/Census
1861/Ellen Hart/Domestic Servant/15/Lower Halstow, Kent/Census
1861/James Hart/Boarder, Brick Labourer/17/Lower Halstow, Kent/Census
1861/Henry Jessup/Boarder, Brick Labourer/18/Newington, Kent/Census
1861/Daniel Couchman/Boarder, Labourer, Widow/69/Gillingham, Kent/Census

1862/Michael Hart/Beer Retailer/../../Post Office Directory ****

1867/J Thomas/Beer Retailer/../../Post Office Directory ****

1871/John Thomas/Beer Retailer/33/Newington, Kent/Census ****
1871/Sarah Thomas/Wife/29/Upchurch, Kent/Census
1871/Elizabeth Thomas/Daughter/9/Newington, Kent/Census

1874/Mrs Elizabeth Thomas/Beer Retailer/../../Post Office Directory ****

My relation Newberry Jesse Castle was born Lower Halstow Kent 1842. By 1881 he was running The Britannia at Lower Halstow. In 1901 he is running the Crown at Upchurch. I am told, but haven't seen it, that some of Newberry's crockery is still round the fireplace there to this day. ***

One of his sons was Alfred Castle, born at the Britannia in 1878 ( so presumably father was running it before then). In the 1901 census he is running The Castle Inn at Eastchurch apparently on his own - I imagine a venture he set up himself. He married in 1901 (at upchurch, April 8th) when he was described as Alfred Castle, publican, of Eastchurch son of Newberry Castle; so he can't have lived at Eastchurch ( on Sheppey) and run a pub at Lower Halstow too… but anyway, Newberry died in 1906 (q3) when it looks as if son Alfred took over The Crown more or less at once. He was certainly running it in 1908 ***

Then the debts built up, or he wasn't up to the job, in any event he took a shotgun and killed himself in 1909 and is buried with his parents in Upchurch. His six children went into orphanages but all survived! ***

1881/Newberry J Castle/Beer Retailer/38/Lower Halstow, Kent/Census ****
1881/Eliza Castle/Wife/35/Detling, Kent/Census
1881/Ellen Castle/Daughter/15/Lower Halstow, Kent/Census
1881/Edward Castle/Son/11/Lower Halstow, Kent/Census
1881/Jesse Castle/Son/8/Lower Halstow, Kent/Census
1881/Daniel Castle/Son/5/Lower Halstow, Kent/Census
1881/Frances Castle/Daughter/4 months/Lower Halstow, Kent/Census
1881/Henry Kitney/Father in Law, General Labourer, Widow/65/Stockbury, Kent/Census
1881/Mary A A Hales/General Servant/15/Newington, Kent/Census

1882/N J Castle/../../../Post Office Directory ****

1891/Newbery Jesse Castle / Beer Retailer /../../Kelly's Directory of Kent, Surrey & Sussex **

1891/Jesse Castle/Licensed Victualler/49/Lower Halstow, Kent/Census ****
1891/Eliza Castle/Wife/45/Debtley, Kent/Census
1891/Ellen Castle/Daughter/25/Lower Halstow, Kent/Census
1891/Jesse Castle/Son/15/Lower Halstow, Kent/Census
1891/Daniel Castle/Son/15/Lower Halstow, Kent/Census
1891/Allan Castle/Son/8/Lower Halstow, Kent/Census
1891/Carrie Castle/Daughter/6/Lower Halstow, Kent/Census
1891/William Marsh/Lodger, Brickfield Labourer, Widow/54/Cheriton, Kent/Census
1891/William Holmes/Lodger, Farm Labourer/52/Dover, Kent/Census

1899/Henry South / Beer Retailer /../../Post Office Directory **

1901/Henry South/Beer Retailer & Carpenter/37/Lower Halstow, Kent/Census ****
1901/Elizabeth South/Wife/34/Hunton, Kent/Census
1901/Elzabeth South/Daughter/10/Lower Halstow, Kent/Census
1901/Henry South/Son/9/Lower Halstow, Kent/Census
1901/Maurice South/Son/7/Lower Halstow, Kent/Census
1901/Guy South/Son/5/Lower Halstow, Kent/Census
1901/Claude South/Son/3/Lower Halstow, Kent/Census
1901/Emily Holdstock/General Servant/19/Melton S'bourne, Kent/Census

1903/John Horsford / Beer Retailer /../../Kelly's Directory of Kent **

1911/John Horsford/Beer Retailer/47/Lower Halstow/Census ****
1911/Elizabeth Horsford/Wife, Assistant/38/Lower Halstow/Census
1911/Wilfred Horsford/Son/8/Lower Halstow/Census
1911/John Horsford/Son/4/Lower Halstow/Census
1911/Kate Edmonds/General Servant/17/Upchurch/Census

1913/John Horsford / Beer Retailer /../../Kelly's Directory of Kent **



** Provided By Stephen Harris

*** Provided By James Burgess

**** Provided By Kevan