Pub history and pub wiki
Ingress Tavern, 1 & 2 Stonebridge Road, Northfleet
Northfleet index
1868 to 1998. Now converted to take away food use. **
Directory of Pubs in the UK, London historical public houses, Taverns, Inns, Beer Houses and Hotels in Northfleet, Kent . The Northfleet, Kent listing uses information from census, Trade Directories and History to add licensees, bar staff, Lodgers and Visitors.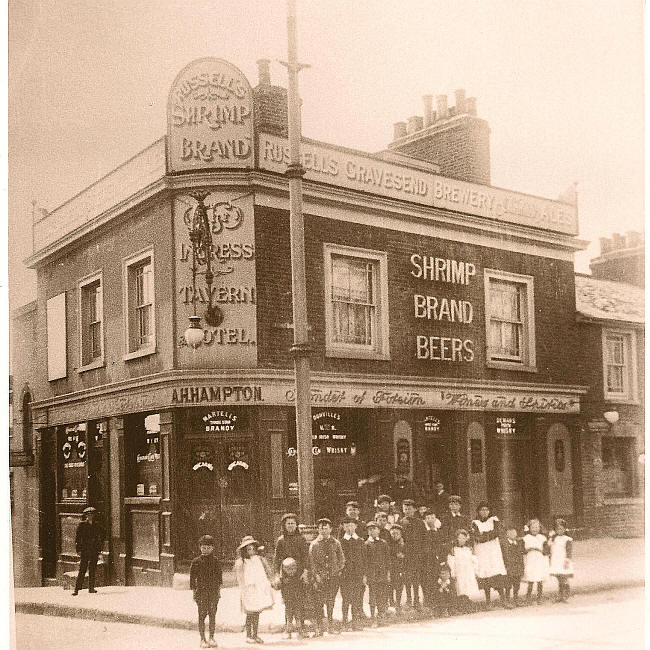 Ingress Tavern, Stonebridge Road, Erith - circa 1912 (Landlord A H Hampton)
Kindly provided by Sandy Allen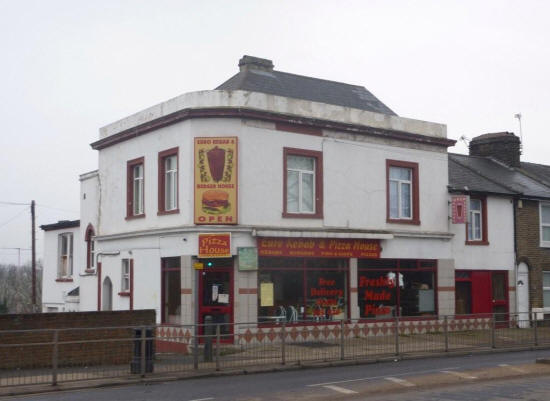 Ingress Tavern, 1 & 2 Stonebridge Road, Northfleet - in January 2011
Kindly provided by Stephen Harris
The following entries are in this format:
Year/Publican or other Resident/Relationship to Head and or Occupation/Age/Where Born/Source.
1871/Charles Scott/Licensed Victualler/57/Poplar, Middlesex/Census ****
1871/Mary Scott/Wife/56/Deptford, Kent/Census
1871/Clara Scott/Daughter/22/Poplar, Middlesex/Census
1871/Ann Murray/Mother/80/Northfleet, Kent/Census
1871/William Murray/Son/45/Poplar, Middlesex/Census

Aug 23rd 1872/John Russell/Owner/../../Registrar of Licences *

Aug 23rd 1872/Charles Scott/Licensee/../../Registrar of Licences *

1874/Chas Scott/../../../Post Office Directory ****

1881/Charles J Scott/Licensed Victualler/41/Poplar, Middlesex/Census ****
1881/Celia M Scott/Wife/40/London, Middlesex/Census
1881/Charles M Scott/Son, Barman/16/Bow, Middlesex/Census
1881/Herbert F Scott/son/7/Finsbury, Middlesex/Census
1881/Annie M Lodger/General Servant/19/Wouldham, Kent/Census

1882/C J Scott/../../../Post Office Directory ****

1891/Celia M Scott/Licensed Victualler, Widow/50/Whitechapel, London/Census ****
1891/Herbert F Scott/Son, Clerk/17/Finsbury, London/Census
1891/Ada E Sales/Barmaid/22/Dartford, Kent/Census

1901/William Mattheson/Licensed Victualler/44/Denmark (Naturalized)/Census ****
1901/Frances Mattheson/Wife/46/Rochester, Kent/Census
1901/Alice A Sunnucks/Barmaid/23/Northfleet, Kent/Census
1901/Emily A Chapman/Barmaid/23/Herne Bay, Kent/Census
1901/Andrew Constable/Manager/28/Ireland/Census
1901/Jane E Waters/General Servant/29/Snodland, Kent/Census

1903/John Hunt/../../../Kelly's Directory of Kent **

1911/William Jesse Mattheson/Licensed Victualler/54/Kiel, Denmark/Census ****
1911/Frances Mattheson/Wife/60/Cork, Ireland/Census
1911/Hettie Sunnucks/Servant/28/Northfleet, Kent/Census
1911/Annie Hart/Servant/24/Gravesend, Kent/Census
1911/Frederick Butler/Potman/18/Northfleet, Kent/Census
1911/Joseph Sims/Visitor/13/Lee, Kent/Census

The Ingress Tavern, Stonebridge Road, Northfleet Kent was owned by my great grandfather Alexander Hampton until his death in 1924. He also owned/ran The White Hart, Erith, Kent in the 1911 census. Earnest Dickson was his son in law married to his daughter Louisa Hampton. His son also Alexander Hampton took over the We Anchor in Hope, Shooters Hill, Welling in 1924 approx. ***

1913/Alex Hampton/../../../Post Office Directory ****

1918/Alexender Hampton/../../../Post Office Directory ****

1922/Alexender Hampton/../../../Post Office Directory ****

1930/Ernest Dickson/../../../Post Office Directory ****

1938/Hy Geo Woolven/../../../Post Office Directory ****

1988 - 90/Mr M J Phillips/../../../Watney Truman publicans list



* Provided By Ben Levick & others

** Provided By Stephen Harris

*** Provided By Sandy Allen

**** Provided By Kevan
Search for a pub, an address or person
And Last updated on: Wednesday, 03-Jul-2019 19:26:28 BST