Pub history and pub wiki
Jolly Gardeners, 32 Coopers Road, Northfleet
Northfleet pub history index
At 21 Coopers Road, Perry Street in 1891 and earlier
Directory of Pubs in the UK, London historical public houses, Taverns, Inns, Beer Houses and Hotels in Northfleet, Kent . The Northfleet, Kent listing uses information from census, Trade Directories and History to add licensees, bar staff, Lodgers and Visitors.
Jolly Gardeners, Northfleet - circa 1902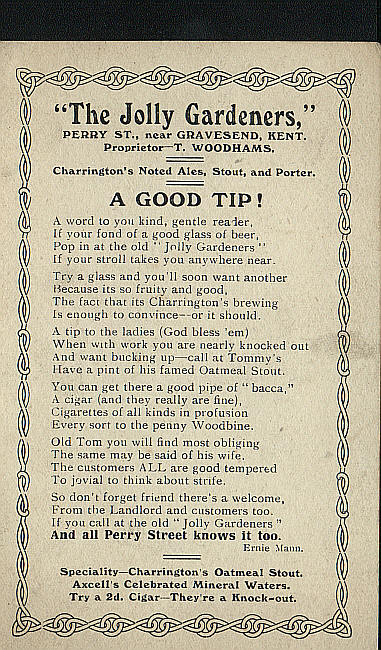 The Jolly Gardeners, Perry Street advertising card - A Good Tip!
Kindly provided by David Shepherd
The following entries are in this format:
Year/Publican or other Resident/Relationship to Head and or Occupation/Age/Where Born/Source.
1861/William Hawes/Beer Retailer/39/Northfleet, Kent/Census ****
1861/Jane Hawes/Wife/37/Camberwell, Surrey/Census
1861/George Hawes/Son/12/Northfleet, Kent/Census
1861/Henry Hawes/Son/11/Northfleet, Kent/Census
1861/James Hawes/Son/8/Northfleet, Kent/Census
1861/John Hawes/Son/6/Northfleet, Kent/Census
1861/Charles Hawes/Son/3/Northfleet, Kent/Census
1861/Ellen Hawes/Daughter/3 months/Northfleet, Kent/Census

1871/Henry J Thompson/Beer Retailer/33/Southwark/Census ****
1871/Caroline Thompson/Wife/33/Southwark/Census
1871/Eleanor Thompson/Daughter/3/London/Census
1871/Ernest Thompson/Son/1/London/Census

Aug 23rd 1872/Trustees of Alexander Walker, Wellington Brewery, Gravesend/Owner/../../Registrar of Licences *

Aug 23rd 1872/William Martin/Licensee/../../Registrar of Licences *

My great Grandfather was Thomas Woodhams who ran the pub over the turn of the last century (My grandmother was his daughter Charlotte).The photograph of a pub outing out side of the premises - it has been dated by a local historian as about 1902. His son, also Thomas Woodhams, ran the Ancient Briton in Regents Park, at 50 Augustus Street, he was called up for the First World War was gassed and injured at Cambrai in December 1917 and died a few days later. He is buried at Etaples in France. His widow Madge (Margaret) - continued to run the pub until it was destroyed in the Blitz. **

1881/Thomas Woodhams/Publican/38/Kent/Census ****
1881/Elizabeth Woodhams/Wife/36/Plaxtol, Kent/Census

1891/Thomas Woodhams/Beer Retailer/../../Post Office Directory ****

1891/Thomas Woodhams/Beer Retailer/48/Otford, Kent/Census ****
1891/Caroline Woodhams/Wife/37/Higham, Kent/Census
1891/Charlotte Woodhams/Daughter/9/Northfleet, Kent/Census
1891/Thomas Woodhams/Son/8/Northfleet, Kent/Census
1891/William Woodhams/Son/7/Northfleet, Kent/Census

1901/Thomas Woodham/Beer House Keeper/58/Otford, Kent/Census ****
1901/Caroline Woodham/Wife/48/Higham, Kent/Census
1901/Charlotte Woodham/Daughter/19/Northfleet, Kent/Census
1901/William Woodham/Son, Bricklayers Apprentice/17/Northfleet, Kent/Census

1911/Thomas Woodham/Beerhouse Keeper/67/Otford, Kent/Census ****
1911/Caroline Woodham/Wife/58/Frindsbury, Kent/Census
1911/William Woodham/Son, Celerman/27/Northfleet, Kent/Census
1911/Edward Chittenden/Visitor, Barboy at Refreshement Bar/16/Frindsbury, Kent/Census
1911/Alice Jane Hollands/Domestic Servvant, Widow/38/Northfleet, Kent/Census

1938/Reginald E Caller/../../../Post Office Directory ****



* Provided By Ben Levick & others

** Provided By David Shepherd

**** Provided By Kevan
Search for a pub, an address or person
And Last updated on: Wednesday, 03-Jul-2019 19:26:28 BST