Pub history and pub wiki
Rose, 1 Rose Street, Northfleet, Gravesend DA11 9EQ
Northfleet index
Directory of Pubs in the UK, London historical public houses, Taverns, Inns, Beer Houses and Hotels in Northfleet, Kent . The Northfleet, Kent listing uses information from census, Trade Directories and History to add licensees, bar staff, Lodgers and Visitors.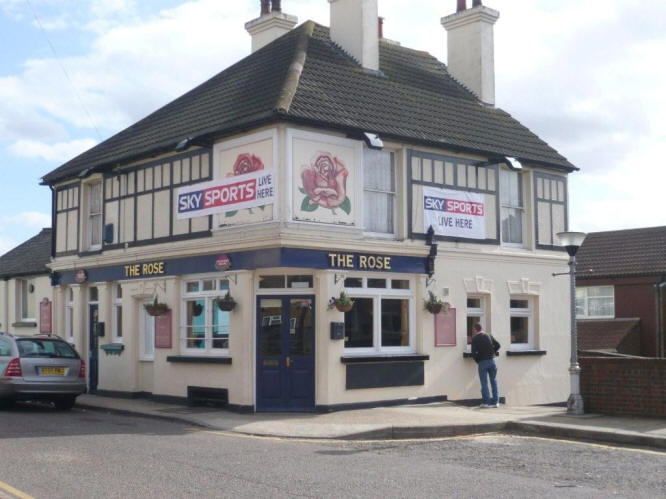 Rose, 3 Wood Street, Northfleet - in March 2009
Kindly provided by Stephen Harris
The following entries are in this format:
Year/Publican or other Resident/Relationship to Head and or Occupation/Age/Where Born/Source.
Charles Brooker is at the Plough in 1891, the Hope, Creek in 1881, and at the Rose, Wood Street in 1871 ****

1871/Charles Brooker/Beer Retailer/41/Basildon, Berks/Census
1871/Mary Brooker/Wife/35/Crayford, Kent/Census
1871/George Brooker/Son/11/Northfleet, Kent/Census
1871/Emily Brooker/Daughter/10/Northfleet, Kent/Census
1871/William Brooker/Son/9/Northfleet, Kent/Census
1871/Walter Brooker/Son/7/Northfleet, Kent/Census
1871/Henry Brooker/Son/5/Northfleet, Kent/Census
1871/Frederick Brooker/Son/2/Northfleet, Kent/Census

Aug 23rd 1872/Robert Gosling, Hope House Creek, Northfleet/Owner/../../Registrar of Licences *

Aug 23rd 1872/Charles Brooker/Licensee/../../Registrar of Licences *

1874/Charles Brooker/Beer Retailer/../../Post Office Directory ****

1881/William Woods/Cement Miller & Beer House Keeper/47/Stepney, Middlesex/Census ****
1881/Charlotte Woods/Wife/40/Stepney, Middlesex/Census
1881/Elizabeth Woods/Daughter, Domestic Servant/19//Census
1881/Thomas Woods/Son, Groom/15/Northfleet, Kent/Census
1881/William Woods/Son, Groom/12/Northfleet, Kent/Census
1881/Edwin Woods/Son/10/Northfleet, Kent/Census
1881/Charles F Woods/Son/6/Northfleet, Kent/Census
1881/Harry Woods/Son/4/Northfleet, Kent/Census

1891/Thomas Allen/../../../Kelly's Directory **

1891/Thomas Allen/Beer House Keeper/55/Acton, Suffolk/Census ****
1891/Mary A Allen/Wife/44/Grays, Essex/Census
1891/Susannah Barrett/Niece/8/Northfleet, Kent/Census

1901/Stephen Barratt/Beer House Keeper/40/Northfleet, Kent/Census ****
1901/Mary A Barratt/Wife/54/Grays, Essex/Census
1901/Susannah Barratt/Daughter/16/Northfleet, Kent/Census
1901/Mary A Barratt/Daughter/14/Northfleet, Kent/Census

1903/Stephen Barratt/../../../Kelly's Directory **

1911/Henry Hailey/Beer House Keeper/55/Wooburn, Buckinghamshire/Census ****
1911/Mary Ann Hailey/Wife, Assistant/54/Tovil, Kent/Census
1911/Valentine Hailey/Daughter, Assistant/22/Sittingbourne, Kent/Census
1911/Sidney Herbert Hailey/Son, Assistant/19/Sittingbourne, Kent/Census

1913/Henry Hailey/Beer Retailer/../../Kelly's Kent Directory **

1918/Henry Hailey/Beer Retailer/../../Kelly's Kent Directory **

1922/Henry Hailey/Beer Retailer/../../Kelly's Kent Directory **

1930/Henry Hailey/Beer Retailer/../../Kelly's Kent Directory **

1938/Fredk. Copley/../../../Kelly's Kent Directory **

1988/Mr A D Doodney/../../../Trumans List ****

1990/Mr A D Doodney/../../../Trumans List ****




* Provided By Ben Levick & others

** Provided By Stephen Harris

**** Provided By Kevan
Search for a pub, an address or person
And Last updated on: Wednesday, 03-Jul-2019 19:26:31 BST