King of Prussia, Prospect Road, Old Brompton, Chatham
Renamed the King George V before 1918. Still very much a live pub.
Old Brompton pub history index
Directory of Pubs in the UK, historical public houses, Taverns, Inns, Beer Houses and Hotels in Old Brompton, Chatham, Kent . The Old Brompton, Chatham, Kent listing uses information from census, Trade Directories and History to add licensees, bar staff, Lodgers and Visitors.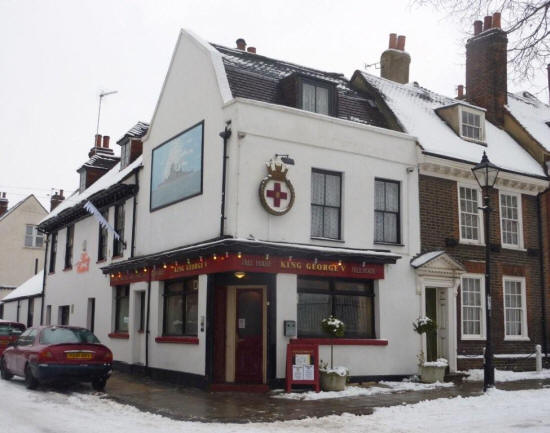 King George V, 1 Prospect Row, Brompton - in December 2010
Kindly provided by Stephen Harris
The following entries are in this format:
Year/Publican or other Resident/Relationship to Head and or Occupation/Age/Where Born/Source.
As Prince of Orange:
1740/John Hall/../../../Deeds 6 Prospect Row

1743/John Hall/../../../Deeds 6 Prospect Row

1744/John Hall/../../../Deeds 6 Prospect Row

1779/John Humphries/../../../Deeds 6 Prospect Row

King of Prussia :

1758-1767 Thomas White/../../../Licensing Records

1808-1813 John Sturla Jnr/../../../KGV Website

1813-1816 Richard Chidney/../../../KGV Website

1816-1817 Joseph Chidney/../../../KGV Website

1817-1818 Richard Chidney/../../../KGV Website

1818-1819 John Ludweeks/../../../KGV Website

1819-1820 John Adams/../../../KGV Website

1820-1825 John Chidney/../../../KGV Website

1825-1827 William Eveling/../../../KGV Website

1828/William Eveling/../../../Pigot's Directory Prospect Row

1827-1830 David Garland/../../../KGV Website

1830-1836 Ann Makison/../../../KGV Website

1832-4/Ann Makinson/../../../Pigot's Directory Prospect Row

1836-1843 Robert Sowter/../../../KGV Website

1838/Robert Sowter/../../../Wright's Topography Prospect Row

1840/Robert Sowter/../../../Pigot's Directory **

1842-1848 Robert Field/../../../KGV Website

1848-1849 James Holloway/../../../KGV Website

1849-1851 Richard Brook/../../../KGV Website

1849/Richard Brook/../../../Williams' Directory 6 Prospect Row

1851/Richard Brook/Victualler/27/Minster, Kent/Census ****
1851/Jane Brook/Wife/22/Linsted, Kent/Census
1851/Charlote Frater/Visitor/19/Linsted, Kent/Census
1851/Mary Fell/Servant/21/Broughton, Kent/Census
1851/Ann Mardell/Visitor, Dressmaker/18/Poplar, Middlesex/Census
1851/Mary Lemon/Visitor, Lauundress/31/Portsmouth, Hampshire/Census
1851/Charles English/Caulkers Apprentice/19/Chatham, Kent/Census
1851/Joseph Bartholomew/Waiter/24/Portsmouth, Hampshire/Census

1852-1853 William Deacon/../../../KGV Website

1853-1855 James Thomas Atkins/../../../KGV Website

1855/James Thomas Atkins/../../../Post Office Directory **

1855-1859 William Charles Hunt/../../../KGV Website

1858/William Charles Hunt/../../../Melvilles Directory ****

1858/William Charles/../../../Phippen's Directory Prospect Row

1859-1860 Charlotte Fuller/../../../KGV Website

1860-1861 John Mould/../../../KGV Website

1861/Ebenezer Nicholson/Inn Keeper, Widow/51/Wales/Census ****
1861/Margaret Nicholson/Daughter, Inn Keeper/21/Rochester, Kent/Census
1861/Mary Ann Nicholson/Daughter, Inn Keeper/18/Rochester, Kent/Census
1861/John Nicholson/Son/11/Rochester, Kent/Census
1861/Isaac W Nicholson/Son/8/Rochester, Kent/Census
1861/William M Nicholson/Son/5/Rochester, Kent/Census
1861/Mary Ann Obey/General Servant/22/Tonbridge, Kent/Census
+ Lodgers

1862/John S Sedger/../../../Post Office Directory ****

1863-1865 Harriet Atkins/../../../KGV Website

1865/Not Listed/../../../Simpson's Directory

1865-1868 William Date/../../../KGV Website

1866/John Dade/../../../Post Office Directory Garden Street

1867/William Dade/Victualler/../../Taylor's Directory Prospect Row

1868-1871 Joseph Coppin/../../../KGV Website

1870/Joseph Coppen/../../../Kelly's Directory Garden St

1870/R. Morgan/../../../Percy's Directory 1 Prospect Row

1871-1872 Richard Morgan/../../../KGV Website

1872/Richard Morgan/../../../Licensing Records Garden Street Owner: Edward Winch, Chatham

1872/William Baker (From Sept 27)/../../../Licensing Records Garden Street Owner: Edward Winch, Chatham

1872-1873 William Baker/../../../KGV Website

1873/William Baker (until Aug 7)/../../../Licensing Records Garden Street Owner: Edward Winch, Chatham

1873- Charles Firmin (not confirmed)/../../../KGV Website

1874- Pub not licensed

1875-1884 Alfred Snelling/../../../KGV Website

1877/Alfred Snelling/../../../Manning's Directory Garden St

1880/Alfred Snelling/../../../Licensing Records Owner: Edward Winch, Chatham

1881/Alfred Snelling/Innkeeper/36/Outwood, Surrey/Census ****
1881/Cordelia M Snelling/Wife/33/Chatham, Kent/Census
1881/Alfred C T Snelling/Son/6/Chatham, Kent/Census
1881/Frederick W Snelling/Son/5/Gillingham, Kent/Census
1881/Walter G Snelling/Son/3/Gillingham, Kent/Census
1881/Charles E Snelling/Son/2/Gillingham, Kent/Census
1881/Lauretta P Snelling/Daughter/1/Gillingham, Kent/Census
1881/Mary E Driscoll/General Servant/17/Gillingham, Kent/Census

1882/Alfred Snelling/../../../Post Office Directory ****

1884-1898 Joseph Henry Draper/../../../KGV Website

1890/Joseph Henry Draper/../../../Kelly's Directory 1 Prospect Row

1891-2/Joseph Henry Draper/../../../Kelly's Directory 1 Prospect Row

1894/Joseph Henry Draper/../../../Kelly's Directory 1 Prospect Row

1897-8/Joseph Henry Draper/../../../Kelly's Directory 1 Prospect Row

1898-9/Joseph Henry Draper/../../../Kelly's Directory 1 Prospect Row

1898-1914 Frank Thomas Drury/../../../KGV Website

1900/Frank Thomas Drury/../../../Kelly's Directory 1 Prospect Row

1902-3/Frank Thomas Drury/../../../Kelly's Directory 1 Prospect Row

1902-3/Frank Thomas Drury/../../../Parson's Directory 1 Prospect Row

1903-4/Frank Thomas Drury/../../../Kelly's Directory 1 Prospect Row

1904-5/Frank Thomas Drury/../../../Kelly's Directory 1 Prospect Row

1905-6/Frank Thomas Drury/../../../Kelly's Directory 1 Prospect Row

1906-7/Frank Thomas Drury/../../../Kelly's Directory 1 Prospect Row

1907-8/Frank Thomas Drury/../../../Kelly's Directory 1 Prospect Row

1908-9/Frank Thomas Drury/../../../Kelly's Directory 1 Prospect Row

1909-10/Frank Thomas Drury/../../../Kelly's Directory 1 Prospect Row

1911-2/Frank Thomas Drury/../../../Kelly's Directory 1 Prospect Row

1912-3/Frank Thomas Drury/../../../Kelly's Directory 1 Prospect Row

1913-4/Frank Thomas Drury/../../../Kelly's Directory Prospect Row

1913/Frank Thomas Drury/../../../Post Office Directory ****

King George V :

1914-1924 Frank Thomas Drury/../../../KGV Website

1916/Frank Thomas Drury/../../../Kelly's Directory Prospect Row

1918/Frank Thomas Drury/../../../Post Office Directory ****

1920/Frank Thomas Drury/../../../Kelly's Directory 1 Prospect Row

1920-1/Frank Thomas Drury/../../../Kelly's Directory 1 Prospect Row

1921/Frank Thomas Drury/../../../Kelly's Directory 1 Prospect Row

1922/Frank Thomas Drury/../../../Kelly's Directory 1 Prospect Row

1922/Frank Thomas Drury/../../../Post Office Directory ****

1923/Frank Thomas Drury/../../../Kelly's Directory 1 Prospect Row

1924/Frank Thomas Drury/../../../Kelly's Directory 1 Prospect Row

1924-1930 Alfred Royal/../../../KGV Website

1925/Alfred Royal/../../../Kelly's Directory 1 Prospect Row

1926/Alfred Royal/../../../Kelly's Directory 1 Prospect Row

1927/Alfred Royal/../../../Kelly's Directory 1 Prospect Row

1928/Alfred Royal/../../../Kelly's Directory 1 Prospect Row

1929/Alfred Royal/../../../Kelly's Directory 1 Prospect Row

1930/Alfred Royal/../../../Kelly's Directory 1 Prospect Row

1930/Alfred Royal/../../../Post Office Directory ****

1930-1934 Francis George Leon/../../../KGV Website

1931-20 Aug 1934/Francis George Leon/../../../Licensing Records Owner: Style & Winch Ltd Garden Street

1931/Fras. Geo. Leon/../../../Kelly's Directory 1 Prospect Row

1932/Fras. Geo. Leon/../../../Kelly's Directory 1 Prospect Row

1933/Fras. Geo. Leon/../../../Kelly's Directory 1 Prospect Row

1934/Fras. Geo. Leon/../../../Kelly's Directory 1 Prospect Row

1934-1938 Albert Clark/../../../KGV Website

20 Aug 1934-15 Aug 1938/Albert Clarke/../../../Licensing Records Owner: Style & Winch Ltd Garden Street

1935/Albt. Clark/../../../Kelly's Directory 1 Prospect Row

1936/Albt. Clark/../../../Kelly's Directory 1 Prospect Row

1937/Albt. Clark/../../../Kelly's Directory 1 Prospect Row

1938/Albt. Clark/../../../Kelly's Directory 1 Prospect Row

1938/Albert Clarke/../../../Post Office Directory ****

1939/Albt. Clark/../../../Kelly's Directory 1 Prospect Row

1938-1940 George Thomas Smith/../../../KGV Website

15 Aug 1938-23 Sept 1940/George Thomas Smith/../../../Licencing Records Owner: Style & Winch Ltd Garden Street

1940-1941 Leslie Alexander/../../../KGV Website

23 Sept 1940-19 May 1941/Leslie Alexander/../../../Licencing Records Owner: Style & Winch Ltd Garden Street

1941-1954 Reginald Harry How/../../../KGV Website

19 May 1941-25 Oct 1954/Reginald Harry How/../../../Licencing Records Owner: Style & Winch Ltd Garden Street

1948/Regnld. H. How/../../../Kelly's Directory 1 Prospect Row

1951/Regnld. H. How/../../../Kelly's Directory 1 Prospect Row

1954-1956 Frederick George Harris/../../../KGV Website

25 Oct 1954-16 Apr 1956/Frederick George Harris/../../../Licencing Records Owner: Style & Winch Ltd Garden Street

1955/Fredk. G. Harris/../../../Kelly's Directory 1 Prospect Row

1956-1958 Arthur Harold Woods/../../../KGV Website

16 Apr 1956-1958/Arthur Harold Woods/../../../Licencing Records Owner: Style & Winch Ltd Garden Street

1958-1979 Allan & Barbara Kennedy/../../../KGV Website

1967/Arthur H. Woods/../../../Electoral Roll 1 Prospect Row

1967/Betty Woods/../../../Electoral Roll 1 Prospect Row

1967/Arthur M. Woods/../../../Electoral Roll 1 Prospect Row

1971/Allan Kennedy/../../../Electoral Roll 1 Prospect Row

1971/Barbara A. Kennedy/../../../Electoral Roll 1 Prospect Row

1975/Allan Kennedy/../../../Electoral Roll 1 Prospect Row

1975/Barbara A. Kennedy/../../../Electoral Roll 1 Prospect Row

1979-1988 Romvydas Andruskevicius/../../../KGV Website

1988-1999 Alan & Barbara McNichol/../../../KGV Website

1999-2004 Mark & Maureen Boland/../../../KGV Website

2004-2011 John & Diane Brice/../../../KGV Website




** Provided By Stephen Harris

**** Provided By Kevan