Golden Lion, 61 Maple Road, Penge
Penge pub history index
Named with address in the 1901 census. At some point the pub expanded into numbers 59 & 57 Maple Road. The pub closed in the spring of 2016. ***
Directory of Pubs in the UK, historical public houses, Taverns, Inns, Beer Houses and Hotels in Penge, Kent . The Penge, Kent listing uses information from census, Trade Directories and History to add licensees, bar staff, Lodgers and Visitors.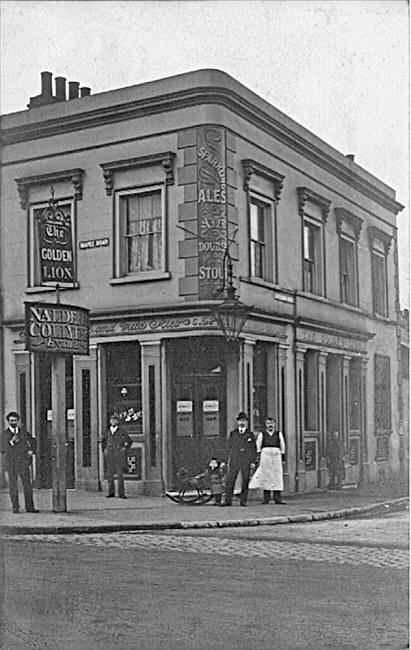 Golden Lion, 57 Maple Road, Penge - in 1910
The landlord (in the bowler hat) is Charles Ernest Spice, the little boy with the rocking horse would probably be his son Charles Allan Spice.
Kindly provided by Vincent O'Loughlin
Golden Lion, 57 - 61 Maple Road, Penge - in 2017
Kindly provided by Vincent O'Loughlin
Residents at this address
1871/Samuel Burgin/Beer House Keeper/28/Flaunden, Hertfordshire/Census
1871/Ann Burgin/Wife/32/Birmingham/Census
1871/Samuel Burgin/Son/5/Penge, Surrey/Census
1871/Albert Burgin/Son/2/Penge, Surrey/Census
1871/Emma J Burgin/Daughter/7 months/Penge, Surrey/Census

1891/James James/Beer House Keeper, Widow/48/Cardiganshire, South Wales/Census
1891/Elizabeth Jones/Sister, Housekeeper, Widow/56/Cardiganshire, South Wales/Census
1891/Ida Sprengall/Niece, Barmaid/29/Norton Folgate, London/Census
1891/Harry Smith/Lodger, Brickmaker/27/Rodes, Birmingham/Census

1901/Thomas Spice/Beer Retailer/52/Kennington, Kent/Census
1901/Emma Spice/Wife/50/Northfleet, Kent/Census
1901/Charles E Spice/Son/24/Purley, Surrey/Census

1911/Charles Ernest Spice/Beer House Keeper/34/Purley, Surrey/Census
1911/Mary Ann Spice/Wife, Assistant/42/Old Kent road, Surrey/Census
1911/Ernest Charles Spice/Son/8/Penge, Kent/Census
1911/Charles Allan Spice/Son/2/Penge, Kent/Census

1913/Egbert Smith/Beer Retailer/../../Post Office Directory

1918/William Sinnock/Beer Retailer/../../Post Office Directory

1922/William Sinnock/Beer Retailer/../../Post Office Directory



*** Provided By Vincent O'Loughlin