Pub history and pub wiki
Railway Tavern, 8 Canal Road, Strood, Rochester
Strood pub history index
Directory of Pubs in the UK, London historical public houses, Taverns, Inns, Beer Houses and Hotels in Strood, Kent . The Strood, Kent listing uses information from census, Trade Directories and History to add licensees, bar staff, Lodgers and Visitors.
In 1851, the census enumerator lists this as the Railroad Tavern. It is listed as 6 Canal Road, Frindsbury in 1874 & 1881 census; This pub is now renamed Riverside Tavern. **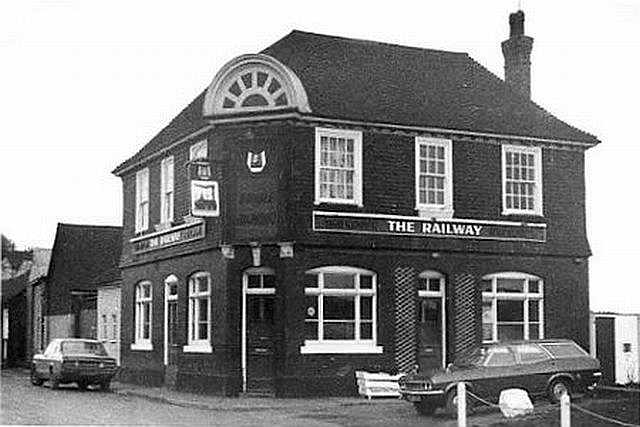 Railway Tavern, Canal Road, Strood
Kindly provided by Roy Barrett
Railway Tavern, 8 Canal Road, Strood - in February 2010
Kindly provided by Stephen Harris
The following entries are in this format:
Year/Publican or other Resident/Relationship to Head and or Occupation/Age/Where Born/Source.
James Prudhoe was a Railway worker who left the North East sometime between 1841 and 1846 and was an Inspector of Works on the Gravesend and Rochester railway; before becoming the landlord at the newly built Railway Tavern. ***

1851/James Prudhoe/Licensed Victualler/35/Chester le Street, Durham/Census ***
1851/Miriam Prudhoe/Wife/33/Horton, Durham/Census
1851/Susannah Bromfield/Niece/2/Hartlepool, Durhham/Census
1851/Mary Lee/Kitchenmaid/17/Higham, Kent/Census
1851/Richard Dunck/Potman/54/Maidstone, Kent/Census

1858/Joseph Job Martin/../../../Melvilles Directory ****

1861/Alfred Barker/Licensed Victualler/38/Oxford, Oxfordshire/Census ****
1861/Ann Barker/Wife/45/Nottingham/Census
1861/Sarah Landers/General Servant/16/Kent/Census
1861/John Clark/General Servant/19/Kent/Census

1862/Alfred Barker/../../../Post Office Directory ****

1870/Mrs Harriett Blake/../../../Post Office Directory **

1874/J T Nutt/../../../Post Office Directory ****

1881/James Roberts/Licensed Victualler/48/Frindsbury, Kent/Census
1881/Sarah Jane Roberts/Wife/48/Frindsbury, Kent/Census
1881/James G J Roberts/Son/7/Chatham, Kent/Census
1881/Emily Sarah Roberts/Daughter, Barmaid/16/Chatham, Kent/Census
1881/Amelia Sullivan/General Servant/20/Frindsbury, Kent/Census

1891/J Roberts/../../../Post Office Directory ****

1901/John Weatherley/Licensed Victualler/38/Frindsbury, Kent/Census ****
1901/Emily Weatherley/Wife/36/Chatham, Kent/Census
1901/Cicily Weatherley/Daughter/10/Frindsbury, Kent/Census
1901/Sidney Weatherley/Son/2/Frindsbury, Kent/Census
1901/Baby Weatherley/Son/1 month/Frindsbury, Kent/Census
1901/Eliza Weatherley/Visitor, Widow/65/Crayford, Kent/Census
1901/Eleanor Higgins/General Servant/24/Frindsbury, Kent/Census
1901/Emily Higgins/General Servant/16/Halling, Kent/Census

1903/J Weatherley/../../../Post Office Directory ****

1913/E T Hill/../../../Post Office Directory ****

1918/Ernest Thomas Hill/../../../Post Office Directory ****

1922/Ernest Thomas Hill/../../../Post Office Directory ****

1930/Ernest Thomas Hill/../../../Post Office Directory ****

1938/W T Filmer/../../../Post Office Directory ****

1950/T E Harrison/../../../British Telephone Directory [Strood 7749] ****

1953/T E Harrison/../../../British Telephone Directory [Strood 7749] ****


** Provided By Stephen Harris

*** Provided By Kevin Bee

**** Provided By Kevan
Search for a pub, an address or person
And Last updated on: Wednesday, 03-Jul-2019 19:28:38 BST