Search London wiki and Pub wiki history sites
All public house, restaurants, bars etc closed for the forseeable future on 20th March 2020, but this is a history site. But how about the landlords give their tenants a break, no business, then please charge them no rent.
White Horse, 8 Little Britain, Aldersgate EC1
Aldersgate pubs history index
Existed from at least 1748. This pub was rebuilt in 1892 and closed at some time after 1950. Only the facade now survives, with modern offices behind (2007). ** The modern address for this building is 1 Little Britain. *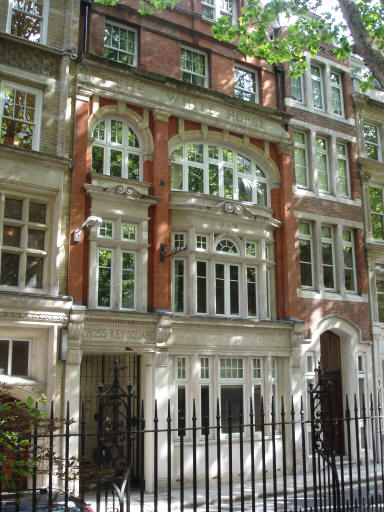 White Horse, 8 Little Britain, EC1 - in May 2007
Kindly provided by Stephen Harris
Residents at this address.
Lease of 7 Nov 1748 from John Kirby of Oundle [Northamptonshire], gentleman to Thomas Shewell and Samuel Whitbread of brick messuage and dwelling house with appurtenances known as White Horse in Little Britain, St. Buttolph Aldersgate, London in occupation of John Clark, victualler from for 25 Mar 1748 for 14 years at 25 per annum rent; [Bedford Archives] ****

On the 13th August 1762, at St Botolph, Aldersgate, there is a marriage between Abraham Marlow, widower of this parish and Elizabeth Smith, widow of Inner Temple, married by licence.

1765/Abraham Marlow/../../../Proceedings of the Old Bailey **

In July 1782, at St Botolph, Aldersgate, there is a burial of Abraham Marlow

10th September 1783/Elizabeth Marlow/../../../Proceedings of the Old Bailey **
10th September 1783/Elizabeth Brooks/servant/../../Proceedings of the Old Bailey

On the 15th November 1783, at St George Bloomsbury, there is a marriage between John Akerman, St George Bloomsbury, widower and Elizabeth Marlow, of St Botolph Aldersgate, widow

1803/Thomas Byrne / Victualler/../../../Sun Fire Office records held at Guildhall Library **

1816/William Golding / Victualler/../../../Sun Fire Office records held at Guildhall Library **

1823/Henry Capewell / Victualler/../../../Sun Fire Office records held at Guildhall Library **

1825/Mr Berwick/../../../Licensed Victuallers Association

1826/Israel Giles/../../../Proceedings of the Old Bailey **

1832/Richard Elcom/../../../Robsons Directory

1839/Richard Elcom/../../../Pigots Directory

1841/Richard Elcom/../../../P.O. Directory **

1842/Jas. Pickman/../../../Robsons Directory **

1843/Richard Gurney/../../../P.O. Directory

1846/Thomas Parish/../../../P.O. Directory **

1848/Samuel Vivish/../../../Post Office Directory *

1850/Stephen Vivish/../../../P.O. Directory **

1851/John Griffin/../../../Kellys Directory **

1851/John Griffin/Vintner/26/Middlesex/Census
1851/Jane Griffin/Wife/20/Lambeth/Census
1851/Eliz Griffin/Daughter/2/Middlesex/Census
1851/John Griffin/Son/4 months/City/Census
1851/Alex Knight/Traveller/46/Staffordshire/Census
1851/Ellen Martin/Servant/18/Ireland/Census
1851/Edward Ragg/Servant/18/Surrey/Census
1851/Amelia Barton/Servant/18/Middlesex/Census

1852/John Giffin/../../../Watkins Directory **

1856/Thomas Meekham/../../../Post Office Directory

1860/Henry Arlett/../../../Post Office Directory **

1861/Henry Arlett/Victualler/39/St Marylebone/Census
1861/Mary Ann Arlett/Wife/40/St Marylebone/Census
1861/Louisa Arlett/Daughter/17/St Marylebone/Census
1861/Henry Jas Arlett/Son/13/St Marylebone/Census
1861/Amelia M Arlett/Daughter/9/St Marylebone/Census
1861/Emily Jane Arlett/Daughter/7/Chelsea/Census
1861/Agnes F Arlett/Daughter/1/City/Census
1861/Geo Sainton/Lodger, Sorter General Post Office/31/Hammersmith/Census
1861/Geo H Hurry/Potman/18/Bridgewater Gardens/Census
1861/Sarah A Gaze/General Servant/19/St georges east/Census
1861/Miriam M Smith/Nurse Maid/19/Finsbury/Census

1869/Job Dolling/../../../Post Office Directory

October 1870/J Delling/Outgoing Licensee/../../London City Press

October 1870/J Pogson/Incoming Licensee/../../London City Press

1871/John Pogson/Publican/30/Nottinghamshire/Census
1871/Matilda Pogson/Wife/24/Leicester/Census
1871/Ada Pogson/Daughter/5/Pimlico, Middlesex/Census
1871/Bertha Pogson/Daughter/3/Westminster, Middlesex/Census
1871/William T Pogson/Son/2/Westminster, Middlesex/Census
1871/Frank Pogson/Son/6 months/Alderdgate, City of London/Census
1871/Robert A Feittel/Lodger/28/Alderdgate, City of London/Census
1871/Emma Swanton/General Servant/25/Alderdgate, City of London/Census
1871/Mary Laylor/General Servant/14/Alderdgate, City of London/Census

1874/James Richard Dovey/../../../H D Miles London & Suburban Licensed Victuallers Directory **

1875/James Thos Everett/../../../Post Office Directory **

1879/William Curtis/../../../Post Office Directory **

1880/William Carter/../../../Post Office Directory **

1881/Phillip M King/Publican/39/Beckenham, Kent/Census
1881/Mary A King/Publican Wife/28/Dover, Kent/Census
1881/Jane A Lorren/Mother in Law, Widow/65/Capel, Kent/Census
1881/Ann King/Aunt, Widow/61/Farnborough, Kent/Census
1881/Annie Assland/Barmaid/18/Romford, Essex/Census
1881/George Martin/Potman/25/Edinburgh, Scotland/Census

1882/Phillip Markwell King/../../../Post Office Directory

1886/Thomas Bowers/../../../Business Directory of London **

1886/James Wiltshear/../../../Business Directory of London **

1887/Thomas Harris/../../../P.O. Directory **

1891/John Naylor/../../../Post Office Directory

1894/A S Naylor/../../../Post Office Directory **

1895/Thomas Wall/../../../Post Office Directory

1899/William Rowe/../../../Post Office Directory

1901/Kate Grout/Manageress Public House/30/Great Easton, Essex/Census ***
1901/A Rose Stonebridge/Sister, Housekeeper/33/Great Easton, Essex/Census
1901/Daisy Stonebridge/Niece/10/Hackney/Census
1901/D A Webyell/Barmaid/26/Ightam, Kent/Census

1902/William Rowe/../../../P.O. Directory **

1909/Fredk Felix Fabian/../../../Post Office Directory **

1914/Fredk Felix Fabian/../../../Post Office Directory **

1915/Frederick Fabian/../../../Morris Directory **

1940/Fredk Chas Brook/../../../Post Office Directory **

1941/Fredk Chas Brook/../../../Post Office Directory **

1944/Frederick Charles Brook/../../../Post Office Directory *



* Provided By Ewan

** Provided By Stephen Harris

*** Provided By Les Rolfe

**** Provided By Eddie Duggan