Search London wiki and Pub wiki history sites
All public house, restaurants, bars etc closed for the forseeable future from 20th March 2020, but this is a pub history site.
The Bull, 4 Devonshire row, Aldgate EC2M
Aldgate pub history index
Established by 1841 and possibly associated with the nearby Bull Inn. At 18 Devonshire Street in 1869 **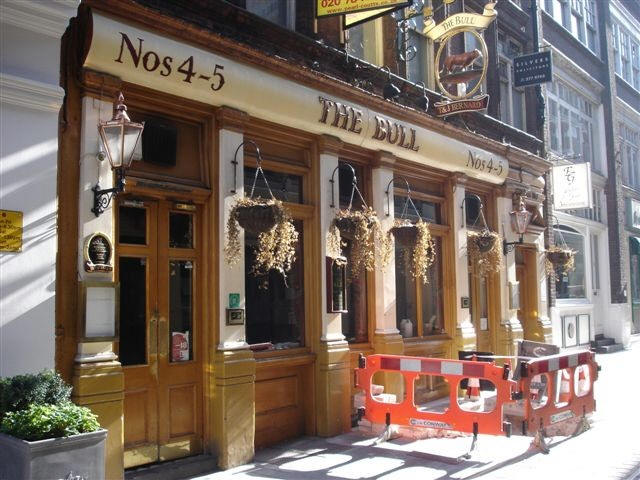 Bull, 4 - 5 Devonshire Row - in September 2006
Kindly provided by Stephen Harris
Residents at this address.
1841/Thomas Hessin/../../../P.O. Directory **

1842/Jas. Baker/../../../Robson�s Directory **

1852/Benjamin Benjamin/../../../Watkin�s Directory **

December 1851/Benjamin Benjamin/Outgoing Licensee/../../Era

December 1851/Isaac Fisher/Incoming Licensee/../../Era

1856/Isaac Fisher/../../../Post Office Directory

1861/Isaac Fisher/Licensed Victualler/46/Wolverhampton, Staffordshire/Census
1861/Ellen Fisher/Wife/46/Knightly, Staffordshire/Census
1861/Ellen Fisher/Daughter/16/Pimlico, Middlesex/Census
1861/Sarah Fisher/Daughter/15/Pimlico, Middlesex/Census
1861/Charles H Fisher/Son/11/City of London, Middlesex/Census
1861/Alfred Fisher/Son/6/City of London, Middlesex/Census
1861/Lucy A Fisher/Daughter/3/City of London, Middlesex/Census
1861/William Mooney/Potman/52/Southwark, Surrey/Census

1869/John North/../../../P.O. Directory **

1871/John North/../../../P.O. Directory **

1871/John North/Licensed Victualler/34/City London, Middlesex/Census
1871/Amelia North/Wife/28/City London, Middlesex/Census
1871/John W North/Son/8/City London, Middlesex/Census
1871/Sarah M A North/Daughter/3/City London, Middlesex/Census
1871/Frederick W North/Son/1/City London, Middlesex/Census
1871/Ellen Edmunds/General Servant/31/Ireland/Census
1871/Alfred Barwell/Potman/25/Herts/Census
1871/Emme Bamford/General Servant/13/City London, Middlesex/Census

1873/John North/../../../P.O. Directory **

1881/Frederick Wylorn/../../../P.O. Directory **

1881/Fredk Wylorn/Manager (Pub/31/Dusbury, Devon/Census
1881/John Brown/Proprietors/20/City Of London, Middlesex/Census
1881/Henry Harvey/Barman/22/Saltash, Cornwall/Census
1881/Edward Dorling/Barman/21/Hackney, Middlesex/Census
1881/Sarah E Brown/Cook/35/Clerkenwell/Census

1884/Fred. G Brown/../../../Business Directory of London **

1886/Thomas C Brown/../../../Business Directory of London **

1891/George Frederick Brown/../../../P.O. Directory **

1899/Frederick George Brown/../../../P.O. Directory **

1891/Geo Fredk Brown/../../../Post Office Directory

1895/Frederick Geo Brown/../../../Post Office Directory

1899/Frederick George Brown/../../../Post Office Directory

1938/H W Brown & Co/../../../Post Office Directory



** Provided By Stephen Harris