Search London wiki and Pub wiki history sites
All public house, restaurants, bars etc closed for the forseeable future on 20th March 2020, but this is a history site. But how about the landlords give their tenants a break, no business, then please charge them no rent.
George And Dragon, 104 Houndsditch, Aldgate EC3
Aldgate pub history index
Existed from at least 1792. In the latter part of the 20th century this pub traded as the Gloucester Arms, the Clanger and the Drum & Monkey. It was demolished in 2006 and a replacement pub built at ground floor level in an office block. The new pub has been called the All Bar One. **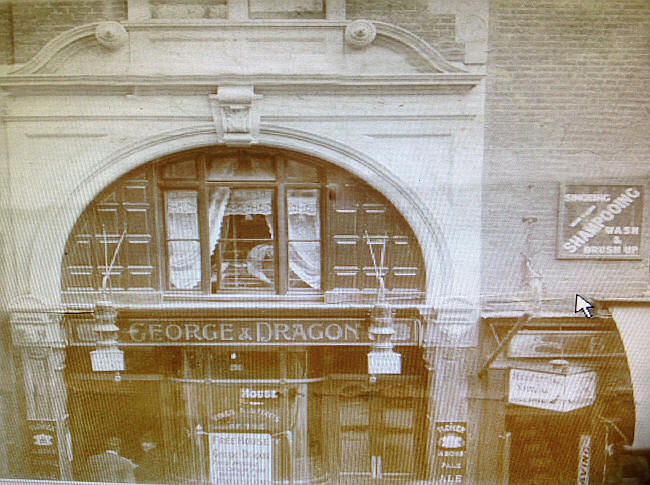 George & Dragon, 104 Houndsditch - early 1900s
My great grandfather had the gentlemen's hairdressers next door at 105 Houndsditch
Kindly provided by Julie Edward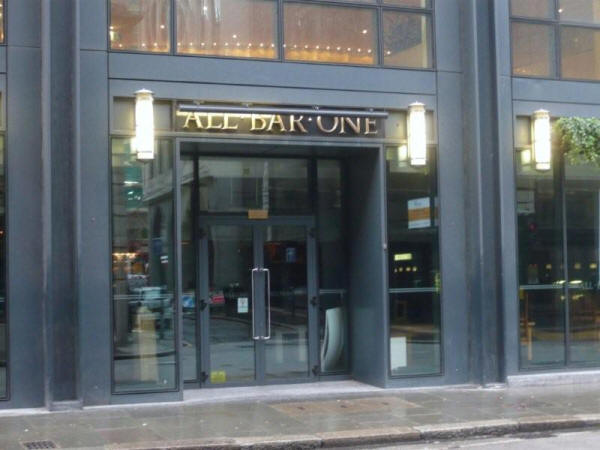 George & Dragon, 104 Houndsditch, EC3 - in November 2008
Kindly provided by Stephen Harris
Residents at this address.
1792/Charles William Loader/victualler/../../Sun Fire Office records held at the London Metropolitan Archives *

1793/William Brewer/victualler/../../Sun Fire Office records held at the London Metropolitan Archives *

1804/Isaac Walter/victualler/../../Sun Fire Office records held at the London Metropolitan Archives *

1811/J Waller, victualler, 104 Houndsditch/../../Holdens Directory

1833-34/John Wardell Leach, George, 104 Houndsditch/../../Pigots Directory

1839/David Elder/../../../Pigots Directory **

1841/David Elder/../../../Post Office Directory **

1842/David Elder/../../../Robson�s Directory **

1851/David Elder/../../../Kelly�s Directory **

1856/David Elder/../../../Post Office Directory

1869/Robert Elder/../../../Post Office Directory

1871/Robert Elder/Licensed Victualler/45/Kensington, Middlesex/Census
1871/Eliza Satchell/House Keeper/29/St Georges East, Middlesex/Census
1871/Ellen Bryant/General Servant/15/Stepney, Middlesex/Census
1871/Charles R Satchell/../3/Limehouse, Middlesex/Census
1871/Kate Satchell/../2/City London, Middlesex/Census

1872/Robert Elder/../../../P.O. Directory **

1874/M Hart/../../../H.D. Miles London & Suburban Licensed Victuallers' Directory **

1881/John Aaron/Publican, Widow/56/City Of London, Middlesex/Census
1881/Samuel Aaron/Son, Barman/28/City Of London, Middlesex/Census
1881/Abi Aaron/Son, Dealer/22/City Of London, Middlesex/Census
1881/Ben Aaron/Son/16/City Of London, Middlesex/Census
1881/Margaret Harrington/Servant/20/Spitalfields, Middlesex/Census

1882/John Aarons/../../../Post Office Directory

1885/Israel Myers/../../../Post Office Directory **

1891/Israel Myers/../../../Post Office Directory

1892/Israel Myers/../../../Post Office Directory **

1895/Israel Myers/../../../Post Office Directory

1899/Mrs Rachel Marks/../../../Post Office Directory

1901/Alexander Goldstein/Licensed Victualler/32/Middlesex/Census
1901/Henrietta Goldstein/Wife/28/Sheffield/Census
1901/Jane Goldstein/Daughter/6 months/Middlesex/Census
1901/Tom Jones/Barman/28/Portsea/Census
1901/Susanah Mitchell/Domestic Servant/23/Lewes, Sussex/Census
1901/Norah M Macnamara/Domestic Servant/14/Middlesex/Census

1910/Alexander Robert Goldstein/../../../Post Office Directory

1911/Alexander Goldstein/Licensed Victualler/41/St Marys, Middlesex/Census
1911/Henrietta Goldstein/Wife/39/Sheffield/Census
1911/Leonard Goldstein/Son/9/Stoke Newington, London/Census
1911/Rose Goldstein/Daughter/7/Bishopsgate, London/Census
1911/Jack Goldstein/Son/6/Bishopsgate, London/Census
1911/Marjorie Goldstein/Daughter/4/Finsbury Park, London/Census
1911/Arthur Horner/Barman/36/Downham, Norfolk/Census
1911/John Ernest Collier/Barman/35/Wellingboro, North Hampshire/Census
1911/Mary Ann Hill/Nurse/43/Chelmsford, Essex/Census
1911/Marian Saunders/Cook, Widow/55/Nottingham/Census

1915/Alexander Robert Goldstein/../../../Post Office Directory

1921/Alexander Robert Goldstein/../../../Post Office Directory **

1926/Alexander Robert Goldstein/../../../Post Office Directory **

Alexander Bob Goldstein is at the Kings Arms, 18 Kingsland High Street, Hackney by 1934

1935/Albert Jn Harold Cope/../../../Post Office Directory **

1944/Mrs Annie Cohen/../../../Post Office Directory **



* Provided By Ewan

** Provided By Stephen Harris