Search London wiki and Pub wiki history sites
All public house, restaurants, bars etc closed for the forseeable future on 20th March 2020, but this is a history site. But how about the landlords give their tenants a break, no business, then please charge them no rent.
Magpie, 12 New Street, Aldgate EC2
Aldgate pub history index
Existed from at least 1818. A Nicholsons pub in 2019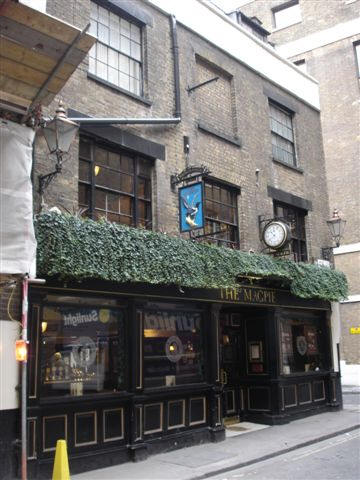 Magpie, 12 New Street - in December 2006
Kindly provided by Stephen Harris
Residents at this address.
1818/William Warren/../../../Proceedings of the Old Bailey **

1819/Mr Smith, Magpye, New street, Bishopsgate street/../../Licensed Victuallers Association

1830/Thomas Binns / Victualler /../../../Sun Fire Office Records, held at Guildhall Library **

1838/William Tyson / Victualler /../../../Sun Fire Office Records, held at Guildhall Library **

1839/William Culff / Victualler /../../../Sun Fire Office Records, held at Guildhall Library **

1839/Wm Tyson/../../../Pigots Directory

1841/Wm Culff/../../../Post Office Directory

1841/ William Culff / 50 / Licensed Victualler /../../../1841 census **
1841/Sarah Culff / 50 / /../../../1841 census

1842/Wm. Cuff/../../../Robson�s Directory **

1843/William Culff/../../../Kellys Directory

February 1847/Mary Harrobin/Outgoing Licensee/../../Era

February 1847/John Mason/Incoming Licensee/../../Era

1848/John Mason/../../../Post Office Directory **

1851/John Mason/../../../Kelly�s Directory **

October1853/John Mason/Outgoing Licensee/../../Era

October 1853/Edward Culf/Incoming Licensee/../../Era

1855/Thomas Wesley / Public House Keeper /../../Proceedings of the Old Bailey **

1856/Thomas Alexander Wesley/../../../Post Office Directory

1861/Thomas A Wesley/Licensed Victualler/42/Broughton, Buckinghamshire/Census
1861/Emma Wesley/Wife/36/Walthamstow, Essex/Census
1861/Emily Wesley/Daughter/10/Islington, Middlesex/Census
1861/Sarah Arber/Mother in Law, Widow/64/Epping, Essex/Census
1861/Edwin Hale/Boarder, Printer Compositor/22/Wakefield, Yorkshire/Census
1861/John E Whiting/Boarder, Printer Compositor/22/Wakefield, Yorkshire/Census
1861/John Marsh/Boarder, Plumber/28/Nottinghamshire/Census
1861/Mary Fearnley/House Servant/29/Mile End, Middlesex/Census
1861/Robert Cocker/Potman/21/Bethnal Green, Middlesex/Census

April 1864/James Cordeaux/Outgoing Licensee/../../London City Press

April 1864/William Samuel Groom/Incoming Licensee/../../London City Press

1869/T Cordeux/../../../Post Office Directory

May 1870/T Cordeux/Outgoing Licensee/../../London City Press

May 1870/S C Cordeux/Incoming Licensee/../../London City Press

1881/William Staley/Licensed Victualler/38/City Road/Census
1881/Emily Staley/Wife/30/Islington/Census
1881/Thomas W Staley/Son/7/Bishopsgate/Census
1881/Frederick R Staley/Son/4/../Census

1884/William Staley/../../../Post Office Directory

1891/Geo Robert Jackson/../../../Post Office Directory

1893/George Robert Jackson/../../../Post Office Directory **

1895/Geo Robert Jackson/../../../Post Office Directory

1899/Thos Edward Wicks/../../../Post Office Directory

1902/Thomas Edward Wicks/../../../Post Office Directory **

1908/Thomas Edward Wicks/../../../Post Office Directory **

1910/Thomas Edward Wicks/../../../Post Office Directory

1915/Thomas Edward Wicks/../../../Post Office Directory

1917/Wm Rd Oberman jun/../../../Post Office Directory **

1921/Mrs Clara Ann Oberman/../../../Post Office Directory

1935/Edward Hunt/../../../P.O. Directory **

1938/Joseph Newton Williams/../../../Post Office Directory

1944/Mrs Julia Collins/../../../Post Office Directory



** Provided By Stephen Harris