Search London wiki and Pub wiki history sites
All public house, restaurants, bars etc closed for the forseeable future from 20th March 2020, but this is a history site.
Golden Axe, 30 St Mary Axe, All Hallows London Wall EC3
All Hallows London Wall pub history index
Existed from at least 1794. Up until at least 1863 it is the Blue Pig; the Golden Anchor by 1869. At 56 St Mary Axe by 1882. At the intersection with Bevis Marks
Historical London public houses, Taverns, Inns, Beer Houses and Hotels.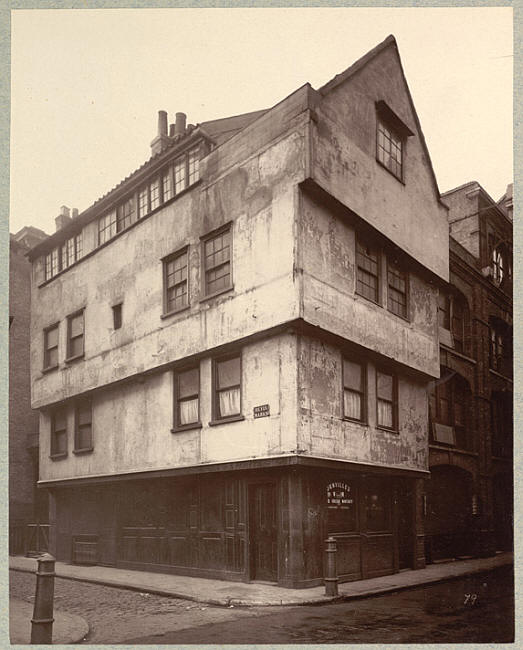 Early photo of the Golden Axe, on the corner of St Mary Axe and Bevis Marks
Kindly provided by John Carnaby
Residents at this address.
Blue Pig :

1794/Henry Kirkham/victualler/../../Sun Fire Office records held at the London Metropolitan Archives *

1808/Robert Taylor, Blue Boar, 29 St Mary Axe/../../Holdens Directory

1811/John Jackson, victualler, 29 St Mary axe/../../Holdens Directory

1825/Mr Whittle, Blue Pig, St. Mary Axe/../../Licensed Victuallers Association

1832/W Louis, Blue Pig, 30 St Mary Axe/../../Robsons Directory

1833-34/William Lowis, Blue Pig, 30 St. Mary axe/../../Pigots Directory

1839/Mrs Elizh Hersey/Blue Pig, 30 St Mary Axe/../../Pigots Directory

1841/Mrs Elizabeth Hersey/../../../Post Office Directory *

1842/William Hersey, Blue Pig, 29 St Mary Axe/../../Robson�s Directory

1843/Francis Butcher/../../../Kellys Directory

1846/Francis Butcher/../../../Post Office Directory

1848/Francis Butcher/../../../Post Office Directory

1851/Francis Butcher/../../../Post Office Directory

29 St Mary Axe :
1851/Francis Butcher/Licensed Victualler/40/Croydon, Surrey/Census
1851/Martha Butcher/Wife/42/Middlesex/Census
1851/James Tucker/Son in Law, Smith/18/Bourton, Surrey/Census
1851/Hannah Walker/Niece, Assistant/33/Liverpool/Census
1851/Susan Walker/Niece/1/City of London/Census
1851/Ann Kennily/Servant/20/Ireland/Census
1851/Nancy Edgeworth/Aunt/76/Croydon, Surrey/Census
1851/Robert Lincoln/Servant/30/Woodford, Essex/Census

1856/Francis Butcher/../../../Post Office Directory

October 1859/Henry Butcher/Outgoing Licensee/../../Era

October 1859/Benjamin Workman Pearce/Incoming Licensee/../../Era

1862/Benjamin W Pearce/../../../Post Office Directory

July 1863/Robert Stapleton Broome/Outgoing Licensee/../../Era

July 1863/John Richard Whitehouse/Incoming Licensee/../../Era

Golden Axe :

1869/Richard Modridge/../../../Post Office Directory

July 1869/Mr Moddridge to March 1868, closed for repairs and now to/Outgoing Licensee/../../Era

July 1869/Frederick Ricketts/Incoming Licensee/../../Era

January 1871/Frederick Ricketts/Outgoing Licensee/../../Era

January 1871/Walter Sheppard/Incoming Licensee/../../Era

1871/Walter Sheppard/Licensed Victualler/29/St Leonards Shoreditch/Census
1871/Wm alfred Cook/Potman/18/St Margarets, Westminster/Census

1882/John Capua/../../../Post Office Directory



* Provided By Ewan

** Provided By Stephen Harris