Search London wiki and Pub wiki history sites
All public house, restaurants, bars etc closed for the forseeable future on 20th March 2020, but this is a history site. But how about the landlords give their tenants a break, no business, then please charge them no rent.
Old White Horse, 64 London Wall, All Hallows London Wall, City of London EC2
All Hallows London Wall pub history index
Existed from at least 1803. This pub is also listed as "Broad Street" under its later name Talbot and with a slightly different selection of licensees (Check needed). By 1891 the pub had been renamed the Talbot and in around 2000 it was again renamed O'Neill's, the name which remains in use (2008). ** Closed in 2011 and converted to restaurant use. *
Historical London public houses, Taverns, Inns, Beer Houses and Hotels.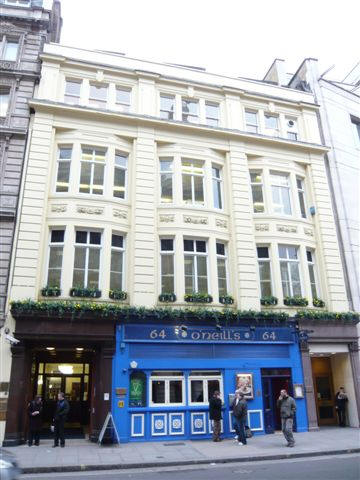 Old White Horse, 64 London Wall, EC2 - in March 2008
Kindly provided by Stephen Harris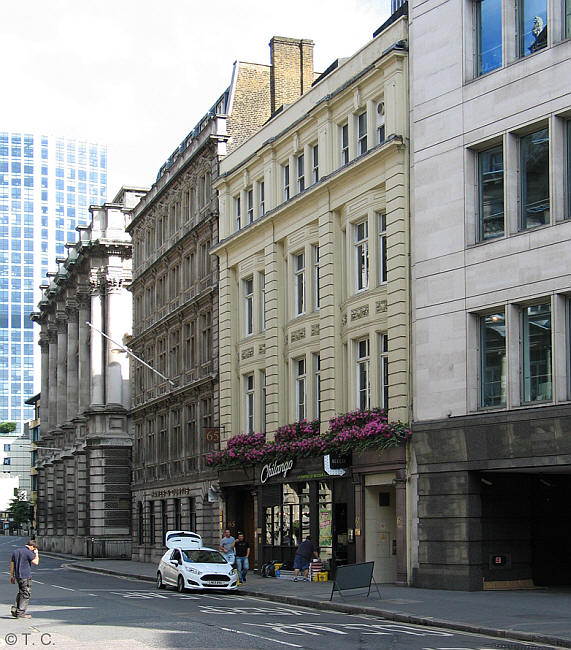 Old White Horse, 64 London Wall EC2 - in July 2014
Kindly provided by Tris
Residents at this address.
1803/Philip Mapleton / Victualler/../../../Sun Fire Office records held at Guildhall Library **

1839/Andrew Chisholm/../../../Pigots Directory **

1841/Andrew Chisholm/../../../Post Office Directory **

1848/Mrs Maria Chisholm/../../../Post Office Directory

1851/George Lulham/../../../Kellys Directory **

1851/George Lulham/Victualler/37/Surrey/Census
1851/Ann Lulham/Wife/28/City of London/Census
1851/Ann Lulham/Daughter/1/City of London/Census
1851/George Lulham/Son/5/Norton Folgate/Census
1851/Henry Lulham/Son/3/City of London/Census
1851/John Ross/Visitor, Gentleman Coachman/36/Dorking, Surrey/Census
1851/Henry Lulham/Brother, Cheesemonger/35/Surrey/Census
1851/Mary Ann Martin/Domestic Servant/17/City of London/Census
1851/Robert Smith/Potman/15/City of London/Census

1856/James Mettam/../../../Post Office Directory

1860/James Gullick /../../../P.O. Directory **

October 1862/James Gullick/Outgoing Licensee/../../Morning Post

October 1862/Thomas James Kay/Incoming Licensee/../../Morning Post

April 1864/Thomas James Kay/Outgoing Licensee/../../London City Press

April 1864/George Lovell/Incoming Licensee/../../London City Press

1869/G Lovell/../../../Post Office Directory

1871/George Lovell/Licensed Victualler/55/Wells, Somerset/Census
1871/Mary Lovell/Wife/51/Motcombe, Dorset/Census
1871/Mary Eliza Lovell/Daughter, Barmaid/16/Bath, Somerset/Census
1871/John Caprey/Boarder, Compositor/30/Switzerland/Census
1871/Charles Bannister/Visitor/12/Bermondsey/Census
1871/Sarah Perry/General Servant/25/Stebbing, Essex/Census

1877/Richard Smith/../../../Post Office Directory ***

1881/Richard Smith/Publican/34/West Ham, Essex/Census
1881/Annie Smith/Wife/28/Holborn, Middlesex/Census
1881/Sydney R Smith/Son/1/Allhallows Lombard St/Census
1881/Annie Carter/Barmaid/18/Falmouth/Census
1881/Augusta Eise/Barmaid/23/(BS), Germany/Census
1881/Jane Perry/Kitchenmaid/20/St Georges In The East/Census
1881/Bertha Murphy/Barmaid/20/Comercial Rd/Census
1881/Jessie Birchmore/Scullery Maid/19/Islington/Census
1881/Ellen Oliver/Nursemaid/15/Bishopsgate/Census
1881/Hannah Penn/Waitress/19/W Hackney/Census

1882/Richard Smith/../../../Post Office Directory

1885/Richard Smith/../../../Post Office Directory **

1887/Thomas Edward Davies /../../../Planning papers held at Corporation of London Records Office **

1891/Martha J Powell/Manageress of Restaurant///Census
1891/Catherine E Johnson/Barmaid/30/Walworth, Surrey/Census
1891/Annie Howard/Barmaid/24/Bermondsey, London/Census
1891/Sarah Lea/Domestic Servant/26/St Pancras, London/Census
1891/Kate Peters/Barmaid/23/Maidstone, Kent/Census

1893/Richard George Scopes/../../../Post Office Directory **

1899/Thomas Edward Davies /../../../P.O. Directory **

1902/Thos Edward Davies/../../../Post Office Directory **



* Provided By Tris

** Provided By Stephen Harris