Elephant, 119 Fenchurch Street, All Hallows Staining, City of London EC3
All Hallows Staining pub history index
The foundation of this pub pre-dates the Great Fire of 1666. It has been re-built on several occasions and now exists as a ground floor and basement bar within a large, modern office block. This pub was rebuilt in its present form in 1957. **
You need to see my London Taverns description of the Old Elephant, and the deadpubs listing for much more early detail querying some of the early hypothesis.
Historical London public houses, Taverns, Inns, Beer Houses and Hotels.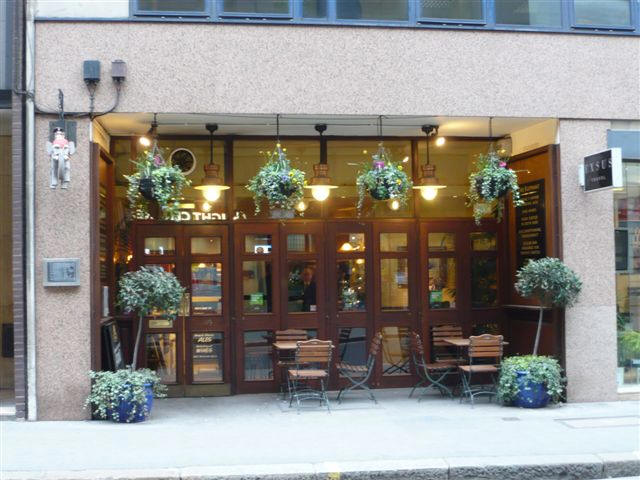 Elephant Inn, 119 Fenchurch Street, EC3 - in March 2008
Kindly provided by Stephen Harris
Residents at this address.
1811/M Hibbert/../../../Guildhall Library **

An 1811 engraving of this pub held by the Guildhall Library shows the name M Hibbert above the door, together with a note that "Mrs Hibbert has kept the pub for between 30 and 40 years".

1827/Sarah Eaton, Elephant, 120 Fenchurch street/../../Pigots Directory

1833-34/Sarah Eaton, Elephant, 119 Fenchurch Street/../../Pigots Directory

1839/William Eaton/../../../Pigots Directory

1841/William Eaton/../../../Post Office Directory **

1841/William Eaton/Licensed Victualler/30/Middlesex/Census
1841/Susan Eaton/../30/Middlesex/Census
1841/Sarah Eaton/../60/../Census
1841/Emily Eaton/../1 month/Middlesex/Census
1841/William Hardy/Independent/30/../Census
1841/Frederick Clay/Independent/45/Middlesex/Census
1841/Thomas Day/Male Servant/20/../Census
1841/Margaret Richardson/Female Servant/20/../Census
1841/Harriet Baker/Female Servant/20/../Census
1841/Elizabeth Norton/Female Servant/40/../Census

1842/W Eaton/../../../Robsons Directory **

1846/Mrs Susannah Eaton/../../../Post Office Directory **

Era 19 December 1847 - Transfers
Elephant, Fenchurch street, George Thomas to Charles Frederick Bigbie

1851/Edward Barker/../../../Kellys Directory **

1851/Edward Barker/Victualler/61/Melsonby, Yorkshire/Census
1851/Maria Barker/Wife/56/Westminster, Middlesex/Census
1851/Mary Ann Storey/Niece, House Servant/25/St Martins in the Fields, Middlesex/Census
1851/Clara Storey/Niece, Barmaid/21/St Marylebone, Middlesex/Census
1851/Jane Mary Storey/Niece, House Servant/13/St Marylebone, Middlesex/Census
1851/James Bye/Potman & Waiter/20/Fulham, Middlesex/Census

1852/Edward Barker/../../../Post Office Directory **

July 1859/G Byard/Outgoing Licensee/../../London City Press

July 1859/E Powell/Incoming Licensee/../../London City Press

1861/Ellis Powell/Licensed Victualler/43/Bradford, Yorkshire/Census
1861/Jane S Powell/Wife/47/Westminster, Middlesex/Census
1861/James Fritzen/Waiter/31/Bethnal Green, Middlesex/Census
1861/Martha Morgan/Servant/21/Wanstead, Essex/Census

1869/Mrs H Groom/../../../Post Office Directory

1871/Anna Groom/Licensed Victualler, Widow/54/Lambeth, Surrey/Census
1871/James Groom/Son/26/Bloomsbury, Middlesex/Census
1871/Elizabeth Groom/Daughter in Law/27/St Giles, Middlesex/Census
1871/Elizabeth H Groom/Grand Daughter/3/All Hallows Staining, Middlesex/Census
1871/Amy I Groom/Grand Daughter/2/All Hallows Staining, Middlesex/Census
1871/James W Groom/Grandson/5 months/All Hallows Staining, Middlesex/Census
1871/Eliza M Rimber/Barmaid/21/St Dunstans, Middlesex/Census
1871/Harriet Medcalf/General Servant/23/Worcester/Census
1871/Emily M Whitehead/Nursemaid/20/Woolwich, Kent/Census
1871/Philip Drake/Potman/21/Shoreditch, Middlesex/Census
1871/Jane A Stepforth/Visitor, Widow/60/St Giles, Middlesex/Census

April 1871/Hannah Groom/Outgoing Licensee/../../Era Newspaper

April 1871/Hannah Groom and James Groom/Incoming Licensee/../../Era Newspaper

1877/Thomas Fisher/../../../Post Office Directory **

1881/Thomas Fisher/Licensed Victualler/43/Birmingham, Warwick/Census
1881/Caroline A Fisher/Wife/40/St Geo In East, Middlesex/Census
1881/Thomas W Fisher/Son/14/London City, Middlesex/Census
1881/Emma R Evans/Adopted Daughter/14/Stratford, Essex/Census
1881/Wm Hy Fisher/Nephew, Barman/23/Birmingham, Warwick/Census
1881/Harriet Carr/Barmaid/22/Stratford, Essex/Census
1881/Mary A Jones/Cook/28/London City, Middlesex/Census
1881/Mary Reiners/Housemaid/18/St Geo In East, Middlesex/Census
1881/George J Smith/Potman/17/Kingsland, Middlesex/Census

1882/Thomas Fisher/../../../Post Office Directory

1884/Thomas Fisher/../../../Post Office Directory

1891/Mrs Caroline Amelia & Thomas William Fisher/../../../Post Office Directory

1891/Caroline Fisher/Licensed Victualler, Widow/50/St Georges in the East/Census
1891/Caroline E Fisher/Grand Daughter/7/Wendover, Tringm Buckinghamshire/Census
1891/Ada E Newson/Niece, Barmaid/22/Stratford, Essex/Census
1891/Lydia F Prophet/Barmaid/25/Edmonton, Middlesex/Census
1891/Emma S C Gordon/Cook/47/Wood Street, Cheapside, London/Census
1891/Walter G Stevenson/Domestic Servant/19/Lewisham, Kent/Census

1895/Mrs Caroline Amelia & Thomas William Fisher/../../../Post Office Directory

1899/Edmund Walter Mawby/../../../Post Office Directory

1901/A J Black/Manager Public House/24/London/Census
1901/Mabel Webb/Barmaid/20/Gravesend, Kent/Census
1901/Florence D Webb/Barmaid/21/Gravesend, Kent/Census
1901/Mabel M Goldfinch/Barmaid/19/Plumstead, Kent/Census
1901/Olive Kellick/Barmaid/20/East Grinstead, Sussex/Census
1901/Henry Sadler/Barman/24/Colchester, Essex/Census
1901/Jane Seabright/Housemaid/, Widow/56/Esperangell, Wales/Census

1902/Edmund Walter Mawby/../../../Post Office Directory **

1910/William John Penwarden/../../../Post Office Directory

1911/Frederick Moody/Manager/40/Westbury, Wiltshire/Census
1911/Clara Louisa Moody/Wife/37/Bilston, Wolverhampton/Census
1911/Frederick Moody/Son/5/Nottingham/Census
1911/James Wilson/Barman/26/Lichfield/Census

1921/William John Penwarden/../../../Post Office Directory

1925/E W Hollidge/../../../BT Telephone Directory

1926/E W Hollidge/../../../BT Telephone Directory

1927/E W Hollidge/../../../BT Telephone Directory

In 1927, E W Hollidge is also to be found at the Builders Arms, 12 Hammersmith Bridge Road, and at the Kings Head, Newington Causeway by 1928 according to the BT Telephone Directories

1934/Chas Hy Webster/../../../Kellys Directory



** Provided By Stephen Harris