Search London wiki and Pub wiki history sites
All public house, restaurants, bars etc closed for the forseeable future on 20th March 2020, but this is a history site. But how about the landlords give their tenants a break, no business, then please charge them no rent.
Cricketers, 317 Battersea Park road, Battersea SW11
Battersea East pub history index
at or near the junction with Austin road in 1865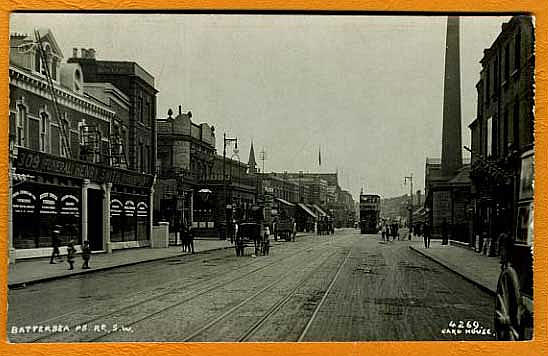 Cricketers, Battersea
Kindly provided by Colleen
Historical London public houses, Taverns, Inns, Beer Houses and Hotels.
Residents at this address.
1865/Charles Rd Pace, Cricketers Arms, Battersea road/../../../Post Office Directory

1874/J G Poole/../../../Licensed Victualler & Hoteliers Directory

1878/Thos Amelius Cloud/../../../../Surrey Post Office Directory

1881/Herbert Smales/Printers Compositor Publicans Manager/38/Lambeth, Surrey/Census
1881/Edith F Smales/Daughter/8/Camberwell, Surrey/Census
1881/Caroline B Smales/Daughter/4/Kennington, Surrey/Census
1881/Jane Bowler/Housekeeper/30/London City/Census
1881/Richard Moore/Barman/21/Pimlico, Middlesex/Census
1881/Eliza Kemble/Barmaid/25/Shrivenham, Berkshire/Census
1881/Rosinia Terry/Nursemaid/20/Pimlico, Middlesex/Census
1881/Alice Gerald/Domestic Servant/21/Canterbury, Kent/Census

1891/Arthur Perry/Licensed Victualler/35/Somerset/Census
1891/Mary A Perry/Wife/35/Salisbury/Census
1891/William R Perry/Nephew, Barman/18/St Pancras, London/Census
1891/Richard J Norman/Cousin, Barman/15/Somerset/Census
1891/George F Whittle/Barman/16/Camberwell, London/Census
1891/Fannie S Wilkie/Barmaid/20/Camden Town, London/Census
1891/Elizabeth M Mitchell/Domestic Servant/26/Camberwell, London/Census

1896/Thomas Hawkins/../../../../Post Office Directory

1901/William Eeles/Licensed Victualler/32/Chipping Norton, Oxon/Census
1901/Elizabeth Eeles/Wife/31/Bow, London/Census
1901/Edith Eeles/Daughter/4/Clerkenwell/Census
1901/Grace Eeles/Daughter/3/Clerkenwell/Census
1901/Louisa Eeles/Sister, Barmaid/22/Chipping Norton, Oxon/Census
1901/Thomas Hern/Barman/20/Chipping Norton, Oxon/Census
1901/Caroline Turner/Domestic Servant/18/Battersea, London/Census
1901/Margaret Newland/Visitor/13/Clerkenwell/Census

1901/William Eeles/../../../../Post Office Directory

1904/William Eeles/../../../../Post Office Directory

1906/William Eeles/../../../../Post Office Directory

1911/William Eeles/../../../../Post Office Directory

1919/William Eeles/../../../../Post Office Directory

1921/William Eeles/../../../../Post Office Directory

1938/Hy Jas & Norman Cecil Collins/../../../../Post Office Directory