Search London wiki and Pub wiki history sites
All public house, restaurants, bars etc closed for the forseeable future on 20th March 2020, but this is a history site. But how about the landlords give their tenants a break, no business, then please charge them no rent.
Duke of Cornwall, 37 Stewarts road, Battersea SW8
Battersea East pub history index
The Duke of Cornwall, Cross street in the 1871 census; At Stewarts Lane in 1878; Listed at 37 Stewarts Road & 1 Ascalon Street in 1901 Directory
Historical London public houses, Taverns, Inns, Beer Houses and Hotels.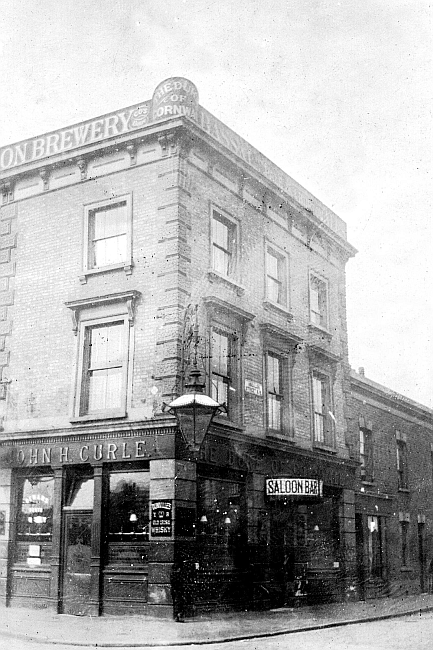 Duke of Cornwall, Stewarts Road, Battersea - Licensee John H Curle in circa 1901
Kindly provided by Roger J Pullen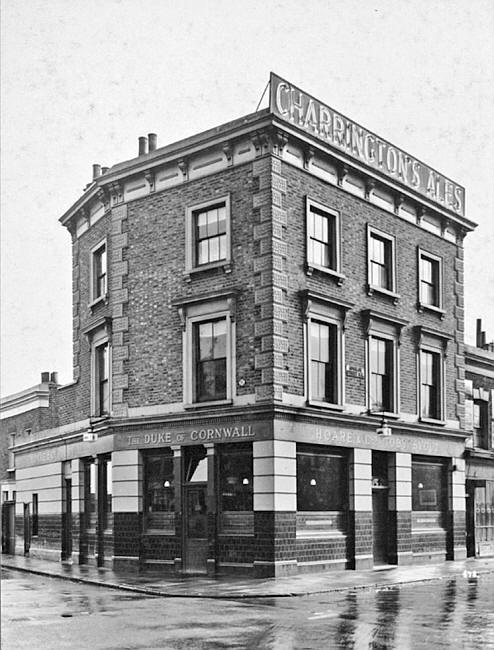 Duke of Cornwall, 37 Stewarts Road & Ascalon street, Battersea - circa 1940
Kindly provided by Vincent O'Loughlin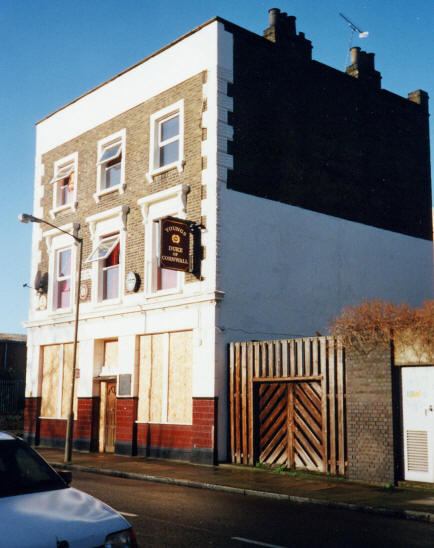 Duke of Cornwall, 37 Stewarts Road, Battersea East
Kindly provided by Philip Carter
Residents at this address.
1871/John Lansley/Beer House Keeper/35/Croydon, Surrey/Census
1871/Sarah Lansley/Wife/27/Southwark, Surrey/Census
1871/John H Lansley/Son/4/Pimlico, Middlesex/Census
1871/Sarah A Lansley/Daughter/10 months/Battersea Surrey/Census

1878/William Turner, beer retailer, Stewart's lane/../../../Post Office Directory

1881/William Turner/Licensed Victualler/50/Chelsea, Middlesex/Census
1881/Annie H V Turner/Wife/48/Battersea, Surrey/Census
1881/Annie E Turner/Daughter/22/St Georges, Middlesex/Census
1881/Eleanor A Turner/Daughter/16/St Georges, Middlesex/Census
1881/William H Turner/Son/14/St Georges, Middlesex/Census
1881/Charles F Turner/Son/13/St Georges, Middlesex/Census
1881/Alfred E Turner/Son/8/Battersea, Surrey/Census
1881/Thomas Osborn/Potman/50/Feltham, Suffolk/Census

In 1871, William Purchase is the son of William Purchase at the Duke of York, Lewisham road, Greenwich; in 1881 his sisters are being privately educated as is probably William, whilst his father is at the Ship, Vauxhall Bridge road ***

1891/William Purchase/Licensed Victualler/22/Greenwich/Census ***
1891/Alice Purchase/Sister/24/Kilburn/Census
1891/Ada Purchase/Sister/18/Pimlico/Census
1891/James Cummings/Potman/25/Yorkshire/Census

1896/William & Miss A Purchase/../../../../Post Office Directory

In June 1896, William Purchase, Licensed Victualler son of William Purchase, Licensed Victualler, deceased, marries Elizabeth Hannah Burt, daughter of Frederick William Burt, Builders Manager, at Battersea.

By 1901 census, William Purchase is at the Red Cow, 212 Peckham High street ***

The early Photo above shows John H. Curle, as landlord in 1901, who was my grandfather. *

1901/John H Curle/Licensed Victualler/33/Hackney, London/Census
1901/Ada E Curle/Wife/33/West Ham, Essex/Census
1901/Lilian A Curle/Daughter/8/East Ham, Essex/Census
1901/Connie M Curle/Daughter/2/St Pancras, London/Census
1901/Dorothy P Curle/Daughter/1/Manor Park, Essex/Census
1901/Louisa M Twining?/Sister, Assistant/29/Cripplegate, London/Census
1901/Maria L Twining?/Niece/6/Brixton, London/Census

1901/John Henry Curle/../../../../Post Office Directory

1904/John Henry Curle/../../../../Post Office Directory

1906/John Henry Curle/../../../../Post Office Directory

1911/James George Martins/../../../../Post Office Directory

1919/Alfred Ernest Grey/../../../../Post Office Directory

1921/Alfred E Grey/../../../../Post Office Directory

1938/Cecil Edward Spooner/../../../../Post Office Directory



* Provided By Roger J Pullen
*** Provided by John Carnaby