Search London wiki and Pub wiki history sites
All public house, restaurants, bars etc closed for the forseeable future on 20th March 2020, but this is a history site. But how about the landlords give their tenants a break, no business, then please charge them no rent.
Locomotive, 35 Thessaly Road, Battersea SW8
Battersea East pub history index
The Locomotive, 9 Etruria place in the 1871 census. Then at 35 New road, which becomes 35 Thessaly road between 1934 and 1938 through road renaming
Historical London public houses, Taverns, Inns, Beer Houses and Hotels.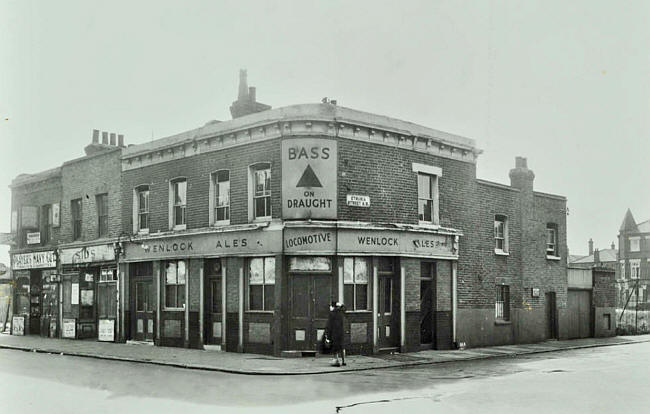 Locomotive, 35 Thessaly Road & Etruria street, Battersea SW8 - in 1953
Kindly provided by Vincent O'Loughlin
Residents at this address.
1871/Vincent Steer/Beer House Keeper/30/Totness, Devon/Census
1871/Harriett M Steer/Wife/24/Freshford, Somerset/Census
1871/Sarah Eliz Carpenter/Visitor, ladies Maid/24/Quatford, Shropshire/Census

1878/George Gilbee/Beer Retailer/../../../Surrey Directory

1881/George Ryder/Beerhouse Keeper/40/West Hyde, Hertford/Census
1881/Ann Ryder/Wife/41/Harefield, Middlesex/Census
1881/George Ryder/Son, Inn Servant/17/Paddington, Middlesex/Census
1881/Annie Ryder/Daughter/15/Paddington, Middlesex/Census
1881/William Ryder/Son/13/Paddington, Middlesex/Census
1881/Harry Ryder/Son/11/Paddington, Middlesex/Census
1881/James T Ryder/Son/9/Paddington, Middlesex/Census
1881/Charles Ryder/Son/7/Paddington, Middlesex/Census
1881/E Samuel Ryder/Son/3/Paddington, Middlesex/Census
1881/John Cruse/Boarder, Retired Farrier, Widow/80/Exeter, Devon/Census

1891/Charles Wainwright/Beer Retailer/36/Bermondsey, Surrey/Census
1891/Clara Wainwright/Wife/35/Bermondsey, Surrey/Census
1891/Charles Wainwright/Son/8/Bermondsey, Surrey/Census
1891/Clara Wainwright/Daughter/6/Bermondsey, Surrey/Census
1891/Albert Wainwright/Son/3/Bermondsey, Surrey/Census

1896/G Redfearn/Beer Retailer/../../../Post Office Directory

1901/Isabella V Webb/head/63//Census
1901/William Webb/Son, Beer House Manager/33/Camberwell, London/Census
1901/Sidney J Webb/Son, salesman in Cogar Trade/28/Camberwell, London/Census
1901/Ella E Stagg/Domestic Servant/16/Andover, hants/Census
1901/William T Webb/Nephew/7/Walworth, London/Census

1906/Arthur Fras Vivian/Beer Retailer/../../../Post Office Directory

1919/Edward Gascoigne/Beer Retailer/../../../Post Office Directory

1938/Frank Rt Stock/Beer Retailer, 38 Thessaly road/../../../Post Office Directory

1942/Frank Rt Stock/Beer Retailer, 38 Thessaly road/../../../Post Office Directory

1944/Benjamin Hudson/Beer Retailer, 38 Thessaly road/../../../Post Office Directory