Search London wiki and Pub wiki history sites
All public house, restaurants, bars etc closed for the forseeable future on 20th March 2020, but this is a history site. But how about the landlords give their tenants a break, no business, then please charge them no rent.
Plough & Harrow, 55 Battersea Park road, Battersea SW8
Battersea East pub history index
At 7 Ashville place - next is 1 Sleaford street in the 1851 census; at Battersea Fields in 1856. The Plough & Harrow, Lower Wandsworth road in the 1871 census. At the junction of Sleaford Street and since demolished. * The pub was destroyed during World War 2. **
Historical London public houses, Taverns, Inns, Beer Houses and Hotels.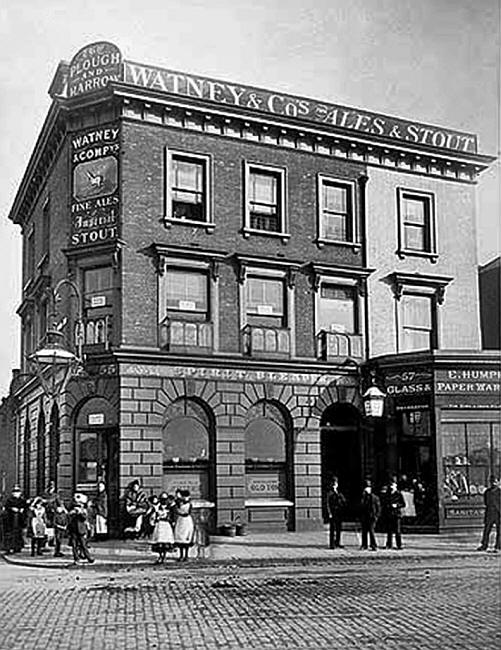 Plough & Harrow, 55 Battersea Park road and Sleaford street, Battersea - circa 1880
Kindly provided by Vincent O'Loughlin
Residents at this address.
1839/James Baset Marlow, Plough and Harrow, Battersea/../../../Pigots Directory

1841/James Marler/Beer Seller/25/Surrey/Census
1841/Henrietta Marler/../20/Surrey/Census
1841/Edward Weaver/Fishmonger/70/../Census
1841/Zebulon Champion/Labourer/15/../Census
1841/William Stains/Labourer/60/../Census
1841/Lousia Marler/../3/Surrey/Census

1842/James Marler, Plough and Harrow, Battersea Fields/../../Robsons Directory

1847/James Basset Marler/Beer Retailer, Battersea fields/../../../Post Office Directory

1851/James Basset Marler/Beer Retailer, Battersea fields/../../../Kellys Directory

1851/James Basset Marler/Beer Seller/34/Islington, Middlesex/Census
1851/Henrietta Marler/Wife/30/Lambeth, Surrey/Census
1851/Edward Summers/Potman/15/Battersea, Surrey/Census

1852/James Basset Marler/Beer Retailer, Battersea fields/../../../London Post Office Directory

1853/William Pace, Beer Retailer, Battersea fields/../../../London Post Office Directory

1856/William Pace/../../../../London Post Office Directory

1858/William Pace/../../../../London Post Office Directory

1860/William Pace/../../../../London Post Office Directory

1865/William Pace, Plough & Harrow, Battersea road/../../../London Post Office Directory

1867/W Pace, Plough & Harrow, Battersea road/../../../London Post Office Directory

1871/Joseph Martin/Cousin, Wholesale Stationer/30/Croydon, Surrey/Census
1871/Robert Imray/Cousin, Builder/17/Westminster, Middlesex/Census
1871/Dora Maccartney/Housekeeper/30/Fenchurch street, Middlesex/Census
1871/Thomas Harris/Barman/24/Gravesend, Kent/Census
1871/Ann Downing/Cook, widow/52/Chapel Town, York/Census
1871/William Hinking/Potman/26/Soham, Cambridgeshire/Census

1878/Mrs M A Bishop/../../../../Surrey Directory

1881/James Machin/Licensed Victualler/63/Ripley, Derby/Census
1881/E Machin/Wife, Licensed Victualler/57/London, Middlesex/Census
1881/W Machin/Son, Inn Servant/18/London, Middlesex/Census
1881/C Machin/Daughter/21/London, Middlesex/Census
1881/M Bond/General Servant/18/London, Middlesex/Census
1881/E Bugguist/Barmaid/21/Sweden/Census

1891/James Cashen/Licensed Victualler/32/Stepney, London/Census
1891/Harriet Dobson/Barmaid/19/Chelsea, London/Census
1891/Eva Kennard/Barmaid/26/Hayfield Heathj, Essex/Census

1896/George John Hull/../../../../Post Office Directory

1901/Margaret Mackesy/Publican, Widow/67/Limerick, Ireland/Census
1901/William Mackesy/Son, Wine Agent/32/Deptford, Kent/Census
1901/Margaret Mackesy/Niece, Housemaid/17/Deptford, Kent/Census

1901/William Mackesy/../../../../Post Office Directory

1906/John Henry James Hill/../../../../Post Office Directory

1911/John Henry James Hill/../../../../Post Office Directory

1919/William Ellis Prior/../../../../Post Office Directory

1938/Harold Avery/../../../../Post Office Directory



* Provided By Tris

** Provided By Vincent O'Loughlin