Search London wiki and Pub wiki history sites
All public house, restaurants, bars etc closed for the forseeable future from 20th March 2020, but this is a history site.
Shaftesbury, 74 St Andrews street, Battersea SW8
Battersea East pub history index
At 19 St Andrews Street in the 1871 and 1881 census; and at 74 Rule Street by 1938, through road renaming; although it sits at the junction of St Andrew street and Rule street.
Historical London public houses, Taverns, Inns, Beer Houses and Hotels.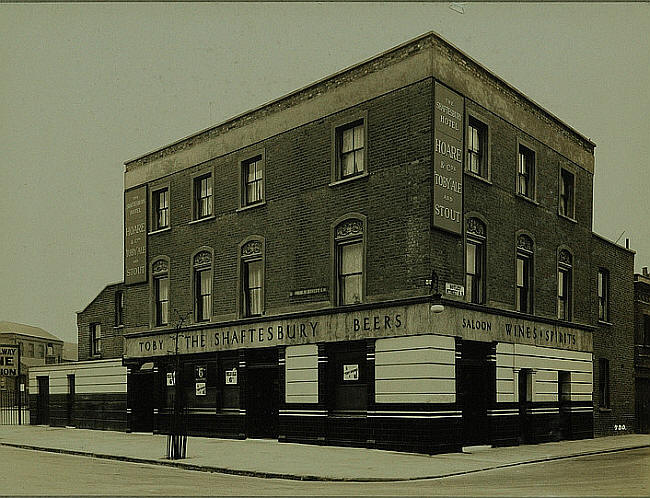 Shaftesbury, 74 St Andrews Street, Battersea East
Residents at this address.
1871/Thomas G Sayer/Licensed Victualler/39/Staples, Kent/Census
1871/Ann Sayer/Wife/38/Wingham, Kent/Census
1871/William Sayer/Son/3/Gillingham, Kent/Census
1871/Emma Brown/Servant/16/West Ham/Census

1878/George Edwards, Shaftesbury, St. Andrew's street, Wandsworth road/../../../Post Office Directory

1881/George Edwards/Licensed Victualler/52/Colne Engaine, Essex/Census
1881/Charlotte Edwards/Wife/45/Uxbridge, Middlesex/Census
1881/George Edwards/Son, Assistant/23/Brixton, Surrey/Census
1881/William Edwards/Son, Clerk (L Gas & L Co)/21/Brixton, Surrey/Census
1881/Eliza Edwards/Sister, Housekeeper/47/Colne Engaine, Essex/Census
1881/Eliza Edwards/Niece, Housekeeper/22/Colne Engaine, Essex/Census
1881/Emily May Edwards/Niece, Housekeeper/22/Colne Engaine, Essex/Census

1891/Eliza Edwards/Proprietress/47/Colne Engaine, Essex/Census
1891/George Edwards/Brother/62/Colne Engaine, Essex/Census
1891/Charlotte Edwards/Sister in Law/55/Uxbridge/Census
1891/Barrington Edwards/Nephew/41/Colne Engaine, Essex/Census
1891/Caroline E Edwards/Niece/8/Stockwell/Census
1891/Violet E Edwards/Niece/6/Battersea/Census
1891/Alfred B Singleton/Manager/25/Twickenham/Census
1891/Hannah Sullivan/Housekeeper/54/Halstead/Census
1891/Polly Eccles/Barmaid/23/Peterborough/Census
1891/Martha J Hastings/Barmaid/23/Battersea/Census
1891/Mary Watchorne/Visitor/76/Leicester/Census
1891/Caroline Knight/Housemaid/22/London/Census
1891/Francis P Tully/Barman/19/Battersea/Census

1896/Hy Cole/../../../../Post Office Directory

1901/John Davy/Licensed Victualler/52/Crediton, Debvonshire/Census
1901/Mary M Davy/Wife/52/South Molton, Devonshire/Census
1901/Arthur Cuson/Barman/28/Colchester, Essex/Census
1901/John Parker/Barman/20/Birmingham, warwickshire/Census
1901/Claudina Selway/Barmaid/20/Tiverton, Devon/Census
1901/Ethel Hassell/Domestic Servant/21/Battersea, London/Census
1901/Mabel Fervings/Domestic Servant/28/Poughill, Devonshire/Census
1901/Ida Frost/Niece/6/Cullompton, Devon/Census

1901/John Davy/../../../../Post Office Directory

1906/John Davy/../../../../Post Office Directory

1911/John Davy/../../../../Post Office Directory

1919/John Davy/../../../../Post Office Directory

1938/Alfred Jas Kirkham/../../../../Post Office Directory