Search London wiki and Pub wiki history sites
All public house, restaurants, bars etc closed for the forseeable future on 20th March 2020, but this is a history site. But how about the landlords give their tenants a break, no business, then please charge them no rent.
Two Brothers, 110 Thessaly Road, Battersea SW8
Battersea East pub history index
At Battersea Fields in 1856 (address is at Smiths Terrace, New Road in 1861); At Kings Terrace, New Road in 1867; 90 New Road in 1878 and 1891, and the road is renamed to 110 Thessaly Road by 1938
A listing of historical London public houses, Taverns, Inns, Beer Houses and Hotels in the Battersea parish, London SW.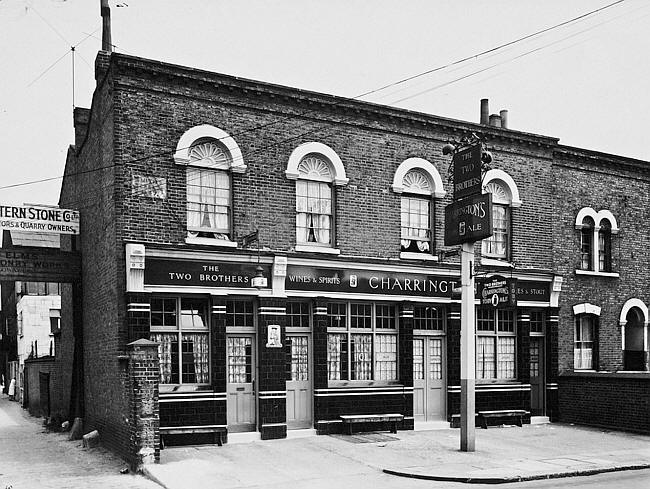 Two Brothers, 110 Thessaly Road SW8 - in 1960
Kindly provided by Vincent O'Loughlin
Residents at this address.
1851/Samuel Smith/Licensed Victualler, Widow/59/Greenwichm Kent/Census
1851/Thomas F Smith/Son, Assistant/30/Bermondsey, Surrey/Census
1851/Ann Woolnough/Housekeeper/35/Spexhall, Suffolk/Census

1852/Samuel Smith, Two Brothers, Battersea Fields/../../../London Post Office Directory

1853/Samuel Smith, Two Brothers, New road/../../../London Post Office Directory

1856/Samuel Smith/../../../../London Post Office Directory

1858/Samuel Smith/../../../../London Post Office Directory

1861/Samuel Smith/Publican/70/Greenwich, Kent/Census
1861/James Pape/Servant, Labourer/65/Oxted, Surrey/Census
1861/Ann Langon/Housekeeper/39/Bristol, Gloucester/Census

My great (x3) grandfather, George Watson, is shown in the 1871 census as a licensed victualler at the "Two Brothers". I also have a marriage certificate showing him to be a publican. The family lived in Clerkenwell / Battersea. ***

1865/George Watson, Two Brothers, Smiths terrace, New road, Battersea park/../../../Post Office Directory

1867/G Watson, Two Brothers, Smiths terrace, New road, Battersea park/../../../Surrey Post Office Directory

1871/George Watson/Licensed Victualler/56/Bloomsbury, Middlesex/Census ***
1871/Caroline Watson/Wife/50/Clerkenwell, Middlesex/Census
1871/Eliza Watson/Daughter/23/Clerkenwell, Middlesex/Census
1871/Henrietta Watson/Daughter/20/Clerkenwell, Middlesex/Census
1871/Henry Gabens/Potman/19/Huntingdonshire/Census

1878/George Watson/../../../../Surrey Post Office Directory

1891/Walter F Watson/Licensed Victualler/36/St Pancras, London/Census
1891/Caroline R Watson/Wife/36/Brightwell, Oxford/Census
1891/Florence A Watson/Daughter/11/Battersea, Surrey/Census
1891/Caroline Watson/Mother, Widow/73/Shoreditch, London/Census
1891/Minnie Boule/Servant/21/Brompton, London/Census

1896/Walter F Watson/../../../../Post Office Directory

1901/John Prior/Public House Manager/30/Clerkenwell, London/Census
1901/Daniel Calckfool/Barman/24/Camberwell, London/Census
1901/Lizzie Brown/Domestic Servant/20/Hammersmith, London/Census
1901/Rose Douthwaite/Barmaid/27/Chelsea, London/Census

1901/John Pryor/../../../../Post Office Directory

1906/John Albert Rasler/../../../../Post Office Directory

1911/Michael Solomon Parker/../../../../Post Office Directory

1919/John Ring/../../../../Post Office Directory

1921/John Ring/../../../../Post Office Directory

1938/Albert Edward Salter/../../../../Post Office Directory

1940/Albert Edward Salter/../../../../Post Office Directory

1944/Henry M Lavinger/../../../../Post Office Directory



*** Provided By Giles Hearn